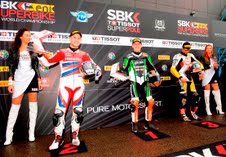 Assen (Netherlands), Saturday 21 April 2012 – Tom Sykes (Kawasaki Racing Team) was over a second faster than any of his rivals in a Tissot-Superpole contest run under 'wet' conditions. The wet Superpole rules dictated that there were two twenty-minute sessions only with the top eight riders only from Superpole 1 moving on to Superpole 2.
Despite being declared wet, the track surface during the second session in particular was almost completely dry, allowing Sykes to get to within less than half-a-second of the track best on his Ninja ZX-10R. This was his third Superpole win in succession this season, and Sykes' fifth career Superpole win. Second fastest overall was the Honda of Jonathan Rea (Honda World Superbike Team) from Jakub Smrz (Liberty Racing – Team Effenbert) and Sylvain Guintoli (Team Effenbert – Liberty Ducati).
Tom Sykes: "A lot has gone on since the Imola test with Joan and so on, so hopefully this is making him smile. What can I say? A massive thanks to Kawasaki, three on the bounce is a fantastic feeling. I went out on my second qualifier today, saw I had some pressure from Jonathan so I dug deep and it paid off. We've got a good race setting, both wet and dry, third time lucky so hopefully we can covert this one to a race win tomorrow."
Jonathan Rea: "It's the first time I've been up here this year and I'm pretty happy. That was a massive lap from Tom; we couldn't match it today. When we put a qualifier on the bike, it transformed the front and I got a lot of chatter, but the good thing is tomorrow is that we use the race tyre. A big thanks to all the team for their continued hard work, it's nice to come back and this result is for them."
Jakub Smrz: "I am happy for the third place because we had a problem yesterday with the engine, so I only made a few laps in the dry. Today was really strange and conditions were mixed but in the end I got the front row. We did a great job: fast in the rain and fast in the dry!"
World Championship leader Carlos Checa (Althea Racing Ducati) was fifth fastest, with the first BMW rider, Michel Fabrizio (BMW Motorrad Team Italia Gold Bet) in sixth. Official BMW Motorrad Motorsport rider Leon Haslam was seventh and Crescent FIXI Suzuki rider John Hopkins placed eighth, with Hopkins now the last rider on the second row of the grid.
Marco Melandri (BMW Motorrad Motorsport), David Salom (Team Pedercini Kawasaki), Chaz Davies (ParkinGO MTC Racing Aprilia) and Leon Camier (Crescent Fixi Suzuki) filled the third row of the grid.
Championship second place rider Max Biaggi (Aprilia Racing) missed out on Superpole qualification and will start from 17th place on the grid. A fall for Biaggi's team-mate Eugene Laverty ruled him out of progression beyond Superpole one, and he went 14th on the grid, one place behind Canadian rookie Brett McCormick (Liberty Racing Team Effenbert).
Times: 1. Sykes T. (GBR) Kawasaki ZX-10R 1'35.399; 2. Rea J. (GBR) Honda CBR1000RR 1'36.432; 3. Smrz J. (CZE) Ducati 1098R 1'36.566; 4. Guintoli S. (FRA) Ducati 1098R 1'36.875; 5. Checa C. (ESP) Ducati 1098R 1'37.156; 6. Fabrizio M. (ITA) BMW S1000 RR 1'37.311; 7. Haslam L. (GBR) BMW S1000 RR 1'37.592; 8. Hopkins J. (USA) Suzuki GSX-R1000 1'37.913; 9. Melandri M. (ITA) BMW S1000 RR 1'40.516; 10. Salom D. (ESP) Kawasaki ZX-10R 1'40.523; 11. Davies C. (GBR) Aprilia RSV4 Factory 1'40.627; 12. Camier L. (GBR) Suzuki GSX-R1000 1'40.681; 13. McCormick B. (CAN) Ducati 1098R 1'41.962; 14. Laverty E. (IRL) Aprilia RSV4 Factory 1'43.947; 15. Berger M. (FRA) Ducati 1098R 1'44.022; 16. Badovini A. (ITA) BMW S1000 RR 1'44.500; 17. Biaggi M. (ITA) Aprilia RSV4 Factory 1'40.231; 18. Canepa N. (ITA) Ducati 1098R 1'40.859; 19. Giugliano D. (ITA) Ducati 1098R 1'41.161; 20. Mercado L. (ARG) Kawasaki ZX-10R 1'41.693; 21.Aoyama H. (JPN) Honda CBR1000RR 1'41.768; 22. Aitchison M. (AUS) BMW S1000 RR 1'43.144; 23. Zanetti L. (ITA) Ducati 1098R 1'50.808.
World Supersport
Sam Lowes (Bogdanka PTR Honda) had his Friday best qualifying time to thank for his pole position at Assen, while second place rider Broc Parkes (Honda Ten Kate Racing Products) was another who could not improve his opening day pace in today's final session. Jules Cluzel (PTR Honda) left it late to make sure he got third place on the grid, one ahead of top Kawasaki qualifier, Kenan Sofuoglu (DeltaFin Lorenzini).
Championship leader Fabien Foret (Kawasaki Intermoto Step) will start from row two after going fifth overall in qualifying, and Imre Toth (Racing Team Toth Honda) held onto his more than respectable sixth. Sheridan Morais (Kawasaki DeltaFin Lorenzini) and Vladimir Leonov (Yakhnich Motorsport Yamaha) complete the second row for Sunday's 21-lap race.
Times: 1. Lowes S. (GBR) Honda CBR600RR 1'38.900; 2. Parkes B. (AUS) Honda CBR600RR 1'38.939; 3. Cluzel J. (FRA) Honda CBR600RR 1'39.450; 4. Sofuoglu K. (TUR) Kawasaki ZX-6R 1'39.548; 5. Foret F. (FRA) Kawasaki ZX-6R 1'39.730; 6. Toth I. (HUN) Honda CBR600RR 1'40.040; 7. Morais S. (RSA) Kawasaki ZX-6R 1'40.090; 8. Leonov V. (RUS) Yamaha YZF R6 1'40.289; etc.
Superstock 1000
Sylvain Barrier (BMW Motorrad Italia Gold Bet) improved on his Friday best to take pole at Assen, as Team Pedercini Kawasaki rider Bryan Staring went second overall. Barrier's Italian team-mate Lorenzo Baroni was third, as he had been on day one, while Loris Baz (Kawasaki MRS) continued the front row symmetry of machines by putting a ZX-10R into fourth place. The first Ducati on the grid, in fifth, belongs to Barni Racing Team rider Eddi La Marra. Fabio Massei (EAB Ten Kate Junior Honda) added another machine to the top six mix on his CBR1000RR.
Times: 1. Barrier S. (FRA) BMW S1000 RR 1'39.566; 2. Staring B. (AUS) Kawasaki ZX-10R 1'39.873; 3. Baroni L. (ITA) BMW S1000 RR 1'39.888; 4. Baz L. (FRA) Kawasaki ZX-10R 1'40.201; 5. La Marra E. (ITA) Ducati 1199 Panigale 1'40.394; 6. Massei F. (ITA) Honda CBR1000RR 1'40.621; 7. Savadori L. (ITA) Ducati 1199 Panigale 1'40.759; 8. Bussolotti M. (ITA) Ducati 1098R 1'41.080; etc.
Superstock 600
Local rider Michael van der Mark (EAB Ten Kate Junior Team) won his home race in fine style by leading from the front and enjoying a final advantage of 4.7 seconds over the exciting fight for second place between Nacho Calero Perez (Team Trasimeno Yamaha) and Gauthier Duwelz (Yamaha MTM Racing). Stephane Egea (Team Falcone Competition Yamaha) got the better of a group of three other riders for fourth place. Riccardo Russo (Team Italia FMI Yamaha), Alex Schacht (Schacht Racing SBK ONE Honda) and Russo's team-mate Luca Vitali rounded out the top seven, just behind Egea. Pole man Bastien Chesaux (Honda EAB Ten Kate Junior Team) crashed out of the 12-lap Superstock 600 race early on. In the championship standings, after two rounds, Van Der Mark leads Perez by one point, 41-40, with Russo third on 36.
Results: 1. Van der Mark M. (NED) Honda CBR600RR 20'36.504; 2. Calero Perez N. (ESP) Yamaha YZF R6 4.786; 3. Duwelz G. (BEL) Yamaha YZF R6 4.927; 4. Egea S. (FRA) Yamaha YZF R6 7.509; 5. Russo R. (ITA) Yamaha YZF R6 8.116; 6. Schacht A. (DEN) Honda CBR600RR 8.539; 7. Vitali L. (ITA) Yamaha YZF R6 8.694; 8. Tessels W. (NED) Suzuki GSX-R600 15.269; etc.
Points (after 2 of 10 rounds): 1. Van Der Mark 41; 2. Calero Perez 40; 3. Russo 36; 4. Egea 24; 5. Duwelz 22; 6. Morrentino 13; etc.
European Junior Cup
Dutch rider Rob Hartog is the first poleman in the opening round of the second edition of the European Junior Cup, this year promoted by Austrian manufacturer KTM as a support category to World Superbike. The series has been devised for 14 to 19 year olds and is a valid entry category for youngsters to shape up to each other in eight international rounds. All riders are on identical KTM Duke 690 machines supplied by the manufacturer. Second place on the grid went to Garijs Rozkalns from Latvia and Adrian Pasek from Poland. The poleman is nephew of Wil Hartog, who in 1977 at Assen became the first Dutchman to win a 500GP race. Hartog went on to win a total of five races in the world championship.
Times: 1. Hartog R. (NED) KTM Duke 690 2'07.105; 2. Rozkalns G. (LAT) KTM Duke 690 2'08.698; 3. Pasek A. (POL) KTM Duke 690 2'09.294; 4. Patterson J. (GBR) KTM Duke 690 2'09.320; 5. Scarcella G. (AUS) KTM Duke 690 2'10.213; 6. Harland J. (GBR) KTM Duke 690 2'10.787; 7. Garcia G. (ESP) KTM Duke 690 2'12.061; 8. Wimmer L. (AUT) KTM Duke 690 2'13.842; etc.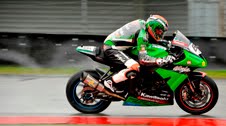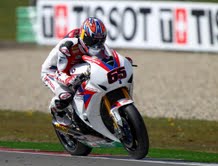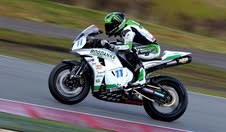 https://motorbugs.com/wp-content/uploads/Motor-Bugs-Logo-Transparent-height156px.png
0
0
The Motor Bug
https://motorbugs.com/wp-content/uploads/Motor-Bugs-Logo-Transparent-height156px.png
The Motor Bug
2012-04-22 05:45:17
2016-01-07 04:24:51
Sykes once more unstoppable in Tissot-Superpole