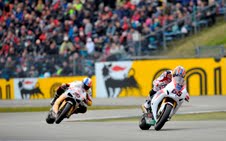 Assen (Netherlands), Sunday 22 April 2012 – Changeable weather conditions played a major part in proceedings during raceday at Assen, with the first race stopped and then re-run over only nine laps, and the second race bringing forth a variety of tyre choices on a damp initial track surface that saw the podium places change frequently. In race one Sylvain Guintoli (Effenbert-Liberty Ducati) took his first ever race win in SBK and the first for his team, while in race two a bad choice for 2011 champion Carlos Checa (Althea Racing Ducati) saw him out of the points. Honda World Superbike team rider Jonathan Rea took his first win of the year in the second full 22-lap race.
Max Biaggi (Aprilia Racing) now leads the championship with 92 points even though he was fourth and eighth today. Checa is second but only one point behind, while third ranked rider Tom Sykes (Kawasaki Racing Team) had to retire from race one, and dropped from a potential podium to sixth in race two, leaving him 13 points from the lead. The weekend crowd of 56,000 were treated to some incredible action, particularly in the abandoned part of the first race and again for the final podium spot in race two, when a photo finish was required to separate fourth and fifth place riders. A day of firsts and landmarks for the podium finishers saw Davide Giugliano (Althea Racing Ducati) take second in race one, ahead of Checa, and Eugene Laverty (Aprilia Racing Team) take his first Aprilia podium.
Race 1
An incredible first race, eventually run over nine wet laps, was won by Guintoli, a rider who has threatened to win a race on many previous occasions. His margin of advantage was 2.6 seconds, from a very determined rookie Giugliano and his team-mate Checa. Their fight for the podium places was just one of many highlights in the wet race, after the first attempted contest had started out dry, but was halted when several leading riders fell as the rains came down. By regulation a whole new race was declared and the only influence the first leg finishing order had was to determine grid places for the 'real' second race. In fourth place in an all Aprilia racing battle, Max Biaggi beat Eugene Laverty. Early leader Leon Haslam (BMW Motorrad Motorsport) fell and no-scored.
Sylvain Guintoli: "We've been trying to catch that first victory for a while now. Since the start of the season we have showed that we have pace, but the results haven't come. Finally I did it today. For me it's a fantastic feeling, this race was crazy with a lot of crashes and I nearly crashed as well. It's the first race since the accident to Joan and I want also to dedicate this win to him as well."
Davide Giugliano: "It's a very emotional moment because you don't expect to get this result in your third race. We knew that Assen was a good circuit for us and we could get a good result. For sure the conditions were not great, but I was up front, a bit 'lost' even because I found myself up against guys I had only seen from a distance before now."
Carlos Checa: "It was very exciting at the end, we needed to conserve the position and it was not easy. For us, considering all the conditions, it was crazy weather and a crazy weekend so ending with this position is quite good. Second and third is great for the team, I'm happy for Davide as well, he deserved the second position."
Results: 1. Guintoli S. (FRA) Ducati 1098R 18'38.395; 2. Giugliano D. (ITA) Ducati 1098R 2.633; 3. Checa C. (ESP) Ducati 1098R 3.031; 4. Biaggi M. (ITA) Aprilia RSV4 Factory 3.927; 5. Laverty E. (IRL) Aprilia RSV4 Factory 4.374; 6. Fabrizio M. (ITA) BMW S1000 RR 11.359; 7. Smrz J. (CZE) Ducati 1098R 26.412; 8. Canepa N. (ITA) Ducati 1098R 37.562; 9. Melandri M. (ITA) BMW S1000 RR 49.896; 10. Mercado L. (ARG) Kawasaki ZX-10R 1'08.847; 11. Berger M. (FRA) Ducati 1098R 1'11.760; 12. Aoyama H. (JPN) Honda CBR1000RR 1'13.988; 13. Salom D. (ESP) Kawasaki ZX-10R 1'27.019; 14. Zanetti L. (ITA) Ducati 1098R; 15.Aitchison M. (AUS) BMW S1000 RR; etc.
Race 2
A great ride from Rea saw him overcome the pain of a hand injury suffered earlier in the day to win his first race of the year, at his team's home track. He also scored the first win for Honda in 2012. Race one winner Guintoli was second after his team-mate Jakub Smrz dropped back from his long-time lead after choosing a wet front tyre. Smrz eventually crashed while trying to pass a lapped rider. The battle for third went to Eugene Laverty (Aprilia Racing), his first podium of 2012. An all BMW battle right behind saw Melandri beat Haslam (the latter regretting using a front wet tyre) over the line by only 0.002 seconds. Checa gambled on rain tyres but as the track dried and the rain stayed away, he had to come into change his wheels and he ended up 17th – just out of the points.
Jonathan Rea: "It's a great result for me, my team and bike. A big thanks to all the guys back in Nieuwleusen for their continued hard work. I have to get my finger stitched up right now after my race 1 crash, I've been using local anaesthetic for this race, but on a more serious note this win is also just to let Joan Lascorz know that we're all thinking of you."
Sylvain Guintoli: "For sure it's a great weekend for us, again we started well. I thought I had the double, it was going well and I could control the gap. Then Johnny had a little extra and I was struggling and couldn't follow. It feels really good and I think I could get used to these results!"
Eugene Laverty: "That was good to get on the podium, and a bit of a bonus because I thought I was in fourth position and somebody dropped out of the top three. It's something to build on for the future, it's been a tough start to the year. We worked hard this weekend, with limited dry track time we made good progress from race 1 to race 2 so I'm happy".
Results: 1. Rea J. (GBR) Honda CBR1000RR 36'45.936; 2. Guintoli S. (FRA) Ducati 1098R 2.819; 3. Laverty E. (IRL) Aprilia RSV4 Factory 12.638; 4. Melandri M. (ITA) BMW S1000 RR 12.762; 5. Haslam L. (GBR) BMW S1000 RR 12.764; 6. Sykes T. (GBR) Kawasaki ZX-10R 20.393; 7. Badovini A. (ITA) BMW S1000 RR 36.317; 8. Biaggi M. (ITA) Aprilia RSV4 Factory 37.747; 9. Giugliano D. (ITA) Ducati 1098R 41.350; 10. Fabrizio M. (ITA) BMW S1000 RR 43.930; 11. Hopkins J. (USA) Suzuki GSX-R1000 57.515; 12. Salom D. (ESP) Kawasaki ZX-10R 1'32.593; 13. Aoyama H. (JPN) Honda CBR1000RR 1'33.576; 14. Camier L. (GBR) Suzuki GSX-R1000; 15. Mercado L. (ARG) Kawasaki ZX-10R; 16. Aitchison M. (AUS) BMW S1000 RR; etc.
Points (after 3 of 14 rounds): 1. Biaggi 92; 2. Checa 91; 3. Sykes 79; 4. Guintoli 66; 5. Melandri 66; 6. Rea 65; 7. Haslam 58; 8. Laverty 56; 9. Smrz 39; 10. Giugliano 37; etc. Manufacturers: 1. Ducati 136; 2. Aprilia 100; 3. BMW 86; 4. Kawasaki 85; 5. Honda 69; 6. Suzuki 20.
World Supersport
Lorenzo Lanzi (PRORACE Honda) took his and Honda's first race win of the 2012 season in his first ever Honda Supersport ride. In fully wet conditions, Lanzi moved up to the lead and pulled away, lapping everyone up to 12th place. Kenan Sofuoglu (Kawasaki DeltaFin Lorenzini) was second, some 12 seconds behind Lanzi, with the first ever Russian rider to take a Supersport podium, Vladimir Leonov (Yakhnich Racing Yamaha) third. Broc Parkes (Ten Kate Honda Racing Products) was fourth, and Triumph rider Alex Baldolini (Power Team by Suriano) fifth – placing four different manufacturers inside the top five places. With many of his rivals crashing out, Sofuoglu shares the championship lead of 45 points with non-finisher Fabien Foret (Kawasaki Intermoto Step). Third on an unchanged 31 points is Sam Lowes (Bogdanka PTR Honda) who fell while leading today.
Results: 1. Lanzi L. (ITA) Honda CBR600RR 42'56.376; 2. Sofuoglu K. (TUR) Kawasaki ZX-6R 12.054; 3. Leonov V. (RUS) Yamaha YZF R6 14.460; 4. Parkes B. (AUS) Honda CBR600RR 23.884; 5. Baldolini A. (ITA) Triumph Daytona 675 47.063; 6. Cluzel J. (FRA) Honda CBR600RR 49.755; 7. Antonelli A. (ITA) Honda CBR600RR 53.850; 8. Van Poppel T. (NED) Yamaha YZF R6 1'42.505; etc.
Points (after 3 of 13 rounds): 1. Sofuoglu 45; 2. Foret 45; 3. Lowes 31; 4. Parkes 29; 5. Leonov 26; 6. Lanzi 25; 7. Quarmby 25; 8. Baldolini 24; etc. Manufacturers: 1. Kawasaki 70; 2. Honda 61; 3. Yamaha 31; 4. Triumph 30; 5. Suzuki 6.
Superstock 1000
Sylvain Barrier (BMW Motorrad Italia GoldBet) won a tricky Superstock contest held in cold but mostly dry conditions, which was eventually red-flagged due to oil on the track. The intended 13 lap race distance therefore became eight. It was Barrier's second win of the year, after his victory at Imola. Team-mates Lorenzo Savadori (Barni Racing Team Italia) and Eddi La Marra (Barni Racing Team Italia) took their Panigale machines to second and third respectively, close behind the French rider. Loris Baz (MRS Kawasaki) went fourth in race during which some big names were forced out by falls or technical issues.
Results: 1. Barrier S. (FRA) BMW S1000 RR 13'34.645; 2. Savadori L. (ITA) Ducati 1199 Panigale 0.732; 3. La Marra E. (ITA) Ducati 1199 Panigale 0.823; 4. Reiterberger M. (GER) BMW S1000 RR 3.962; 5. Baroni L. (ITA) BMW S1000 RR 4.264; 6. Baz L. (FRA) Kawasaki ZX-10R 8.525; 7. Guarnoni J. (FRA) Kawasaki ZX-10R 10.834; 8. Bergman C. (SWE) Kawasaki ZX-10R 11.402; etc.
Points (after 2 of 10 rounds): 1. Barrier 50; 2. La Marra 32; 3. Baz 30; 4. Savadori 28; 5. Reiterberger 26; 6. Coghlan 14; 7. Baroni 12; 8. Staring 11; etc. Manufacturers: 1. BMW 50; 2. Ducati 36; 3. Kawasaki 30; 4. Honda 10; 5. Aprilia 5.
European Junior Cup
Polish rider Adrian Pasek won the opening round of the KTM European Junior Cup at Assen, the series open for 14 to 19 year-olds from all over the world. In eight supporting rounds to World Superbike, the youngsters will get their hands on identical KTM Duke 690 machines provided directly by the Austrian  manufacturer. The one-make tyre supply comes from Pirelli, the same as the four production-based categories. In the seven-lap race, held on a dry track, Pasek finished ahead of Dutchman Rob Hartog, nephew of the legendary 500cc rider of the 1970s, Wil Hartog. The podium was completed by another Polish rider Artur Wielebeski.
Results: 1. Pasek A. (POL) KTM Duke 690 13'20.932; 2. Hartog R. (NED) KTM Duke 690 1.869; 3. Wielebski A. (POL) KTM Duke 690 15.484; 4. Demoulin J. (FRA) KTM Duke 690 16.111; 5. Patterson J. (GBR) KTM Duke 690 27.293; 6. Lewis J. (NZL) KTM Duke 690 29.440; etc.
Points (after 1 of 8 rounds): 1. Pasek 25; 2. Hartog 20; 3. Wielebski 16; 4. Demoulin 13; 5. Patterson 11; 6. Lewis 10; etc.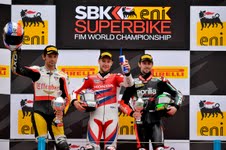 https://motorbugs.com/wp-content/uploads/Motor-Bugs-Logo-Transparent-height156px.png
0
0
The Motor Bug
https://motorbugs.com/wp-content/uploads/Motor-Bugs-Logo-Transparent-height156px.png
The Motor Bug
2012-04-23 01:05:59
2016-01-07 04:24:45
Guintoli and Rea share the wins after another dramatic Assen raceday