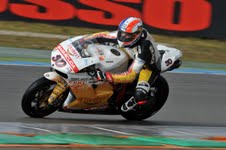 Assen (Netherlands), Friday 20 April 2012 – Sylvain Guintoli (Ducati Effenbert Liberty Racing) set the quickest time in this afternoon's first qualifying session at Assen, which was finally conditioned by bad weather.
The riders first went out on slicks but soon after it began to rain, making the track slippery and holding back ultimate lap times. The competitors just about managed to get back to the pits in reasonable conditions and then just a few riders ventured out at the end in the wet.
Guintoli was a fraction of a second ahead of Tom Sykes (Kawasaki Racing Team), with an impressive Leon Camier (Crescent FIXI Suzuki) and championship leader Carlos Checa (Ducati Althea Racing) completing the provisional front row.
Jonathan Rea (Honda World Superbike Team) was fifth ahead of Michel Fabrizio (BMW Motorrad Italia GoldBet), the first BMW runner in the timesheets. Even in these difficult weather conditions, five different manufacturers are in the top six positions.
Two more BMWs were next up, Marco Melandri (BMW Motorrad) in eighth ahead of Ayrton Badovini with the Italian team's S1000RR. Melandri had been fastest in the first practice session in the morning, run in dry conditions.
Team Effenbert Liberty Racing Ducati rider Maxime Berger was ninth fastest, Chaz Davies (MTC ParkinGO Aprilia) rounded out the top ten. The factory Aprilia machine of Eugene Laverty ended up one place behind Davies.
With the top 16 positions likely to stay the same should it rain in tomorrow morning's final session, the first rider to be excluded will be Max Biaggi (Aprilia Racing). The Italian has to hope for an improvement in the weather otherwise he will be forced to start from the fifth row of the grid.
Times: 1. Guintoli S. (FRA) Ducati 1098R 1'37.600; 2. Sykes T. (GBR) Kawasaki ZX-10R 1'37.630; 3. Camier L. (GBR) Suzuki GSX-R1000 1'38.468; 4. Checa C. (ESP) Ducati 1098R 1'38.665; 5. Rea J. (GBR) Honda CBR1000RR 1'38.873; 6. Fabrizio M. (ITA) BMW S1000 RR 1'39.062; 7. Badovini A. (ITA) BMW S1000 RR 1'39.125; 8. Melandri M. (ITA) BMW S1000 RR 1'39.127; 9. Berger M. (FRA) Ducati 1098R 1'39.286; 10. Davies C. (GBR) Aprilia RSV4 Factory 1'39.362; 11. Laverty E. (IRL) Aprilia RSV4 Factory 1'39.485; 12. Smrz J. (CZE) Ducati 1098R 1'39.605; 13. Hopkins J. (USA) Suzuki GSX-R1000 1'39.625; 14. Haslam L. (GBR) BMW S1000 RR 1'39.770; 15. McCormick B. (CAN) Ducati 1098R 1'39.915; 16. Salom D. (ESP) Kawasaki ZX-10R 1'40.124; etc.
World Supersport
Honda CBR600RR machines dominated the first Supersport qualifying session, with British rider Sam Lowes (Bogdanka PTR Honda) going top with a time of 1 minute 38.900 seconds. Lowes was just 0.039 quicker than Australian Broc Parkes (Honda Ten Kate Racing Products), who went well in post-Imola testing two weeks back. The Honda trio up front was completed by 23 year-old Frenchman Jules Cluzel, a new Supersport face and so far always at the top this year on his PTR Honda.
Kawasaki ZX-6R riders took the next two places, fourth going to points leader Fabien Foret (Kawasaki Intermoto Step) ahead of Kenan Sofuoglu on the sister DeltaFin Lorenzini bike. Imre Toth was a competitive sixth on his Racing Team Toth Honda, while Sheridan Morais (Kawasaki DeltaFin Lorenzini) and Massimo Roccoli (Yamaha Bike Service WTR Ten 10) completed the second row.
Three Supersport newcomers also had promising sessions: Jed Metcher (Rivamoto Junior Yamaha) in tenth, Vladimir Leonov (Yakhnich Motorsport Yamaha) in eleventh and 18 year-old American PJ Jacobsen (Bogdanka Honda PTR) twentieth on his first appearance at the Assen track.
Times: 1. Lowes S. (GBR) Honda CBR600RR 1'38.900; 2. Parkes B. (AUS) Honda CBR600RR 1'38.939; 3. Cluzel J. (FRA) Honda CBR600RR 1'39.589; 4. Foret F. (FRA) Kawasaki ZX-6R 1'39.730; 5. Sofuoglu K. (TUR) Kawasaki ZX-6R 1'39.735; 6. Toth I. (HUN) Honda CBR600RR 1'40.040; 7. Morais S. (RSA) Kawasaki ZX-6R 1'40.266; 8. Roccoli M. (ITA) Yamaha YZF R6 1'40.326; etc.
Superstock 1000
The BMW Italia team powered to the top of Superstock 1000 qualifying today as round 1 winner Sylvain Barrier went quickest with a time of 1 minute 39.580 seconds, half a second slower than his own circuit best lap set last year. Barrier was three-tenths faster than Australian Bryan Staring, the surprise of the day on a Team Pedercini Kawasaki. Third quickest was Barrier's Italian team-mate Lorenzo Baroni.
The provisional front row is completed by Eddi La Marra with a Barni Racing Team Italia Ducati 1199 Panigale, which made its Superstock 1000 debut at Imola. Frenchman Loris Baz (Kawasaki MRS) continued his good form with fifth quickest time today to follow on from his Imola runner-up slot.
Times: 1. Barrier S. (FRA) BMW S1000 RR 1'39.580; 2. Staring B. (AUS) Kawasaki ZX-10R 1'39.873; 3. Baroni L. (ITA) BMW S1000 RR 1'40.205; 4. La Marra E. (ITA) Ducati 1199 Panigale 1'40.394; 5. Baz L. (FRA) Kawasaki ZX-10R 1'40.563; 6. Massei F. (ITA) Honda CBR1000RR 1'40.890; 7. Savadori L. (ITA) Ducati 1199 Panigale 1'40.909; 8. Guarnoni J. (FRA) Kawasaki ZX-10R 1'41.250; etc.
Superstock 600
Swiss rider Bastien Chesaux (Honda EAB Ten Kate Junior Team) went quickest in today's first STK600 qualifying session.
The 20 year-old from Lausanne surprisingly managed to edge out his team-mate and one of the favourites, Michael van den Mark, third quickest and three-tenths from the top. In between the two Ten Kate riders was Belgian Gauthier Duwelz (Yamaha MTM Racing).
Opening round winner Riccardo Russo had a tough start to the weekend, the Italian only going eighth quickest. The promising young Australian Corey Snowsill (Yamaha MTM Racing) had a crash but came away with just a few bruises.
Times: 1. Chesaux B. (SUI) Honda CBR600RR 1'41.983; 2. Duwelz G. (BEL) Yamaha YZF R6 1'42.067; 3. Van der Mark M. (NED) Honda CBR600RR 1'42.084; 4. Calero Perez N. (ESP) Yamaha YZF R6 1'42.215; 5. Schacht A. (DEN) Honda CBR600RR 1'42.485; 6. Egea S. (FRA) Yamaha YZF R6 1'42.803; 7. Nestorovic A. (AUS) Yamaha YZF R6 1'42.854; 8.Russo R. (ITA) Yamaha YZF R6 1'42.888; etc.
European Junior Cup
The opening qualifying session for the first round of the KTM European Junior Cup saw Frenchman Jean-Francois Demoulin take the top slot, ahead of Adrian Pasek from Poland. His fellow Bogdanka team member Artur Wielebski was third. 20 riders are taking part in this weekend's event, all on identical KTM Duke 650 machines.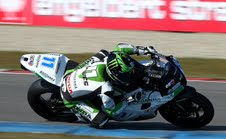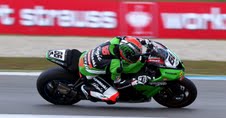 https://motorbugs.com/wp-content/uploads/Motor-Bugs-Logo-Transparent-height156px.png
0
0
The Motor Bug
https://motorbugs.com/wp-content/uploads/Motor-Bugs-Logo-Transparent-height156px.png
The Motor Bug
2012-04-21 16:41:33
2016-01-07 04:24:57
Guintoli quickest rider on the Assen storm