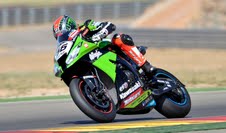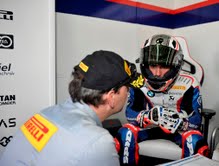 MotorLand Aragon (Spain), Monday 2 July – Tom Sykes (Kawasaki Racing Team) set the fastest time of the one-day Infront Motor Sports official tests on the new generation of 17-inch wheels and Pirelli tyres which were seen for the first time today. His lap of 1 minute 57.254 seconds compares favourably with the existing race lap record, set on race tyres not qualifying rubber, of 1 minute 58.251 seconds.
"We've worked hard today again after a difficult day yesterday, when unfortunately I believe that the wind affected us more than our competitors," said Sykes. "We did a run this morning to confirm our race pace and I did a 58.8 on lap 17 so it's a completely different story with no wind. The plan was to test the 17" tyre in the morning but we wanted to confirm what happened yesterday, then this afternoon we kept the same settings and tested the new size wheel and tyres which I was pleasantly surprised with."
Marco Melandri (BMW Motorrad Motorsport) was barely slower than Sykes despite not improving on his morning test session best lap, with Ayrton Badovini (BMW Motorrad Italia GoldBet) third quickest and Eugene Laverty (Aprilia Racing Team) fourth.
Setting outright fast lap times was not the aim of these tests, which were designed as an introduction to the new 17-inch aluminium wheels which will be mandatory in 2013, and an early comparison between the existing Pirelli tyres and the new range which will feature on the 17-inch rims.
Max Biaggi (Aprilia Racing Team) and Leon Haslam (BMW Motorrad Motorsport) finished testing fifth and sixth, but Leon Camier (FIXI Crescent Suzuki) was an improved seventh. Top Honda rider was Jonathan Rea (Honda World Superbike Team) eighth, just ahead of Althea Racing Ducati pairing Davide Giugliano and Carlos Checa.
Times: 1. Sykes (Kawasaki) 1'57.254 average 164.075 kph; 2. Melandri (BMW) 1'57.313; 3. Badovini (BMW) 1'57.658; 4. Laverty (Aprilia) 1'58.034; 5. Biaggi (Aprilia) 1'58.054; 6. Haslam (BMW) 1'58.150; 7. Camier (Suzuki) 1'58.179; 8. Rea (Honda) 1'58.201; 9. Giugliano (Ducati) 1'58.283; 10. Checa (Ducati) 1'58.365; 11. Fabrizio (BMW) 1'58.816; 12. Baz (Kawasaki) 1'58.880; 13. Aoyama (Honda) 1'58.903; 14. Davies (Aprilia) 1'58.949; 15. Hopkins (Suzuki) 1'59.512; 16. Zanetti (Ducati) 2'00.063; 17. Salom (Kawasaki) 2'00.208; 18. Mercado (Kawasaki) 2'03.139; 19. Brignola (BMW) 2'03.585; 20. Toth (BMW) 2'08.447.
World Supersport
Thanks to his morning best time Broc Parkes (Ten Kate Racing Products Honda) finished up ahead of all his rivals after the official Infront Motor Sports test at MotorLand Aragon. Parkes' best lap of 2 minutes 02.452 seconds was just under one second quicker than the improving Josh Day (Team GO ELEVEN Kawasaki) and Fabien Foret (Kawasaki Intermoto Step). Foret, like Parkes, did not improve on his opening session time from this morning. Sheridan Morais (Kawasaki Lorenzini) put in the fourth best lap of the tests, heading up Frenchman Valentin Debise (SMS Racing Honda) and Jed Metcher (Rivamoto Junior Team Yamaha). Fifteen riders in total lapped the 5.344km circuit in testing and all used the latest development tyres from Pirelli.
Points leader Kenan Sofuoglu (Kawasaki Lorenzini) did not take part in the test because immediately after the race yesterday he flew to Turkey for a check on his left knee, and may have to undergo an operation on his meniscus. In any case Sofuoglu should be fit for the next round at Brno on July 22.
Times: 1. Parkes (Honda) 2'02.452 average 157.110 kph; 2. Day (Kawasaki) 2'03.415; 3. Foret (Kawasaki) 2'03.516; 4. Morais (Kawasaki) 2'03.576; 5. Debise (Honda) 2'03.779; 6. Metcher (Yamaha) 2'03.800; 7. Talmacsi (Honda) 2'04.078; 8. Antonelli (Yamaha) 2'04.132; 9. Leonov (Yamaha) 2'04.151; 10. Menghi (Yamaha) 2'04.199; 11. Lanusse (Kawasaki) 2'04.282; 12. Marconi (Yamaha) 2'04.912; 13. Lombardi (Yamaha) 2'05.019; 14. Davies (Kawasaki) 2'08.779; 15. Pozdneev (Yamaha) 2'10.280.
https://motorbugs.com/wp-content/uploads/Motor-Bugs-Logo-Transparent-height156px.png
0
0
The Motor Bug
https://motorbugs.com/wp-content/uploads/Motor-Bugs-Logo-Transparent-height156px.png
The Motor Bug
2012-07-03 03:23:16
2016-01-07 04:12:36
Sykes fastest on new 17-inch wheels and tyres