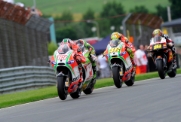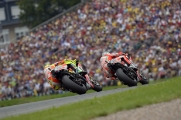 alentino Rossi and Nicky Hayden crossed the finish line of the German GP in sixth and tenth places, respectively, after fighting throughout the race in a group of four or five riders.
With just one practice session and the warm-up having taken place with no rain, the Ducati Team had little time to work on the dry settings that they used for today's Grand Prix, but they both identified a number of adjustments that allowed them to consistently ride at a good pace.
On Friday, the team will return to the track in the first practice sessions for their home GP at Mugello, where a one-day post-race test will take place on the following Monday, concluding three intense weeks of work.
Valentino Rossi (Ducati Team) 6th
"Today's race went a little bit better. This weekend we decided to work on a setting that was similar to the one we used at Barcelona and Estoril, in order to suffer less with the rear tyre. Although we weren't able to try it much in the dry, it turned out to be pretty effective. It allowed me to have a pace that was consistent and pretty fast until the end. The gap to the Hondas is large, but the Yamahas were closer today. When I realized that I didn't have the pace to escape the group I was in, I waited for the right moment to attack, and in the end, I was able to pass almost all of them. I tried with Bradl as well, but when I was almost next to him, they gave us the yellow flag for Stoner's crash, and I backed off because anyway, I would have had to let him back by. I was sixth, our best result in the dry this year, so now we'll continue in this direction. The bike is a little more difficult to ride, but at least I'm able to brake hard and to ride at a good pace until the end."
Nicky Hayden (Ducati Team) 10th
"I'm really frustrated to have been in a big battle like that, only to arrive at the end of it. For the most part, I felt just as fast as the other riders in the group and even faster in places, until about the last five laps. Then I think I was hurt by the combination of the tyre going off and me trying too hard at the end. I really started to spin and lost the rear a couple times on entry. We had tried a couple of things in the warm-up, and considering the lack of dry time this weekend, the bike was decent. In parts of the track I was fast, but I had troubles getting into and out of the last corner, as well as braking for turn one. To arrive tenth, when fifth was just over a second in front, is hard for a racer to take. I can't be too happy with that one, but we'll get another shot in a week at Mugello."
Vittoriano Guareschi, Team Manager
"It was positive day from a number of perspectives: we used two settings for Vale and Nicky that allowed them to ride at a decent pace, close to that of the Yamahas, to not stress the tyres too much and to fight for the entire race with a number of competitors. In the end, Vale got to the front of that group, and although he wasn't able to get Bradl because of the waving yellow flag, he finished sixth, which is his best result in the dry this year. Nicky's result didn't match the potential that he demonstrated for the entire race, but that can happen in a close battle, frustrating as it may be. We must continue working to improve the bike, and today we gathered some interesting information."
https://motorbugs.com/wp-content/uploads/Motor-Bugs-Logo-Transparent-height156px.png
0
0
The Motor Bug
https://motorbugs.com/wp-content/uploads/Motor-Bugs-Logo-Transparent-height156px.png
The Motor Bug
2012-07-09 06:49:02
2016-01-07 04:12:33
Close race for Rossi and Hayden at the Sachsenring