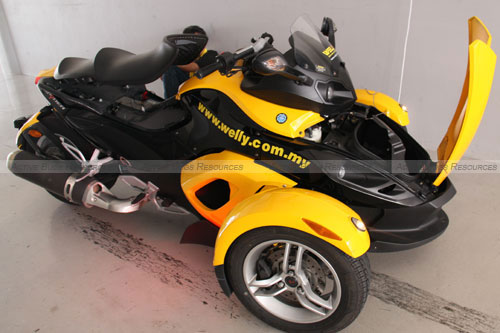 Dark clouds were looming over the horizon at Sepang International circuit the day where 4 fabulous Spyder Can-Am were awaiting to be put to test. For those who think that the Spyder is a convertible 4 wheeler, well you got half of that correct. Yes, it does not have a roof but instead of 4 wheels, it has only 3.
BRP (Bombardier Recreational Products), the parent company of Can-Am is well known for its snow mobile and ATV and now comes along the Spyder. It is neither a car nor a bike but handles like a car and gives you the feel of a bike. The Spyder has a height of about 1.15m, has 165/65R14 front wheels, a 225/50R15 rear wheel, is equipped with dynamic power steering and a choice of sequential Manual 5 speed transmission or a sequential Electronic 5 speed transmission. The Manual transmission comes with a clutch and the gear shifting is just like that of a bike. The Electronic version has a shifter located on the left handle bar and shifting through gears a real breeze. All models of Spyder come with reverse gear and engaging it is so much easier and faster than on a Goldwing or a car.
It takes a while to get use to the way the Spyder handles. But once you are familiar with the gear shift, brakes and throttle, it is really a fun machine to ride on. The steering is like a motorcycle and the response is quite sensitive, like on a Jet Ski or an ATV. I was a little worried that the Spyder will topple over on corners at high speed but the fabulous traction control makes sure that does not happen. The Stability Control System (SCS) which has sensors controlling the wheel speed, handlebar angle and engine output will regain control of the Spyder if you "renegade". However the "brains" or ECU, all 3 of them, does let you have some fun in the form of some tire-smoking launches in a straight line.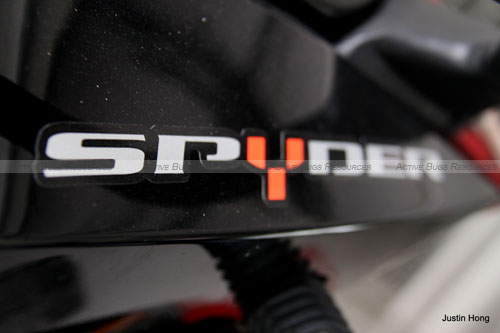 Twist the ignition key and with a push of your right thumb, the V-twin liquid cooled, fuel injected 998cc Rotex power plant kicks in. This is the same power plant that can be found on Aprillia's V-twin. The test machine was fitted with sport exhaust by "Hindle" and the bass output was music to my ears. After a full lap, I decided to put its performance to test. I managed to hit 185 km/h on the 106 hp machine on the back straight and that's not on full throttle yet. The front screen did a good job in keeping the wind from blasting my small frame off the comfortable and well-padded seat. Revving the RPM to the red line on every gear shift is smooth and comes without any glitch. I would have gone on forever if I had not run out of all 5 gears and straights roads, or rather track.
Braking is through a foot actuated lever that stops all 3 wheels and are equipped with ABS and EBD (Electronic Brake Distribution). The Spyder also comes with additional foot brake to stop it from "running off" in sloppy or uneven areas. It works just like a car hand brake.
Instruments come in the form of dual analog with LCD speedometer, tachometer, ambient temperature, engine temperature, fuel gauge and gear position indicator. The dials are well designed and clear.
So for those of you who like to be different, having a Spyder and riding it around town will definitely turn heads. Though I would not recommend riding it during peak traffic hours down town. It would be great to ride with your riding buddies on those outstation and weekends trips or just a romantic ride with your love ones for holidays or dinner. Just make sure the jockey knows how to handle and park your Spyder.
https://motorbugs.com/wp-content/uploads/Motor-Bugs-Logo-Transparent-height156px.png
0
0
The Motor Bug
https://motorbugs.com/wp-content/uploads/Motor-Bugs-Logo-Transparent-height156px.png
The Motor Bug
2012-07-19 14:32:51
2016-01-07 04:12:05
Spyder Can-Am Test