Suzuki Hayabusa or bird of prey in Japanese first rolled out in 1999 as a super touring bike to dethrone the then fastest production motorcycle, the CBR 1100 XX Honda Blackbird and later the Kawasaki ZX-12R. 10 years after, Hayabusa has become a legend.
The first generation Hayabusa with its bullet proof 1299cc engine produces 156 hp with a dry weight of 215Kg. That statistics was enough to smoke most if not all superbikes then. The 2009 model has an increased dry weight of 220 kg but the engine is upgraded to 1340 cc churning out an impressive 194 hp. The power delivery in this four-cylinder, 16 valves, DOHC, liquid-cooled machine however is surprisingly smooth but as I was trying to test out its acceleration shifting from 4th to 3rd, it pops a wheelie. Fortunately it wasn't a scary one and with a slight tap on the throttle, the front landed safely back to the ground.
This Suzuki flagship model handles well both in heavy traffic and on wide uphill corners. I was surprise at its agility taken into consideration the long wheel base of 1480mm (20mm longer than the ZX-14). Going uphill and on long sweeping corners was a joy and the only limits are the road and your stamina. On the highways and on long straight roads, this long haul is the King. From a speed of 140Km/h, I throttled down on a long stretch of less than 400 meters and it hits 280Km/h without any glitch or hesitation. The heavy front end does a good job in making sure the bike sticks to the ground but it takes quite a lot of muscles to steer downhill, more so if you are having a pillion behind.
The front suspension consists of inverted telescopic forks, fully adjustable spring preload, rebound and compression damping. The rear is a link-type also with fully adjustable spring, rebound and compression damping. There is also a well hidden front adjustable damper for you to tweak to your riding style and comfort.
I was fortunate or unfortunate to some, to be caught in the evening heavy shower and thus got the chance to test out the S-DMS (Suzuki Drive Mode Selector). It basically tones down the power of the engine so that in case your wrist gets over excited and throttles down more than you should, the rear does not spin in the wet and gives you a high sided flip. From Mode "A" down to "B" and finally to "C" for the kind of shower that will blurs your vision.
Seat is wide and comfy but only if you are breaking the highway speed limit or going on a short ride. Anything longer than a 100 Km ride and with speed of anything less than 120Km/h, you will need to have a strong shoulder, wrists and bottom.
The fuel capacity of 21 litres is good enough for long rides as you won't have to keep an eye on the fuel gauge if you are on a convoy knowing full well that other bikes will go in for refuelling well before your Busa needs too. However if you are a speed demon and tends to leave others behind, then it's better to plan your refuelling stops.
The front Tokico brake callipers mounting on dual 310mm disc is not too hardy nor is it soft. Braking is smooth with no sudden surprise stoppie or losing of the front end, unless of course you intentionally want to lift the rear end or hits it on a sandy patch. The rear single piston calliper on a 260mm disc works better than most bikes of its class and with much better "feel".
Overall the bike fair above average. With good aerodynamic, big front screen to keep you from blowing off at aircraft taking off speed, stylish and clear dials (digital gear indicators, clock, fuel and temperature gauge, analog Rev and speedometer), light aluminium alloy frame and swing arm. If you need a bike that intimidates supercars, this is the bike to get.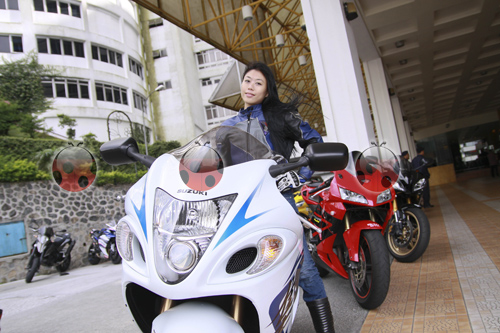 https://motorbugs.com/wp-content/uploads/Motor-Bugs-Logo-Transparent-height156px.png
0
0
The Motor Bug
https://motorbugs.com/wp-content/uploads/Motor-Bugs-Logo-Transparent-height156px.png
The Motor Bug
2012-07-19 14:36:08
2016-01-07 04:12:01
Test Ride: Suzuki Hayabusa