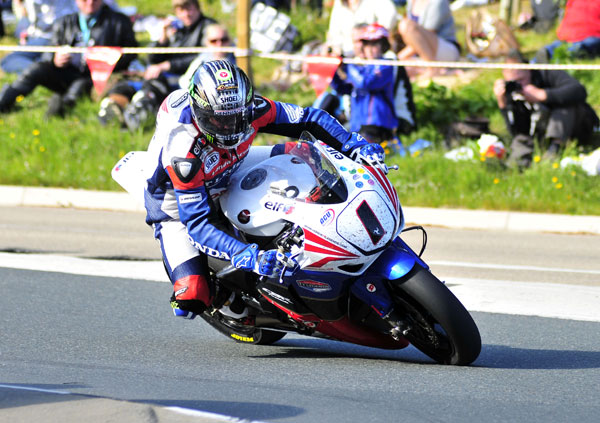 Fastest 2011 TT Races Newcomer Simon Andrews will team up with 17 time TT Champion John McGuinness in the Honda Legends team for the 2012 Isle of Man TT Races fuelled by Monster Energy, Honda Motor Europe announced today.
John McGuinness secured his 16th and 17th TT victories on the Isle of Man in 2011 with wins in the Dainese Superbike and PokerStars Senior TT as well as winning the overall championship while Worcester based Andrews recorded a lap of 125.174 as he took 11th place in the PokerStars Senior Race. He also finished 11th in the Royal London 360 Superbike Race in his debut year.
The pair will also be part of a four strong line up with Australian Cameron Donald and 2011 Monster Energy Supersport Race winner Gary Johnson in the FIM Endurance World Championship.
Donald and Johnson will also race Honda's at the TT and North West while Johnson will also contest the 2012 British Superstock Championship with Honda (UK) Racing.
The team will campaign on the Isle of Man aboard the 2012 version of the CBR1000RR Fireblade as Honda celebrates the 20th anniversary of the legendary machine.
Neil Tuxworth, team manager, Honda TT Legends commented:
"Honda was keen to showcase the Fireblade in a different environment to that of short circuit racing and we certainly proved its dynamic capability in endurance racing. We had a good first year, but now the focus is on improvement with the ultimate goal being the podium in the FIM Endurance World Chamionship. We have the 2012 Combined ABS-equipped Fireblade, two riders with a year of EWC under their belts and two new and enthusiastic riders who can't wait to get stuck in so we're very positive about the season ahead. When it to comes to the TT, what better line-up than the fastest man around the course and the 2011 fastest newcomer? It's going to be an exciting year."
Robert Watherston – Manager Motorcycle Sport, Honda Motor Europe
The Honda TT Legends team was launched not only to highlight the unique heritage and iconic status of the Fireblade, but to celebrate some of the world's most spectacular motorcycling events – the sense of occasion and festival atmosphere. The inaugural season for the Honda TT Legends added to Honda's already rich history of involvement in such events. After a successful year that saw the team hold its own in a very competitive EWC field and add two TT wins to McGuinness's tally, we are looking forward to the challenge of year two – which is all the more significant being the 20th anniversary of the CBR1000RR Fireblade.
John McGuinness, Honda TT Legends commented:
"Last year was definitely a learning year for the team and now it's time to up our game in EWC. We did a lot of development on the bike last season, particularly at the last couple of rounds with the introduction of Combined ABS. We were knocking on the door of the podium and this year we'll hopefully go one step further and get up there. We've got a great crew and after year one we all know what we're doing and what the aims are for 2012 so things are looking good. The fact that's it's the 20th anniversary of the Fireblade makes it all the more exciting. Each time Honda brings out an updated model it's a big step forward so I'm looking forward to racing it. I've had some of the most memorable career moments on the Fireblade and with any luck we'll be adding to the list this year."
Simon Andrews, Honda TT Legends, commented:
"I am genuinely excited about the year ahead. To be asked to join the Honda TT Legends team is a real honour and I can't wait for the season to get started. I have done a couple of endurance races – one being the Le Mans 24-hour – so I do know what to expect but I'm sure the full championship will be a real challenge. I'm a rider that rides better with miles under my belt, so the endurance side of things will without doubt help with the road racing. To be riding alongside the legend that is John McGuinness at the Isle of Man TT is big business and I'm hoping he'll have one or two pointers for me! There is no better person to learn from."
Paul Phillips, TT and Motorsport Development Manager, Isle of Man Government commented:
"John McGuinness again proved that he is the man to beat on the Mountain Course last year with his two wins and in Simon Andrews I am convinced that we have a TT star of the future. With limited practice time last year he still finished Xth in the Y race and with a few more laps he could well have been the fastest newcomer ever on the Island."
https://motorbugs.com/wp-content/uploads/Motor-Bugs-Logo-Transparent-height156px.png
0
0
The Motor Bug
https://motorbugs.com/wp-content/uploads/Motor-Bugs-Logo-Transparent-height156px.png
The Motor Bug
2012-02-04 04:58:12
2016-01-07 04:24:39
Simon Andrews Teams Up with John McGuinness for Honda TT Legends team