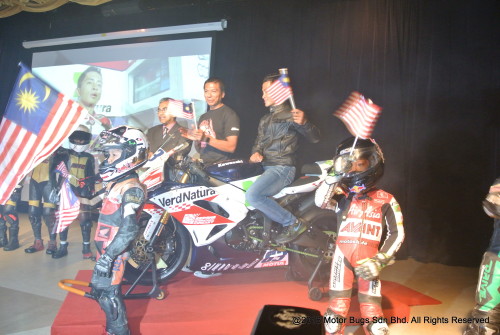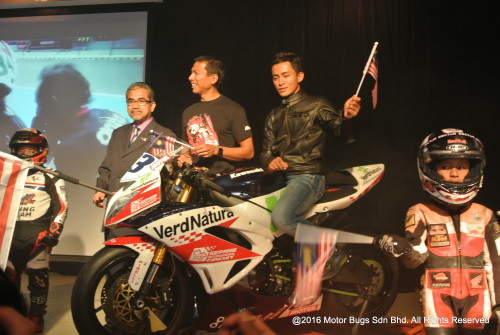 Kuala Lumpur, 22nd March 2016.
Sepang International Circuit (SIC) – promoter and organiser of the 2016 MOTUL FIM Superbike Championship Malaysian round (WSBK 2016) yesterday officially rolled out the special #supportfahmi63 campaign in support of Malaysian rider Muhammad Zulfahmi Khairuddin and to woo fans to the event. This is the third year running that SIC is hosting the WSBK, the second biggest international two-wheel motorsports championship held in Malaysia.
Speaking at the official launch of the WSBK 2016 Malaysian Round held at the Saloma Bistro, MATIC Complex here, SIC Chief Executive Officer Dato' Razlan Razali called upon fans, event partners, sponsors and media organisations to support the campaign as a show of patriotism and support for Malaysia's motorsport development.
"International level sporting events, including motorsport events like the WSBK, are great unifying forces, inspiring not just unity, but also nationalism and patriotism amongst Malaysians. Perhaps motorsports fans are not considered to be as numerous as football fans, but they are equally emotional, loyal and vocal in their support of their fellow Malaysians, especially when it is a world championship event like the WSBK," said Dato' Razlan.
"Through this #supportfahmi63 campaign, we urge Zulfahmi's fanbase – currently more than 50,000 strong, two-wheel motorsports enthusiasts as well as Malaysians from all walks of life to come to Sepang this 13 to 15 May to support our local hero. With Zulfahmi's strong showing in the opening two races, we are hopeful of him performing another miraculous ride in Sepang in his first ever WSBK race in Malaysia, and scoring a podium finish like he did in 2012 when competing in the Moto3," Dato' Razlan added.
The launch saw the attendance of Zulfahmi himself as a special guest, thrilling the guests when he turned up with a group of young pocket bike riders. Competing for ORELAC Racing Team in the World Supersport Championship this season, the former Moto3 rider will be seeing action with teammate Nacho Calero when Sepang hosts Round 6 of the 14-leg world championship.
At his debut in Phillip Island during the opening Australian Round, Zulfahmi managed to finish in the points, taking 3 points with a 13th placing, despite still familiarising himself with the behaviour of his 600cc Kawasaki machine. He further added to his points tally in Round 2, in Buriram, Thailand, when he took a commendable 7thplacing, earning a further 9 points.
"At SIC, we are glad that he is making promising progress with his new team, demonstrating the calibre of Malaysian motorsports talent to a wider audience. To further add to the special atmosphere during the WSBK in Sepang, we have created a special seating zone, called the 'Fahmi63 Tribune' for his fans at the Main Grandstand's Diamond zone, facing the starting grid, team pit and podium," added Dato' Razlan. Tickets for the Fahmi63 Tribune are offered at RM63 for purchases from April 1 to 12 May, after which tickets will be sold at the normal price of RM119.78 including GST. Each ticket includes exclusive Fahmi 63 merchandise.
Dato' Razlan also revealed that among Zulfahmi's thousands of supporters are some big names, including top local celebrities and sportsmen such as Dato' Siti Nurhaliza Tarudin, Fizo Omar and national footballer Aidil Zafuan, all of whom had put their support behind the #supportfahmi63 campaign.
This year, SIC is targeting a 5% increase in spectator attendance from 2015 for the three-day event. The #supportfahmi63 campaign is also aimed at increasing the profile of the event, with 2016 being the last year in SIC's three-year contract with worldwide rights holder Dorna for holding the event.
"This event presents an excellent opportunity to emulate the success of the Malaysia MotoGP achieved in recent years, which peaked with a fully sold-out event last year. By empowering home grown talent to succeed in the championship, we hope to create a similar surge in local interest in the WSBK that is crucial for the event's success. Not forgetting, I urge motorsports enthusiasts to also cheer on our boys in the support races," Dato' Razlan added.
Unlike the previous two editions, this year's WSBK features a new format, which provides more entertainment value for the fans. "With the new format this year, fans will get to catch Race 1 of the WSBK on Saturday and the Supersport and Race 2 of the SBK on Sunday. This is in addition to the free practice and qualifying sessions for both categories," Dato' Razlan noted. The WSBK 2016 Malaysian Round also features the Shell Advance Asia Talent Cup and the opening round of the Malaysia Superbike Championship as support races.
Visitors can look forward to returning crowd pleasers, such as getting up close to the riders at the WSBK Paddock Show, which includes the riders' autograph session, as well as other activities like the track stunt show, safety car ride, public pit lane walk, pit tour, Opening Ceremony Bike Parade, and an auto carnival offering just about everything a bike enthusiast could want.
Live viewing sessions
In the build up to the WSBK 2016 Malaysian Round, the ever popular SIC Zoomers team is holding Teh Tarik Live Viewing Sessions from 28 February to 1 May 2016. Other than catching the race, fans can participate in the Watch & Win contest offering great prizes from SIC, and enjoying a great meal. The live viewing sessions are also held for F1 Grand Prix and MotoGP races. Be sure to watch out for the announcements on SIC's Facebook page.
Tickets and passes
Tickets for the WSBK 2016 Malaysia Round start from only RM38.16 for the K1 Grandstand and RM87.98 for the Main Grandstand with various packages available. Overall, ticket prices have been significantly reduced this year – as much as RM142 lower for the Main Grandstand Paddock Access ticket, compared to 2015. While tickets are being sold at normal prices from 1 April to 12 May 2016, Maybank and Bank Mandiri customers can still enjoy a 20% discount.
For maximum enjoyment of the event, fans are recommended to purchase the Main Grandstand Paddock Access tickets, which will allow fans to be closer with the riders at the paddock back-of-pits area, catch the race from the rooftop of the Pit Building and enjoy a close behind-the-scenes view of the activities within the paddock. For a more luxurious experience, fans can get a 2-day VIP pass for the air-conditioned Paddock Lounge luxury halls with 2-days of all day dining included.
Fans with disabilities will be able to purchase tickets for designated OKU seating areas at 50% off the normal price up until race day. Children below 7 years can watch the race free.
To find out more about the ticket pricing for 2016, visit Sepang International Circuit's website at www.sepangcircuit.com or call the Ticket Hotline at 03-8778 2222. Keep updated on the latest viewing sessions and activities lined up for 2016 via SIC's Facebook page at https://www.facebook.com/sepanginternationalcircuit
* To purchase disabled tickets, fans will need to show their disabled person card to get the discount.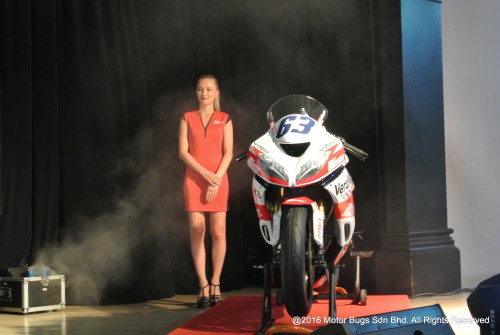 https://motorbugs.com/wp-content/uploads/Motor-Bugs-Logo-Transparent-height156px.png
0
0
The Motor Bug
https://motorbugs.com/wp-content/uploads/Motor-Bugs-Logo-Transparent-height156px.png
The Motor Bug
2016-03-23 12:06:03
2016-03-23 12:06:03
SIC rolls out #supportfahmi63 campaign for Motul FIM superbike world championship 2016