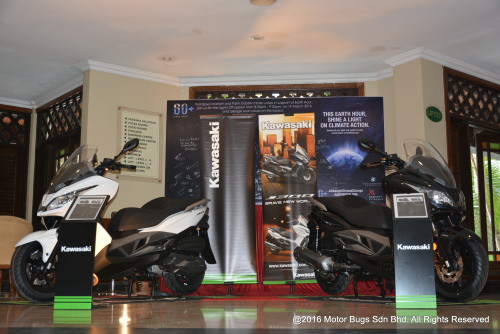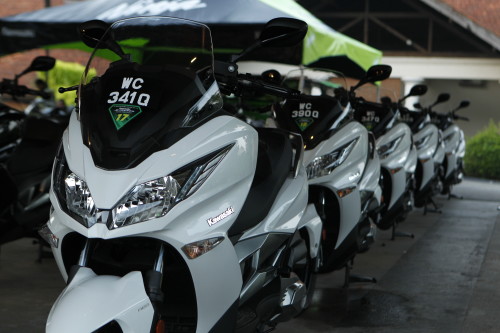 Why the Initial "J" for Kawasaki's very first J 300 scooter you ask. Well, it is actually taken from the first initial of the Japanese word "Jyounetsu" which can be translated to mean "Passion". Quite appropriate to describe Kawasaki's new venture as it is with passion that the dedicated styling and design team from Kawasaki Heavy Industries (KHI) approached with when coming up with the design. Also the more you ride the J 300, the more passionate you will feel about it.
The J 300 was first launched in Europe in the late 2013 and a bit unfortunate that it is only made available to the Malaysian market after almost 3 years. However, better late than never as now we have an additional scooter model to choose from.
Kawasaki J 300 299 cm³, SOHC, 4-stroke, 4 valves, 34 mm⊘ fuel injection, liquid-cooled engine and tubular diamond steel chassis is supply by Kawasaki strategic partner Kymco who are known to make good, reliable mopeds and scooters engines. The development, styling and final product engineering approach however has been conducted exclusively by the design and engineering team at Kawasaki's factory in Akashi, Japan and Kawasaki's European R&D Department. Mr. Jeffrey Lim, general manager / director of Kawasaki Motors Malaysia has assured the Malaysian market that the J 300 has been further re-tuned and refined to make it suitable for the Malaysian climate and road condition.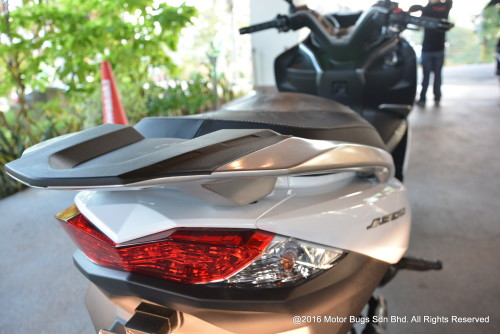 The unveiling of the Kawasaki J 300 to the media on the 15th March 2016 came with a test ride that covers highway, trunk roads, towns and city. The media, including yours truly here rode over 150 KM that day with a rest stop and photo shoots in-between rides. One obvious sense that we all (the media) shared is how comfortable the ergonomic seat is. I personally felt that the upmost front part of the seat should be narrower so that those who are vertically challenged can put both legs down while sitting instead of tip toeing when the scooter stops.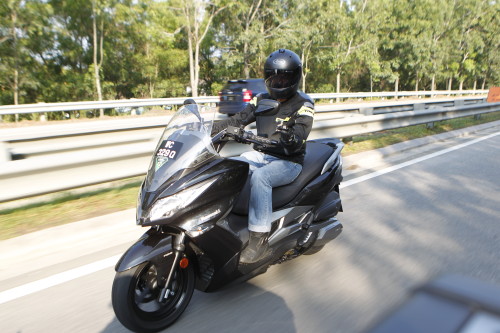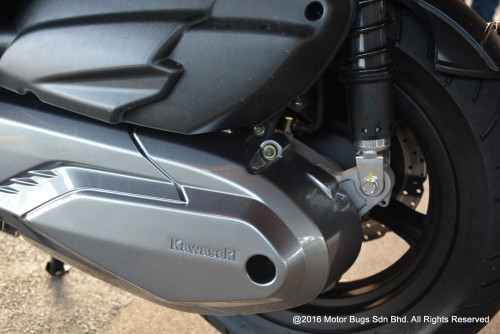 The Kawasaki J300 impresses me with its smooth delivery of power and transmission. The chassis is a bit hard and this scoot tends to oversteer a bit when taking corners. But then, this mode of transport is not meant to ride like a superbike. It is ideal for town use and also long distance travel. The fuel economy is fantastic. With 166 km covered, the fuel gauge only drops a bar of out 5 from this 13 litres fuel tank.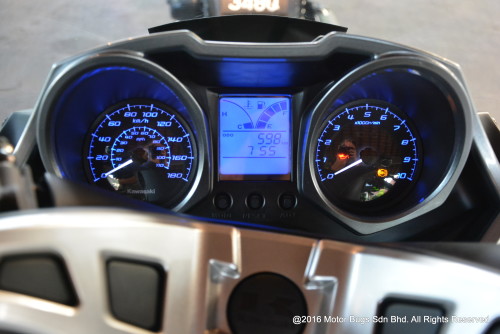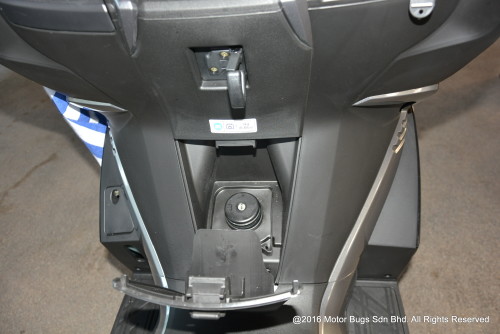 The storage space below the seat has the capacity to keep a full face helmet and a small bag. It also comes with a light located at the side wall and a tool pouch strapped at the top of the bottom of the seat. A hydraulic arm holds the seat up when it is open and it is with this little detail that you know the engineers and design team in KHI are listening to the scooter market of what they are looking for in a scooter.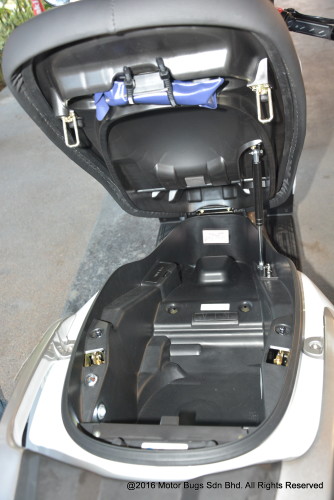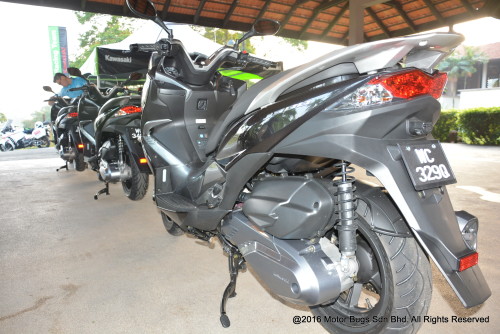 The front 37mm telescopic fork is a bit hard to my liking. It was rather bumpy going through rough patches of road. The rear twin shocks however are a bit soft, but then it can be adjusted with a 5-way preload.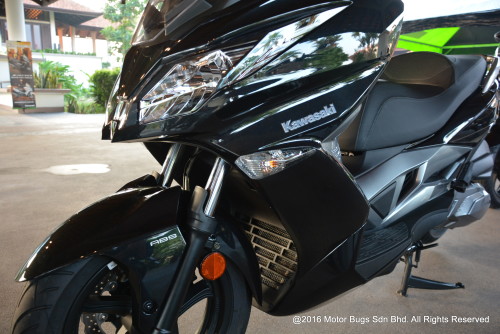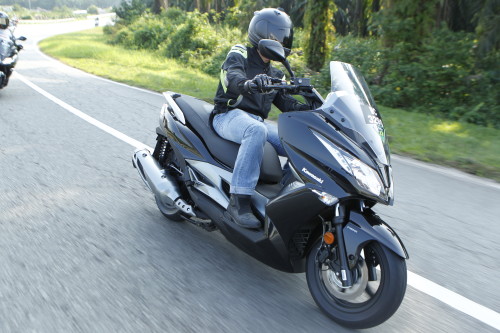 A single 260mm petal disc with dual piston caliper stops the front wheel while the rear comes with a single 240mm petal disc also with dual piston caliper. The brake hoses are steel braided for better brake fluid flow efficiency and preventing hose expansion like you would get from those conventional rubber hose when temperature runs high.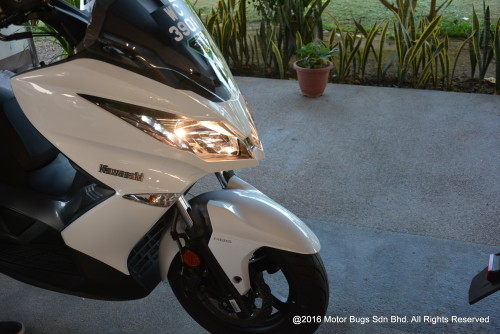 This urban performer as Kawasaki calls it, churns out a maximum torque of 28.7 N.m (2.9 kgf.m) / 6,250 rpm. Sufficient power for any beginner, ladies as well as season bikers. You can comfortably cruise at a speed of between 120 Km/h – 140 Km/h without any vibration felt on the handle bar and wind resistance were minimal, although I felt the front screen was a little short as wind was hitting onto my forehead position on my helmet.
Overall I would give the Kawasaki J300 a 4 Star rating out of 5.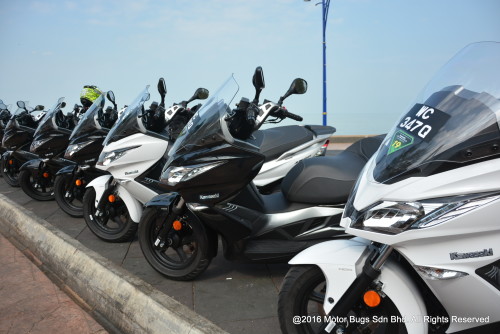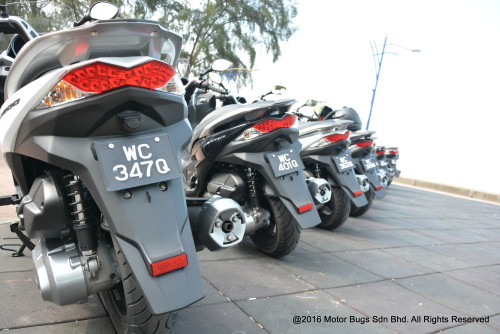 Dimensions:
Overall length: 2, 235 mm
Overall Width: 775 mm
Overall height: 1, 260 mm
Wheelbase: 1, 555 mm
Ground clearance: 145 mm
Seat height: 775 mm
Curb weight: 191 Kg.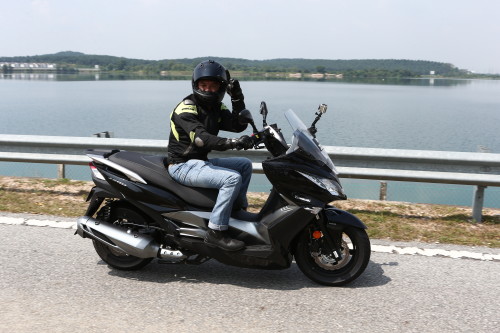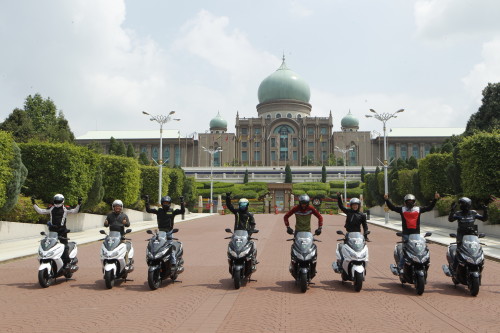 https://motorbugs.com/wp-content/uploads/0262891-e1458812593315.jpg
200
300
The Motor Bug
https://motorbugs.com/wp-content/uploads/Motor-Bugs-Logo-Transparent-height156px.png
The Motor Bug
2016-03-23 18:01:26
2016-03-24 17:43:31
KAWASAKI J300 TEST RIDE.