22 RIDERS SELECTED FOR INAUGURAL SHELL ADVANCE ASIA TALENT CUP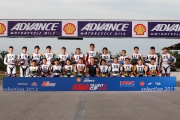 The selection process to decide the grid of the Shell Advance Asia Talent Cup debut season ended today at the Sepang International Circuit in Malaysia, with 22 riders chosen to compete on the Honda NSR250R bikes in 2014.
Over two days, a total of 108 riders from 9 different countries (China, India, Indonesia, Japan, Malaysia, Singapore, Sri Lanka, Thailand, and the Philippines) took to the Sepang kart circuit on 125cc Honda Future 'underbone' bikes, watched closely by talent scout Alberto Puig, Andrew Hepher from Shell, Honda Racing Corporation's Livio Suppo and Carmelo Ezpeleta, the CEO of MotoGP rights holders Dorna Sports.
After a final 'shootout' this afternoon with the best riders of both days' activities, Alberto Puig gathered the 42 riders and announced the 22 successful candidates (plus three reserve riders) from seven countries:
CHINA (1)
– Yuanhang Chen (17 yrs)
INDONESIA (3)
– Wilman Hammar (16 yrs)
– Andi Muhammad Fadly (13 yrs)
– Basyiruddin Samhan Mashuri (15 yrs)
JAPAN (7)
– Tsubasa Yoshida (13 yrs)
– Kaito Sekino (15 yrs)
– Yuta Date (14 yrs)
– Ryo Mizuno (15 yrs)
– Tsurugi Kitami (17 yrs)
– Ayumu Sasaki (13 yrs)
– Kaito Toba (13 yrs)
THAILAND (3)
– Nakarin Atiratphuvapat (17 yrs)
– Somkiat Chantra (14 yrs)
– Muklada Sarapuech (19 yrs)
MALAYSIA (6)
– Nazirul Izzat Bin Muhammad Bahauddin (13 yrs)
– Muhammad Shafiq Bin Rasol (16 yrs)
– Muhamad Adam Bin Mohd Norrodin (15 yrs)
– Muhammad Helmi Bin Azman (13 yrs)
– Fakhrusy Syakirin Bin Rostam (17 yrs)
– Mohammad Shafiq Ezzariq (13 yrs)
PHILIPPINES (1)
– Ralph Kenneth Torres (14 yrs)
SINGAPORE (1)
– Azhar Bin Mohd Noor (16 yrs)
RESERVES (3)
– INDONESIA: Muhammad Taufiq Hidayat (16 yrs)
– JAPAN: Shota Nakayama (17 yrs)
– MALAYSIA: Muhammad Ibrahim Bin Mohd Norrodin (13 yrs)
Alberto Puig, Shell Advance Asia Talent Cup talent scout: "We had riders from many countries and it was great to see. They all improved their times heat after heat, it was a good selection process and we are happy. It's never easy to select riders, there's no science for this, it's just your perception of the situation after doing this for many years now. So I based the decisions on my intuition as well as on the lap times. If the lap times are also on the same level as your thoughts, then you have the perfect combination."
The Shell Advance Asia Talent Cup will become a feeder series to the world of international motorcycle racing and will help showcase Asian riding talent. The Championship is scheduled to consist of 6 rounds, with the first taking place at the Qatar round of the 2014 MotoGP season.
Andrew Hepher, General Manager Marketing Consumer Brands and Product, Shell Lubricants: "First of all, I want to congratulate the 22 riders who will ride with us in 2014 – throughout this process they've continually demonstrated that they are the most talented riders in the region and highly deserving of this chance. I also want to thank all our applicants for their interests in this exciting new competition.
It's especially good to see that the boys have some competition from the only girl to make it through to the final 22 – I look forward to watching Muklada Sarapuech from Thailand mixing it at the front with the boys!
"I am very proud to be part of the Shell Advance Asia Talent Cup – a perfect platform to identify and support the very best motorcycle racing talent in Asia. We need to keep this momentum and there's no better way to do that than with a feeder series like the Shell Advance Asia Talent Cup. The initial season in 2014 is going to be a very exciting moment for all of us and we can't wait for it to get underway. With our 22 riders selected, we are almost there!"
https://motorbugs.com/wp-content/uploads/Motor-Bugs-Logo-Transparent-height156px.png
0
0
The Motor Bug
https://motorbugs.com/wp-content/uploads/Motor-Bugs-Logo-Transparent-height156px.png
The Motor Bug
2013-10-15 18:06:45
2016-01-07 03:57:40
SHELL ADVANCE ASIA TALENT CUP