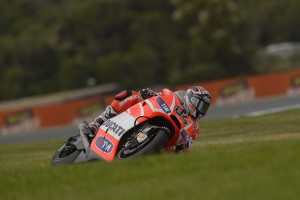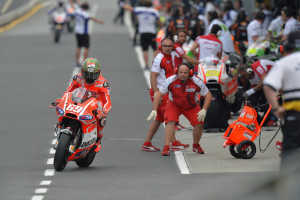 In a dramatic Australian Grand Prix that featured a "flag-to-flag" format in the dry, with obligatory pit stops, Nicky Hayden and Andrea Dovizioso maintained their cool in challenging circumstances, riding to seventh and ninth place finishes, respectively. The unusual format, which had riders switching bikes at the midway point of the shortened 19-lap race, was implemented by Race Direction in response to tyre wear being much higher than anticipated over the course of the weekend.
In the race's first half, the two Ducati Team colleagues battled with one another and fellow Ducati rider Andrea Iannone. Hayden used good pit strategy to get away from the other two Ducati riders and make a run at sixth-place Bradley Smith that ultimately fell just short. Similarly, Dovizioso was unsuccessful in his late bid to overtake Iannone and ultimately had to accept ninth place.
With the first two legs of this overseas tripleheader now complete, the MotoGP teams now return to Asia for next weekend's Japanese Grand Prix at Motegi.
Nicky Hayden – Ducati Team, 7th
"If I'm honest, I hoped to be more competitive, but it went better than some of our recent races. My first tyre didn't feel as grippy as I expected. I was racing with Iannone and Dovi, but I knew I was faster than those guys and didn't want to tow them. I waited to do the opposite of them, so when I saw them go in the pits, I put my head down and did a good in-lap, then did a good lap leaving the pits and was able to put a couple of seconds onto them. I got to the back of Smith at the end, but I was struggling in the last corner, and there were some spots of rain. As for the pit stop, it was easy. I've been with my team for five years, and we practice it sometimes. Yes, this pit is tight, but we're used to doing 340 Km/h, so if you use your head, I don't think coming in at 60 is so dangerous."
Andrea Dovizioso – Ducati Team, 9th
"The race was more enjoyable than usual because of the changes they made, as well as the strategies. I had a pretty tough battle with Nicky and Iannone but it was all a bit difficult for me, also because my two GP13s didn't have the same feeling. The second bike wasn't as good as the first. Anyway, I don't have any excuses; I'm just not happy with the result. I had another battle with Iannone and came close to him at the very end, but I didn't manage to beat him. Nicky did a good job and had a really fast in-lap; he caught Smith and managed to have a good pace from the start of the race."
Paolo Ciabatti – Ducati MotoGP Project Director
"Today's race was really strange, exciting with many twists. The 'flag-to-flag' format in the dry with a maximum of 10 laps per tyre and an obligatory pit stop put more pressure on our team. Still, I must say everything went smoothly, and I'd like to complement our boys, who didn't make any mistakes. The final result of the race definitely isn't very satisfying for us, but Nicky and Dovi tried their hardest, as always."
https://motorbugs.com/wp-content/uploads/Motor-Bugs-Logo-Transparent-height156px.png
0
0
The Motor Bug
https://motorbugs.com/wp-content/uploads/Motor-Bugs-Logo-Transparent-height156px.png
The Motor Bug
2013-10-20 14:38:30
2016-01-07 03:57:36
Hayden seventh at Phillip Island, Dovizioso ninth