"For those who have the urge the be different, SPECIAL as we say".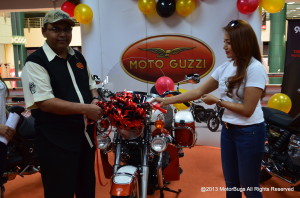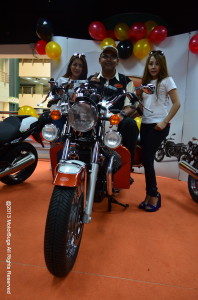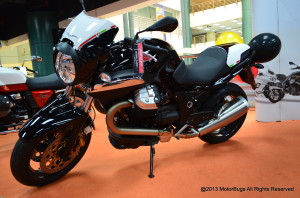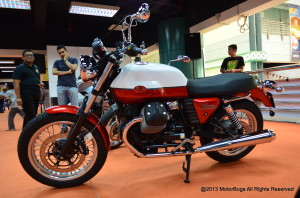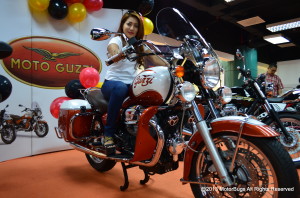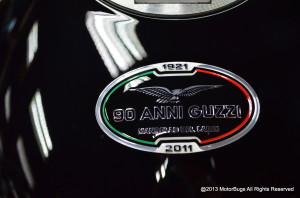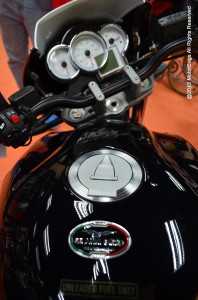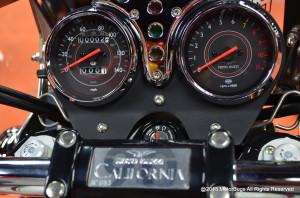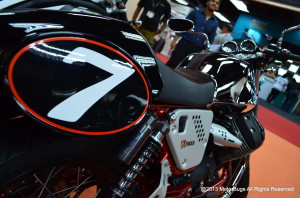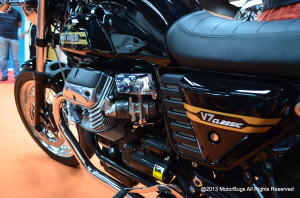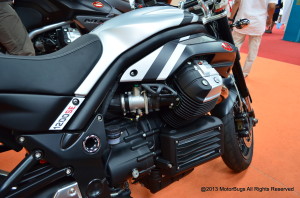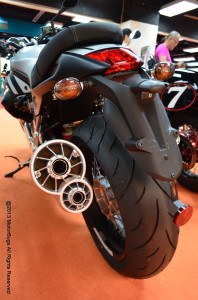 Established on 15 March 1921, Moto Guzzi is known for building the great legacy of Italian classic.
Moto Guzzi  launched its 90th series of motorcycles as a sign of being one of the oldest motorcycle brands in Italy. The launching of the 3 magnificent bikes (V7 Classic,  1200 Sports and California 90) took place in Matrade, in conjuction with NST Car Of The Year (COTY) event. The event was launched by the Area Manager of Asia Pacific Piaggio, Mr. Mark Franklin, and Dato' SM Zulkifli SM Amin by SMS AUTO SDN BHD.
Moto Guzzi is currently taking its place in Malaysia for the first year (almost), has been in known to rise in the market aggressively. Piaggio group appointed Malaysia as the distributor throughout other Asia regions. This being so, Malaysia is making its name throughout Asia as the centre distributor of the great Italian legacy, Moto Guzzi.
The launch of the 90th series in Malaysia is a big leap for the country. This is an opportunity for Malaysia to grow and increase the awareness of Moto Guzzi in the market. SMS AUTO SDN BHD is targeting these LIMITED EDITION MOTO GUZZI UNITS to be cleared of in the last quarter of the year. The stock for the 90th series is strictly limited to a few units. Moto Guzzi would be likely to expand throughout the country drastically as the support for the biking community in Malaysia is tremendous.
That being said, Piaggio is putting their trust in our beloved country as a point of distributorship for the brand. It is a huge amount of respect from the Piaggio to appoint Malaysia as a point in the globe, to launch the 90th series Moto Guzzi. Moto Guzzi is soon going to be a one-year-old brand in Malaysia. We have also heard that Malaysia would also be under Piaggio's observation to launch the new California 1400 in the asia region. SMS AUTO WORLD SDN BHD is doing justice to the brand to groom Moto Guzzi's market in the region AND to ensure an international standard service to the customers.
Moto Guzzi Malaysia is now expanding their dealership throughout the country. Moto Guzzi Melaka and Kelantan are now fully running while Kuantan, Penang, and Sabah are in the process. Moto Guzzi Melaka is strategically located in the middle of Melaka town at Jalan Laksamana Cheng Ho. Moto Guzzi Kelantan is located at Mukim Kota, Jalan Kuala Krai, Kota Bharu. Both dealers have showrooms and service centre.
With the rise of internet technology nowadays, where social media have become the main medium of communication, Moto Guzzi Malaysia is not left behind in this regard. Moto Guzzi Malaysia have an account with Facebook (@ Moto Guzzi Malaysia), Twitter (@ motoguzzimsia) and Instagram (@ motoguzzimsia) and it also became the main medium for the them to attach directly with their fans and their customers. For a more accurate reference, fans and customers of Moto Guzzi can visit the official website of the Malaysian Moto Guzzi at www.motoguzzimalaysia.com.my
https://motorbugs.com/wp-content/uploads/Motor-Bugs-Logo-Transparent-height156px.png
0
0
The Motor Bug
https://motorbugs.com/wp-content/uploads/Motor-Bugs-Logo-Transparent-height156px.png
The Motor Bug
2013-10-14 17:28:25
2016-01-07 03:57:43
MOTOGUZZI 90TH SERIES MODELS LAUNCH