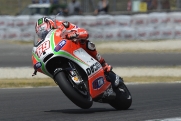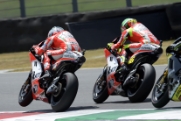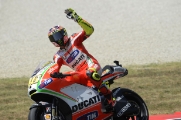 Today at Mugello, Valentino Rossi and Nicky Hayden were protagonists in a great race that saw them cross the finish line in fifth and seventh positions, respectively, both coming very close to making the podium.
It was the best dry performance of the season for the Ducati Team, in terms of the gap to the front and the excellent rhythm that both riders were able to maintain to the end.
After a poor start, the Italian made a determined charge forward from twelfth place to fifth, making a last-lap pass on his teammate, who himself had fought for the podium before finishing just behind Bradl and Dovizioso.
Tomorrow the team will return to action for a one-day post-race test on the Tuscan circuit.
Valentino Rossi (Ducati Team) 5th
"Overall, I think today was the best dry result of the year for Ducati, because Nicky had a great race as well. We're quite happy, as our pace was very good, especially toward the end. Unfortunately, I lost time at the beginning. Not only was I on the fourth row, but I also had a bad start. I got by some riders pretty quickly, but by then I had already accumulated too much of a disadvantage. Otherwise, I think it would have been possible to make the podium. We're having too much trouble in practice. Normally we're able to have a decent rhythm with the hard tyres, but when we put on the soft, we can't manage to cut those six or seven tenths that the others drop. For two races, we've worked on a setting that allows us to be consistent until the end of the race, but at the same time, it gives me more trouble with the front. When I put on the soft tyre, the extra grip makes that problem worse and I'm not able to effectively initiate corner turn-in. We have to work on that area. We have a test day tomorrow, so we'll see."
Nicky Hayden (Ducati Team) 7th
"I got a good start, but I was spinning a lot in the beginning, and I thought I was going to destroy the tyre. Once I went to a smoother map, I was able to really start driving off the corners and bringing the group back. Those last seven, eight laps, I really gave it everything; I wasn't sure I was going to finish, but I was sure I was going to go for it. On the last lap, after I went by Bradl for fourth, I was only thinking about trying to pass 'Dovi' and get the Ducati on the podium, so I don't regret the fact that I tried. In the end, we can't be happy with seventh, but I hope all the Ducati fans that came to support us can be proud of this team this weekend. They gave me a good bike, and we really had a shot at the podium today."
Vittoriano Guareschi, Team Manager
"Today we got to see a nice race for both Vale and Nicky, and it was the result of the good work done by the team over the weekend. We found some settings that were adapted to the needs of both riders so that they were able to take advantage of our current potential. Now we must continue working to take a step forward with the bike's development. Tomorrow we'll test some things with the chassis in order to improve the bike's balance, and we'll try some details with the motor in an effort to further improve rideability."
https://motorbugs.com/wp-content/uploads/Motor-Bugs-Logo-Transparent-height156px.png
0
0
The Motor Bug
https://motorbugs.com/wp-content/uploads/Motor-Bugs-Logo-Transparent-height156px.png
The Motor Bug
2012-07-16 04:34:13
2016-01-07 04:12:22
Rossi and Hayden close to podium at Italian GP