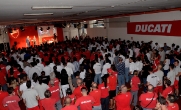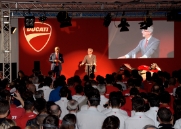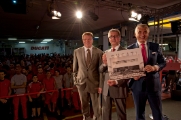 Thomas Siqi (Audi AG Human Resources). Rupert Stadler (CEO of Audi AG). Gabriele Del Torchio (President and CEO of Ducati)
Borgo Panigale (Bologna)
Mr. Rupert Stadler, CEO of AUDI AG, accompanied by Mr.Thomas Sigi, responsible for AUDI AG Human Resources, visited the Ducati factory in Borgo Panigale , Bologna, Italy today, received by Ducati's President and CEO, Gabriele Del Torchio and Ducati Management. After additional meetings with local RSU (Rappresentanza Sindacale Unitaria) union representatives, Mr. Stadler addressed the entire Ducati workforce of approximately 1000 people with a motivational speech that underlined Audi's passion for the iconic Italian motorcycle manufacturer.
"What is true in every romance also applies to two companies – a good start is half the battle," said Mr. Stadler from a special stage built inside the Ducati factory. "You've probably wondered why we were interested in Ducati, a car manufacturer with no apparent ties to Ducati at first glance. But that's only at first glance. Ducati stands for extraordinary engineering artistry, passion, precision, performance and the sheer joy of living. We're impressed by these achievements.
"I know that I'm looking at an outstanding group here, and that you are a strong team! Without you, Ducati would not be such an attractive company today. Audi and Ducati are both driven by the same passion. Neither of us will detract from the other, we will complement one another. And one very important aspect that means a lot to me is that we can be an inspiration to each other. There are many joint opportunities with high-performance engines, light-weight manufacturing and the skilled interplay between two strong brands on the global stage. Both companies, each with an eventful history of 'ups' and 'downs', can now benefit from being part of one big family – the Volkswagen Group. I am very pleased to report that the antitrust authorities approved the deal at the beginning of July and that eliminated the final obstacle en route to the start of our shared future. Ducati will officially be part of the Audi family by next week!
"This brings me to an important message that I would like to leave with you today. A message that is certainly uppermost in your minds. Ladies and gentlemen, this message consists of three words and you have my guarantee: Ducati remains Ducati."
About Ducati:
Founded in 1926, Ducati has been producing sport-inspired motorcycles since 1946. Their motorcycles are characterised by "Desmodromic" performance engines, innovative design and avant-garde technology. Covering several market segments, Ducati's range of motorcycles are divided into model families which include: Diavel, Hypermotard, Monster, Multistrada, Streetfighter and Superbike.
These authentic icons of "made in Italy" are sold in over 80 countries around the world, with concentration on the European, North-American and Asia Pacific markets. Ducati competes in both the World Superbike Championship and, with an official team, the World MotoGP Championship. In Superbike Ducati has won 17 Manufacturers' titles and 14 Riders' titles and in 2011 passed the historic milestone of 300 race victories. Ducati have participated in MotoGP since 2003, and took both the Manufacturers' and Riders' titles in 2007.
https://motorbugs.com/wp-content/uploads/Motor-Bugs-Logo-Transparent-height156px.png
0
0
The Motor Bug
https://motorbugs.com/wp-content/uploads/Motor-Bugs-Logo-Transparent-height156px.png
The Motor Bug
2012-07-13 08:48:08
2016-01-07 04:12:26
Audi CEO addresses Ducati workforce as Antitrust Commission prepare to complete process