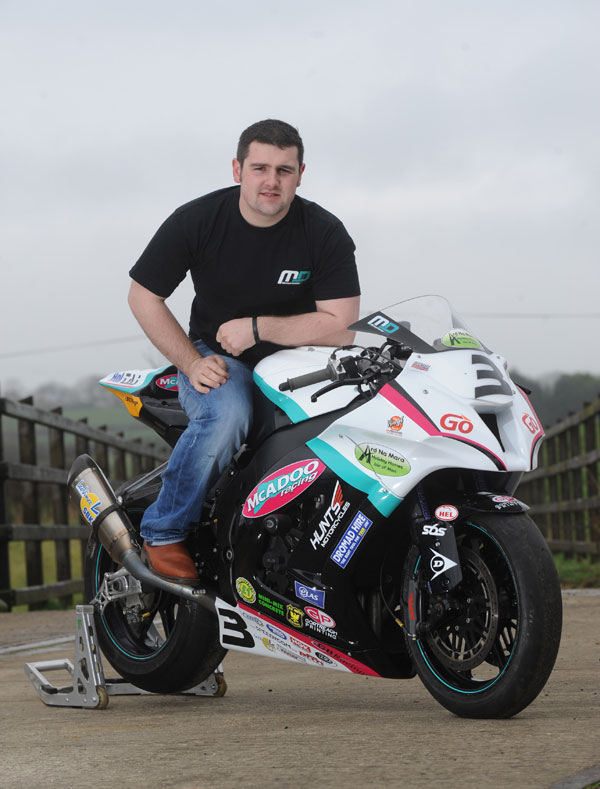 Michael Dunlop has concluded his plans to race at the 2012 Isle of Man TT Races and the popular Northern Ireland based rider has announced will be competing in all of the solo classes at this year's meeting.
Competing under his own Michael Dunlop Racing banner, with backing from the McAdoo team, Dunlop will be competing on a Suzuki GSXR 600 in the Monster Energy Supersport Races, a Hunts Motorcycles-built Honda Fireblade in the Dainese Superbike and PokerStars Senior and a Kawasaki ZX10 in the Royal London 360 Superstock Race. He will also campaign a ER-6 Kawasaki Supertwin in the Lightweight Race that precedes Friday's Senior TT.
Emphasising the hybrid nature of the operation, the team will not run under the purple and turquoise colours associated with the McAdoo's and will instead compete under a new black and white livery design although McAdoo's colours will also be present on the bike.
The Ballymoney man is building a successful TT career for himself since his debut in 2007. Already the fastest Dunlop family member around the course, which he achieved in 2008 with a lap of 124.773, finishing 10th in the Senior Race, he has since gone on to claim victories in the 2009 Supersport and 2011 Superstock TT's. He currently stands 7th on the all-time list of fastest laps around the Mountain Course with 130.213mph, which he set last year, and has finished on the TT Races podium 7 times including four runner-up places.
Commenting on the season ahead Michael said:
"As everyone knows, I'll be going hard at it as usual. It's been pretty stressful getting everything together and as an independent racer it's never straightforward. I've had to invest heavily to get the right machinery, and we're still looking for a couple of sponsors to help, but I'm confident that I've got everything in place to get some more wins under my belt at the TT. It's a different approach but some of the lads like Martin Marlow, Gerard Rice, Seamus Byrne and Mark Dunne are still with me as personal sponsors and we have a couple of new sponsors like Elas and Minimix Concrete also on board."
He's clearly exciting about the backing from the McAdoo team:
"Winston McAdoo has always had great riders and if they weren't great he made them great. I was a big admirer of Bob Jackson and look at Ryan Farquhar, Ian Hutchinson and Conor Cummins. We will get on well because the team only want to win, just like me."
Paul Phillips, TT and Motorsport Manager, Isle of Man Government, commented:
"Michael is one of the most exciting young competitors around the TT Course and is one of a handful of riders that can win any of the classes on his day. Over the last few years he has become one of the genuine stars of the TT and he'll be looking to add to his already impressive TT CV this June."
https://motorbugs.com/wp-content/uploads/Motor-Bugs-Logo-Transparent-height156px.png
0
0
The Motor Bug
https://motorbugs.com/wp-content/uploads/Motor-Bugs-Logo-Transparent-height156px.png
The Motor Bug
2012-03-07 13:33:55
2016-01-07 04:26:11
MICHAEL DUNLOP FINALISES PLANS FOR 2012 ISLE OF MAN TT RACES