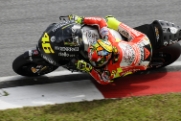 Despite a negative weather forecast, the final day of the Sepang test was the only one of the three not affected by rain. Valentino Rossi stayed on the track until the last minute in order to complete as much work as possible for the Ducati engineers, who continue working on the development of the GP12. As for Nicky Hayden, despite still not being in perfect physical condition, he continued testing into the afternoon, and on his very last exit, he had a harmless low-speed fall in Turn 1.
Both riders found the new electronics that were introduced at this test to be a breakthrough, although they didn't find the ideal setup for improving their lap times and ended the day in tenth and eleventh positions. Still, they both reduced their gap to the front considerably compared to the first test.
The next winter test is scheduled for March 23-25 at the Spanish Jerez circuit.
Valentino Rossi (Ducati Team) 10th, 2:01.550 (57 laps)
"One small positive note to the day is that we reduced the gap to the front a little bit. It was 1.2 seconds, and now it's 1 second. It's also nice that the new electronics work well, but it hurts being down on the timesheets compared to all the others. We tried a bunch of things in order to take a step forward from the first test, but unfortunately, we weren't able to do it and were actually worse. It was harder for me to ride well compared to three weeks ago, especially my corner speed. It's true that this test was more difficult in terms of weather and track conditions, but it seemed to affect us more than the others. Honestly, I expected to do better than tenth. We were also unfortunate because at the best part of the day, when I did a 2:01.5 and we had some tyres to try to lower the time further, we had a problem with the fork that cost us some time. Maybe without that we would have cut another three or four tenths and been further up, but our pace is still about seven tenths back. Honestly, that's not a huge amount, but anyway we're still behind. We're not pleased with how it went this time, but we have to try and work hard and see what happens at Jerez, where the track is very different than this one, with much different weather and temperatures. We'll see how we do there."
Nicky Hayden (Ducati Team) 11th, 2:01.609 (44 laps)
"Of course I would prefer to have been closer to the front, but it's my first real test of the year. The bike feels better on braking and into the corner, and I like the feedback it gives me. Also, the lap times don't seem as affected when the track gets hot and greasy. We need to work on some chatter and on corner exits. We have plenty of ideas, as there are a lot of things we didn't get to try this week because of the weather. Toward the end, I lost the front end in Turn 1 and crashed, but it was an easy one and I'm fine. I'm happy with how my shoulder is coming along. I hope that with three more weeks of recovering and rehab, it should be close to 100 per cent for Jerez."
Filippo Preziosi (General Manager, Ducati Corse)
"It was sunny for the last day of the Sepang test, and after almost completely losing the first two days due to rain, we had to concentrate a lot of work into a relatively short time. Clearly, situations like that make it more difficult to achieve maximum performance because the setup changes continuously. Today Valentino is tenth and Nicky is eleventh, and obviously we would prefer to be further up. Anyway, they both liked the new electronics package that we had for this test. We'll keep working hard between now and the next test at Jerez, where we'll try to put everything we have together and optimize it."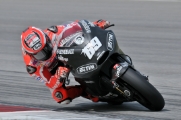 https://motorbugs.com/wp-content/uploads/Motor-Bugs-Logo-Transparent-height156px.png
0
0
The Motor Bug
https://motorbugs.com/wp-content/uploads/Motor-Bugs-Logo-Transparent-height156px.png
The Motor Bug
2012-03-02 05:39:44
2016-01-07 04:24:31
Ducati Team concludes Sepang test with sunny weather and busy schedule