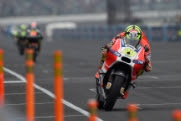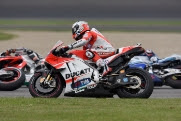 Andrea Iannone and Andrea Dovizioso finished in fifth and ninth place respectively in the Indianapolis Grand Prix, held on Sunday at the iconic Speedway circuit in the USA.
The race got underway under darkening skies and with a threat of rain, but luckily it stayed dry throughout the 27 laps. After a good start from seventh place on the grid, Iannone finished the opening lap in fourth, dropping one place down to fifth on the next lap after being passed by Rossi. The Italian rider from Vasto then held on to fifth place until the chequered flag, despite coming under repeated pressure from Smith.
Andrea Dovizioso, who started from the fourth row with tenth quickest qualifying time, was forced to slow at Turn 2 immediately after the start to avoid a clash with Crutchlow, and he crossed the line at the end of lap 1 in 21st position. The Ducati Team man then began a superb recovery through the field that took him to ninth place by lap 17 and he held that position until the end.
In the overall standings Iannone is now fourth with 129 points, behind Marquez, while Dovizioso is in sixth with 94 points, behind Smith. Ducati lie in third place in the Manufacturers' standings, with 154 points.
Andrea Iannone (Ducati Team #29) – 5th
"I got a really good start, but unfortunately I didn't have the pace to stay with the leading group. I tried everything I could to push hard right from the start, but I wasn't as quick as the top 4, so I did my own race and it was not easy to keep Smith behind until the end. With the harder tyre we knew that the leading four were a bit quicker, but in any case we held our own and I think that we took home the best result that we could obtain today. Now we have to respond to get out of this period in which we don't seem to be going anywhere and get back to fighting for the podium like we were doing at the start of the season."
Andrea Dovizioso (Ducati Team #04) – 9th
"At the start of the race I was unlucky to find myself in the wrong place at the wrong time at Turn 2. After a bad start I had to change my line to the outside of the corner: Crutchlow, in trying to avoid making contact with Smith, had to sit up and that forced me to go off the track in order to avoid him. It was a real pity because on this track in particular, starting from behind and recovering through the field is really difficult, because you cannot afford to be too aggressive. All things considered, my lap times in the race were not bad, but obviously we could have done better. I've had a lot of things happening to me over the last few races, so sooner or later the situation will have to change!"
Luigi Dall'Igna (Ducati Corse General Manager)
"We still have a few things to sort out on the Desmosedici GP15, and this race was also useful to better understand the direction to follow in the future. In addition, we did not have the hard rear tyre available, and today that was clearly the best solution. In fact, this was the option chosen by all those who had it at their disposal. So it would have been difficult to do better than this. Iannone ran a really solid and steady race, and it wasn't easy for him to arrive at the chequered flag with the medium compound tyre. Pity about Dovizioso who unfortunately had to work his way back up through the field from the back."
https://motorbugs.com/wp-content/uploads/Motor-Bugs-Logo-Transparent-height156px.png
0
0
The Motor Bug
https://motorbugs.com/wp-content/uploads/Motor-Bugs-Logo-Transparent-height156px.png
The Motor Bug
2015-08-11 03:26:56
2016-01-07 03:47:01
Iannone fifth, Dovizioso ninth, in Indianapolis GP