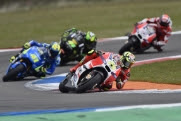 Andrea Iannone managed to score another good result in round 8 of the MotoGP World Championship, the classic Dutch TT round held at the Assen circuit. The rider from Abruzzo, who started from sixth place on row 2 of the grid, got off to a good start and was fifth at the end of the opening lap. On lap 3 he passed Pol Espargaro to move into fourth, a position he held until the chequered flag, and he ended the race with a five second gap to his Spanish rival.
Andrea Dovizioso, who started from row 4 after qualifying tenth on the grid, had another unlucky race. The rider from Romagna managed to work his way up to fifth place by lap 11 after passing Smith, Crutchlow and the Espargarò brothers, then held on to that position until lap 14. Unfortunately an unexpected vibration on his GP15, which got worse lap after lap, forced him to slow his pace and as a result Dovizioso had to settle for twelfth overall.
Iannone stays third in the Riders' standings with 107 points, while Dovizioso drops one place to fifth on 87 points, two behind Marquez.
Ducati lie third in the Constructors' standings with 132 points, with the Ducati Team still second in the special ranking for teams.
Andrea Iannone (Ducati Team #29) – 4th
"It was a difficult race because when you aim for better results it's not easy to be satisfied with fourth, even if you score good points. In the race I got off to a good start, unlike in the other rounds, but I was not able to run particularly well in the first three or four laps and I struggled to pass Aleix Espargarò right away, so I lost touch with Jorge, Marc and Vale. My race pace was similar to Jorge's so I could probably have tried to do a bit more. However we have to be pleased and satisfied because we managed to take home the best possible result today. I believe that we did a good job over the weekend, we ran a constant pace throughout the weekend and again we were able to work out the right direction to follow."
Andrea Dovizioso (Ducati Team #04) – 12th
"It's a real pity what happened today because after not exactly setting the world alight in qualifying, I had succeeded in moving up to fifth place in the race. I was running behind Iannone when a part of the seat, attached to the exhaust, broke. This moved around a lot and caused the front of the bike to vibrate. I had to slow down because I almost crashed many times and this did not allow me to score a good result. Without this setback we could have done a good race even though we were not entirely satisfied with our speed."
Luigi Dall'Igna (Ducati Corse General Manager)
"Andrea Iannone did a really nice race, getting a good start and keeping up a good pace that enabled him to take the chequered flag in a well-deserved fourth place. Unfortunately a technical issue conditioned Andrea Dovizioso's race while he was lying in fifth. These things should not happen but we have to look ahead with confidence."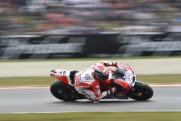 https://motorbugs.com/wp-content/uploads/Motor-Bugs-Logo-Transparent-height156px.png
0
0
The Motor Bug
https://motorbugs.com/wp-content/uploads/Motor-Bugs-Logo-Transparent-height156px.png
The Motor Bug
2015-06-29 08:27:00
2016-01-07 03:50:07
MotoGP race – Andrea Iannone fourth at the flag. A vibration hampers Dovizioso, who finishes twelfth