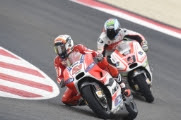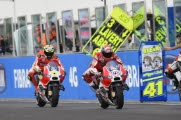 The TIM San Marino Grand Prix was held in changeable weather conditions, which gave rise to an exciting 28-lap race. The rain began to fall a few laps into the race, becoming heavier after a few laps, so the riders came into the pits to change their bikes. Around the mid-point the track had dried out again and the riders came into the pits a second time to change, this time to bikes with dry weather settings.
Iannone powered away well from the third row of the grid and he crossed the line at the end of the opening lap in fifth place. After moving up to fourth on lap 6, Andrea then pitted on the next lap to change to his 'wet' bike. The Italian then switched bikes again on lap 18 and began a charge up the field that took him to seventh with four laps to go, holding that position to the chequered flag despite coming under attack from his teammate.
Dovizioso, who also started from row 3, ran the first five laps in seventh. He briefly took the lead on lap 7, before stopping to switch over to his 'wet' machine on lap 8. Returning to the track in eighth place, the Italian crossed the line in seventh on lap 16 and three laps later he again pitted to switch bikes. Dovizioso returned to the race in thirteenth place but he was back up to eighth with four laps to go before the flag.
Wild-card Michele Pirro (Ducati Test Team) had an unfortunate race after qualifying on row 2 in fifth. The Italian had a technical problem on the starting grid and had to start from the pit-lane with his second GP15 machine, which however was in wet-weather trim. Nine laps later Pirro had to retire when his rain tyres were completely destroyed by the dry track surface.
In the overall standings, Iannone continues his run in fourth place on 159 points, while Dovizioso has now been passed by Smith and he drops back to sixth place with 128 points. Ducati and the Ducati Team lie third in the Constructors' and Teams' standings.
Andrea Iannone (Ducati Team #29) – 7th
"It was a very complicated race. In the early stages I was going quite well, I had enough confidence with the bike and I was trying to attack Pedrosa. When it began to rain, the situation became more difficult because it wasn't easy to lap on slicks in those conditions on a track surface that was neither dry nor wet. When I changed bikes, the rain tyres were ruined immediately, even before the track had dried out and my bike tended to move around a lot in acceleration and was difficult to control. Unfortunately I made a mistake when it was time to switch bikes for the second time, delaying my entry too much, and probably my final result would have been different if I had decided to come in before. Next time I'll certainly pay more attention to the pit-board, and make better use of today's experience."
Andrea Dovizioso (Ducati Team #04) – 8th
"It was a real pity and I feel disappointed for the team because we missed out on an important opportunity to score a good result, but unfortunately I had the wrong strategy. Both bike switches I didn't do at the right time, and I will take the blame for that: I'm really disappointed about it, because we could have got a good result. That will certainly be useful for the future, but it's always complicated to understand when it's the right time to come into the pits and change bikes."
Michele Pirro (Ducati Team #51) – DNF
"Let's say that today was clearly not my day. Until the race the weekend had been going perfectly, but on the grid the bike didn't start because of a technical problem and I had to set off from the pit-lane with my 'wet' bike. It could have been a great day for me, because I felt really good and I was counting on doing well, but in the end I missed out in a big way. Bikes are made of components and today one of these components deprived us of the satisfaction of being able to run the race with the top guys. I'm clearly disappointed but I have to put it behind me, so a big thanks to the guys in the team who did a perfect job. For someone like me who doesn't have many chances of racing in MotoGP, today maybe the conditions were just right for a good result, but it's obvious that I still have to suffer some more!"
Luigi Dall'Igna (Ducati Corse General Manager)
"Let's say that it was a difficult race, made even more complicated by constantly changing weather conditions. In the end choosing when to come in and change tyres made all the difference. Unfortunately both of our riders decided to come in a bit too late, also because it wasn't easy to see where the new track surface was wet or dry. The fact remains that towards the end of the race we had good pace and if we had also guessed our strategy right, maybe our two riders could have scored a different result. Pirro's retirement was a real shame, because he finally had a chance to show his worth and he could have done a good race. Unfortunately a technical issue, for which I apologize to him, ruined any chance for Michele to score a good result."
https://motorbugs.com/wp-content/uploads/Motor-Bugs-Logo-Transparent-height156px.png
0
0
The Motor Bug
https://motorbugs.com/wp-content/uploads/Motor-Bugs-Logo-Transparent-height156px.png
The Motor Bug
2015-09-14 03:14:51
2016-01-07 03:46:26
Iannone and Dovizioso finish TIM San Marino Grand Prix in seventh and eighth place. Pirro forced to retire.