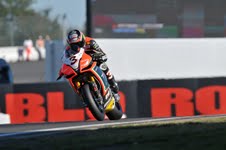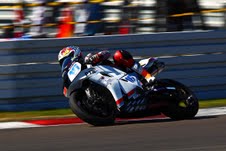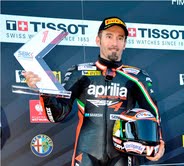 Nürburgring (Germany), Saturday 8 September 2012 – In near-perfect riding conditions Max Biaggi (Aprilia Racing) set a new track best of 1 minute 53.855 seconds at the Nürburgring to secure his first Tissot-Superpole win of the year and only the fifth of his career. The 2010 world champion was in superb form and set a lap time that not even the 2012 king of Tissot-Superpole, Tom Sykes (Kawasaki Racing Team), could beat, despite a couple of attempts.
Marco Melandri (BMW Motorrad Motorsport) rode confidently to third place on the grid for Sunday's eni FIM Superbike World Championship races. Eugene Laverty (Aprilia Racing) joins the front row party in fourth, with Jonathan Rea (Honda World Superbike Team) putting himself fifth.
Max Biaggi: "It was a very good lap time, and I'm happy for that because we've been working well all weekend. No rain, all sunshine and we have kept the work going. This lap I pulled together and I'm happy with what I got. The top 3 in the championship are all here in the first row, I'm sure it will be difficult tomorrow but I'll keep my head down and do my best."
Tom Sykes: "We did good work all weekend like in Moscow and I'm feeling confident for tomorrow. Unfortunately unlike the start of the season we didn't benefit so much from the qualifying tyres this time round. But my aim is tomorrow, I tried to get the pole on my fourth lap with the qualifier in the final run but  overall I'm very happy, and we'll see how we go tomorrow."
Marco Melandri: "It's a good place for me to be for the races tomorrow.  I was always struggling in qualifying but today we had a good feeling with the qualifying tyre so my BMW was working pretty good. I'm so happy to be here. Tomorrow's going to be two long races, but we will see and it's a good point to start from the front row. Here it's like my fourth 'home' race with BMW, but my goal is to get good results tomorrow."
Reigning champion Carlos Checa (Althea Racing Ducati) secured sixth place while a spirited series of laps throughout Superpole from Leon Camier (FIXI Crescent Suzuki) puts him seventh. The last front row spot will go to Loris Baz (Kawasaki Racing Team).
Davide Giugliano (Althea Racing Ducati) set himself up in ninth place on the grid after failing to make it to Superpole 3, while Chaz Davies was another just outside the top two rows, tenth on his ParkinGO MTC Racing Aprilia. It was a tough day for rider injuries, with Niccolò Canepa (Red Devils Roma Ducati) breaking his right tibia and David Salom (Team Pedercini Kawasaki) crashing hard in Superpole 1 and being taken to Koblenz hospital for precautionary scans.
Times: 1. Biaggi (Aprilia) 1'53.855 average 162.428 kph; 2. Sykes (Kawasaki) 1'53.904; 3. Melandri (BMW) 1'53.912; 4. Laverty (Aprilia) 1'54.148; 5. Rea (Honda) 1'54.300; 6. Checa (Ducati) 1'54.322; 7. Camier (Suzuki) 1'55.165; 8. Baz (Kawasaki) 1'55.734; 9. Giugliano (Ducati) 1'54.540; 10. Davies (Aprilia) 1'54.800; 11. Zanetti (Ducati) 1'55.671; 12. Haslam (BMW) 1'55.082; 13. Fabrizio (BMW) 1'56.290; 14. Hopkins (Suzuki) 1'56.530; 15. Canepa (Ducati) ; 16. Salom (Kawasaki) ; etc.
Supersport
Jules Cluzel (PTR Honda) secured another pole position for himself this season, his fifth in all, after leapfrogging his fellow PTR rider Sam Lowes (Bogdanka PTR Honda) in the final session. Lowes was unable to improve on his Friday best time today. Broc Parkes (Ten Kate Racing Products Honda) almost took second but lost his advantage in the final split, while championship leader Kenan Sofuoglu (Kawasaki Lorenzini) made it onto the front row for Sunday's 19-lap race. Fabien Foret (Kawasaki Intermoto Step) relied on his Friday time for fifth, with Russian podium hero Vladimir Leonov (Yakhnich Motorsport) again strong in sixth place. Gabor Talmacsi (PRORACE Honda) was seventh.
Times: 1. Cluzel (Honda) 1'59.201 average 155.143 kph; 2. Lowes (Honda) 1'59.210; 3. Parkes (Honda) 1'59.226; 4. Sofuoglu (Kawasaki) 1'59.521; 5. Foret (Kawasaki) 1'59.637; 6. Leonov (Yamaha) 1'59.816; 7. Talmacsi (Honda) 2'00.079; 8. Morais (Kawasaki) 2'00.180; etc.
Superstock 1000
Team Pedercini Kawasaki rider Bryan Staring headed up combined qualifying after setting the fastest time in the second session, pushing his Kawasaki Ninja ZX-10R to a lap time of 1 minute 59.084 seconds. It was his first pole position in this class. Just under three-tenths behind him Eddi La Marra (Barni Racing Team Italia Ducati) was second fastest and to keep the close competition in the series at a high level, Sylvain Barrier (BMW Motorrad Italia GoldBet) was third. Day one fastest man Jeremy Guarnoni (MRS Kawasaki) was fourth overall, with British rider Kevin Coghlan (DMC Racing Ducati) improving his placing on the grid to fifth, with a lap time just over one second behind Staring's.
Times: 1. Staring (Kawasaki) 1'59.084 average 155.295 kph; 2. La Marra (Ducati) 1'59.364; 3. Barrier (BMW) 1'59.394; 4. Guarnoni (Kawasaki) 1'59.670; 5. Coghlan (Ducati) 2'00.112; 6. Reiterberger (BMW) 2'00.215; 7. Mercado (Kawasaki) 2'00.346; 8. Massei (Honda) 2'00.391; etc.
Superstock 600 – Race
Michael van der Mark (EAB Ten Kate Junior Team Honda) set a new lap record of 2 minutes 02.736 seconds to win the ten-lap UEM Superstock 600 European Championship race at the Nürburgring, and in doing so take the lead in the championship, all despite riding with a plate and screws in his recently injured collarbone. Van der Mark now leads Riccardo Russo (Team Italia FMI Yamaha) by two points in the championship, 169 to 167. Russo was second in the German round, 1.814 seconds back on front-runner van der Mark, while Franco Morbidelli (Bike Service RT Yamaha) took the last podium place on offer.
Results: 1. Vd Mark (Honda) 10 Laps/51.370 km in 20'33.723 average 149.898 kph; 2. Russo (Yamaha) 1.814; 3. Morbidelli (Yamaha) 5.269; 4. Chesaux (Honda) 7.134; 5. Nestorovic (Yamaha) 10.073; 6. Jones (Yamaha) 10.147; 7. Cecchini (Honda) 18.875; 8. Nekvasil (Yamaha) 19.664;  etc.
Points (after 8 of 10 rounds) 1. Vd Mark 169; 2. Russo 167; 3. Duwelz 78; 4. Vitali 59; 5. Nestorovic 58; 6. Schacht 55; 7. Calero Perez 54; 8. Morbidelli 52; etc.
KTM European Junior Cup
Lukas Wimmer (MSC Schalchen) set a 2 minute 12.481 second lap time to score pole in the KTM European Junior Cup, heading off Artur Wielebski (Bogdanka Junior Team Poland) and his team-mate Adrian Pesek on the way. All 20 riders improved their lap times today, in readiness for Sunday's seven-lap race. Kyran De Lang (Silverton Midas) was fourth quickest.
Times: 1. Wimmer (AUT) 2'12.481; 2. Wielebski (POL) 2'13.304; 3. Pasek (POL) 2'13.918; 4. De Lange (RSA) 2'14.155; 5. Garcia (ESP) 2'14.410; 6. Vidal (ESP) 2'14.484; 7. Fazzina (ITA) 2'14.968; 8. Demoulin J. (FRA) 2'15.374; etc.
https://motorbugs.com/wp-content/uploads/Motor-Bugs-Logo-Transparent-height156px.png
0
0
The Motor Bug
https://motorbugs.com/wp-content/uploads/Motor-Bugs-Logo-Transparent-height156px.png
The Motor Bug
2012-09-09 05:46:32
2016-01-07 04:12:17
Biaggi posts strong Tissot-Superpole performance