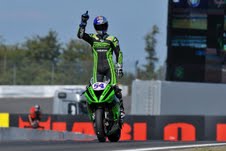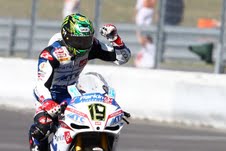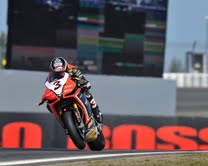 Nürburgring (Germany), Sunday 9 September, 2012 – Max Biaggi (Aprilia Racing Team) once more heads the points table in the eni FIM Superbike World Championship, after two races in Germany laden with incident and frequent accidents for the top two championship runners. Biaggi won race one in impressive style, taking his 21st career win and his fifth of the year. In race two Chaz Davies (ParkinGO MTC Team Aprilia) won his first ever SBK race and in doing so became the eighth rider to take a victory in what is proving to be a remarkable 2012 season.
Marco Melandri (BMW Motorrad Motorsport) lost the championship lead he had worked so hard for in the previous round in Russia when he fell in both 20-lap races. The second crash happened while he was leading. Biaggi had already crashed on the first lap of race two but restarted to battle back to take what may well be three important points.
The event in Germany brought forward a number of firsts, all of which unfolded under brilliant blue skies and sunshine in front of a weekend crowd of 46,000 spectators.
Aprilia riders went 1-2-3 in the opening race for the first time ever. British rider Leon Camier (FIXI Crescent Suzuki) gave his team its first podium finish of the season with a fine third place in race two. Second place rider in each race was Eugene Laverty (Aprilia Racing Team) taking his first double podium for the Italian manufacturer.
Davies' race win gave riders from the UK a combined victory total of 118 in individual SBK contests, joining the USA and Australia on the same record total of 118 victories each.
In the championship Biaggi now has 381 points, Melandri 308.5 and Sykes 291.5, making the fight for the overall title closer between the top three yet again, with only 26.5 points separating them all. Two rounds and four races remain, with everything to play for.
Race 1
In the first race Biaggi pulled off one of his coolest and most assured wins to re-take the lead in the championship fight. His victory came after he took the lead from a slowing Tom Sykes (Kawasaki Racing Team), and before the end of the 20 laps both Laverty and Davies had also passed Sykes, making it a 1-2-3 for riders on Aprilias. Camier was a battling fifth after a last minute glitch on the starting grid, while Melandri crashed out on lap six.
Max Biaggi: "It's just a happy moment to be here. The result is the best that we can do, so we can be proud of all the work we did during the weekend. We keep improving the bike especially in the set-up. Overall I could ride well, even though it was slippery basically I could set good lap times. Sykes impressed me with his pace in the first half, and finally he started to lose concentration and maybe grip and I could take him and keep my lap time."
Results: 1. Biaggi (Aprilia) 20 Laps/102.740 km in 38'52.751 average 158.553 kph; 2. Laverty (Aprilia) 3.027; 3. Davies (Aprilia) 3.127; 4. Sykes (Kawasaki) 12.306; 5. Camier (Suzuki) 14.131; 6. Guintoli (Ducati) 19.523; 7. Haslam (BMW) 27.017; 8. Zanetti (Ducati) 33.116; 9. Badovini (BMW) 34.937; 10. Aoyama (Honda) 39.132; etc.
Race 2
Davies claimed his and his team's first win with an impressive display of eventual front-running, winning by over three seconds and easing up, after top contenders Melandri and Biaggi found the gravel traps. In a festival of points for British and Irish riders, Laverty was second, and a great ride from Camier saw him recover from a less than perfect start to go third, only losing second place to a late push from Laverty. Jonathan Rea (Honda World Superbike Team) was fourth, and one-time race leader Sykes was fifth. Biaggi recovered to finish 13th, half a minute down on the winner.
Chaz Davies: "What a feeling! I got an average start and went the long way round at the first corner. It was risky but it worked and I was fourth. I was comfortable all race, and knew if I could just get away with the front guys I thought I could stay and that was the case, but I didn't expect them the mistakes from Marco and Max! In the end it was just a concentration game with myself, keeping the lap times consistent. What a way to repay the ParkinGo team for their efforts!"
Results: 1. Davies (Aprilia) 20 Laps/102.740 km in 39'00.327 average 158.039 kph; 2. Laverty (Aprilia) 3.022; 3. Camier (Suzuki) 3.222; 4. Rea (Honda) 5.705; 5. Sykes (Kawasaki) 7.304; 6. Checa (Ducati) 7.541; 7. Giugliano (Ducati) 14.709; 8. Baz (Kawasaki) 19.782; 9. Badovini (BMW) 19.925; 10. Guintoli (Ducati) 20.028; etc.
Points (after 12 of 14 rounds): 1. Biaggi 318; 2. Melandri 308,5; 3. Sykes 291,5; 4. Checa 247,5; 5. Rea 225,5; 6. Laverty 213,5; 7. Haslam 189; 8. Davies 156,5; 9. Guintoli 143,5; 10. Giugliano 125; etc. Manufacturers: 1. Aprilia 384.5; 2. BMW 377; 3. Ducati 342; 4. Kawasaki 322.5; 5. Honda 240.5; 6. Suzuki 120.5.
World Supersport
Kenan Sofuoglu (Kawasaki Lorenzini) won his fourth race of the season today, securing victory by 0.541 seconds over second place rider Jules Cluzel (PTR Honda) in the 19-lap FIM Supersport World Championship race at the Nürburgring. Sofuoglu's win was of the start-to-finish variety as he extended his championship lead over Cluzel, with Kenan now sitting on 198 points to the French rider's 160. Third in the race was Fabien Foret (Kawasaki Intermoto Step Racing) who moved to third in the championship after podium challenger Sam Lowes (Bogdanka PTR Honda) fell. Lowes restarted to finish 14th but he is now fourth overall in the points, four behind Foret. Broc Parkes (Ten Kate racing Products Honda) was fourth today, 2012 rising star Vladimir Leonov (Yakhnich Motorsports Yamaha) went fifth but was disqualified post-race for a technical infringement.
Results: 1. Sofuoglu (Kawasaki) 19 Laps/97.603 km in 38'13.709 average 153.189 kph; 2. Cluzel (Honda) 0.541; 3. Foret (Kawasaki) 6.258; 4. Parkes (Honda) 10.345; 5. Baldolini (Triumph) 18.303; 6. Talmacsi (Honda) 22.366; 7. Iannuzzo (Triumph) 27.230; 8. Linortner (Yamaha) 33.213; 9. Quarmby (Honda) 33.526; 10. Roccoli (Yamaha) 35.932; etc.
Points (after 11 of 13 rounds): 1. Sofuoglu 198; 2. Cluzel 160; 3. Foret 144; 4. Lowes 141; 5. Parkes 122; 6. Morais 84; 7. Baldolini 78; 8. Quarmby 77; 9. Iannuzzo 60; 10. Tamburini 50; etc. Manufacturers: 1. Kawasaki 237; 2. Honda 237; 3. Triumph 107; 4. Yamaha 97; 5. Suzuki 6.
Superstock 1000
Sylvain Barrier (BMW Motorrad Italia GoldBet) was always in contention for the win at the Nürburgring but was finally gifted the victory after three of his main rivals fell one-by-one. First off was Eddi La Marra (Barni Racing Team Italia Ducati) then Jeremy Guarnoni (MRS Kawasaki) and finally pole man Bryan Staring (Team Pedercini Kawasaki). Kevin Coghlan (DMC Racing Ducati) capitalised on the bad luck up front to take a second place finish, with Markus Reiterberger (Team Alpha Racing BMW) third. In the championship La Marra leads on 119 points, Barrier has 113, Staring 86 and Guarnoni 82.
Results: 1. Barrier (BMW) 11 Laps/56.507 km in 21'56.069 average 154.570 kph; 2. Coghlan (Ducati) 11.212; 3. Reiterberger (BMW) 13.096; 4. Mercado (Kawasaki) 14.954; 5. Savadori (Ducati) 15.775; 6. Massei (Honda) 16.757; 7. Bergman (Kawasaki) 20.619; 8. Jezek (Ducati) 21.972; 9. Bussolotti (Ducati) 22.043; 10. Lussiana (Kawasaki) 22.358; etc.
Points (after 8 rounds of 10): 1. La Marra 119; 2. Barrier 113; 3. Staring 86; 4. Guarnoni 82; 5. Savadori 78; 6. Reiterberger 78; 7. Coghlan 68; 8. Bergman 68; etc. Manufacturers: 1. Ducati 152; 2. Kawasaki 143; 3. BMW 141; 4. Honda 62; 5. Aprilia 17.
KTM European Junior Cup
Lukas Wimmer (MSC Schalchen) put in a strong performance to win the seven-lap KTM Junior Cup race by over six seconds, and extend his championship lead in the process. Gaston Garcia (KTM Spain) was second in the race and the championship, with Wimmer now on 95 points and Garcia on 78. Artur Wielebski (Bogdanka Junior Team Poland) was third in the race today, ahead of Javier Orellana (Europ Foods). One round remains, at Magny-Cours in France.
Results: 1. Wimmer (KTM) 7 Laps/35.959 km in 15'39.133 average 137.842 kph; 2. Garcia (KTM) 6.441; 3. Wielebski (KTM) 6.657; 4. Orellana (KTM) 6.834; 5. De Lange (KTM) 6.873; 6. Vidal (KTM) 6.917; 7. Fazzina (KTM) 14.699; 8. Pasek (KTM) 14.861; 9. Odegard (KTM) 23.864; 10. Kaczmarek (KTM) 23.946; etc.
Points (after 7 rounds of 8): 1. Wimmer 95; 2. Garcia 78; 3. Orellana 75; 4. Vidal 64; 5. Wielebski 59; 6. Patterson 57; 7. Pasek 54; 8. Demoulin 48; etc.
https://motorbugs.com/wp-content/uploads/Motor-Bugs-Logo-Transparent-height156px.png
0
0
The Motor Bug
https://motorbugs.com/wp-content/uploads/Motor-Bugs-Logo-Transparent-height156px.png
The Motor Bug
2012-09-10 01:58:51
2016-01-07 04:12:13
Biaggi back in front after Nürburgring dramas unfold