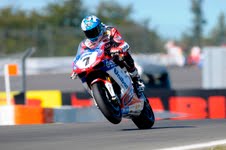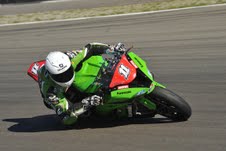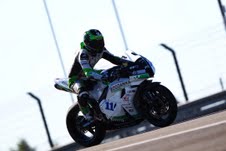 Nürburgring (Germany), Friday 7 September 2012 – Carlos Checa and Davide Giugliano from the Althea Racing Ducati team went 1-2 in the first qualifying session at the German round of the eni FIM Superbike World Championship, with Checa enjoying a small but clear four-tenths advantage in his 1 minute 55.307 seconds lap time.
Close behind Giugliano, Tom Sykes (Kawasaki Racing Team) slotted in third with Eugene Laverty (Aprilia Racing) making a good jump up to fourth. Leon Haslam (BMW Motorrad Motorsport) had a much better time than his team-mate Marco Melandri, with Haslam fifth fastest and Melandri 12th. Max Biaggi (Aprilia Racing) was sixth overall.
Jonathan Rea (Honda World Superbike Team) and Leon Camier (FIXI Crescent Suzuki) provided a cosmopolitan mix of machinery, ensuring that all manufacturers were represented by at least one rider on the front two rows of the provisional grid.
Chaz Davies (ParkinGO MTC Racing Aprilia) was ninth while Lorenzo Zanetti (Pata Racing Team Ducati) rounded out the top ten. Sylvain Guintoli, Zanetti's team-mate, finished one place behind the young Italian, with early faller Melandri recovering to go 12th.
Lorenzo Lanzi (Liberty Racing Team Effenbert) was a late replacement for the outgoing former regular team rider Jakub Smrz in Germany. Lanzi was 21st today, from 24 riders.
Times: 1. Checa (Ducati) 1'55.307 average 160.382 kph; 2. Giugliano (Ducati) 1'55.750; 3. Sykes (Kawasaki) 1'55.802; 4. Laverty (Aprilia) 1'55.813; 5. Haslam (BMW) 1'55.828; 6. Biaggi (Aprilia) 1'55.838; 7. Rea (Honda) 1'55.891; 8. Camier (Suzuki) 1'55.949; 9. Davies (Aprilia) 1'56.399; 10. Zanetti (Ducati) 1'56.461; 11. Guintoli (Ducati) 1'56.465; 12. Melandri (BMW) 1'56.497; 13. Baz (Kawasaki) 1'56.981; 14. Badovini (BMW) 1'57.024; 15. Fabrizio (BMW) 1'57.077; 16. Canepa (Ducati) 1'57.434; etc.
World Supersport
Sam Lowes (Bogdanka PTR Honda) scored the fastest lap of 1 minute 59.210 seconds in first qualifying to lead a pack of top riders chasing on behind, with his closest challenger another PTR Honda man, Frenchman Jules Cluzel. Fabien Foret (Kawasaki Intermoto Step) was third and Broc Parkes (Ten Kate Racing Products Honda) fourth. Points leader Kenan Sofuoglu (Kawasaki Lorenzini) was around a second behind Lowes, with proven podium finisher Vladimir Leonov (Yakhnich Motorsport) once more in the top mix, going sixth on day one. Imre Toth (Racing Team Toth Honda) had a good start to his weekend, seventh. Top wildcard rider was David Linortner (Gerin-Skm Racing Team) in ninth place from 33 runners.
Times: 1. Lowes (Honda) 1'59.210 average 155.131 kph; 2. Cluzel (Honda) 1'59.453; 3. Foret (Kawasaki) 1'59.637; 4. Parkes (Honda) 2'00.183; 5. Sofuoglu (Kawasaki) 2'00.222; 6. Leonov (Yamaha) 2'00.236; 7. Toth (Honda) 2'00.455; 8. Tamburini (Honda) 2'00.510; etc.
Superstock 1000
Jeremy Guarnoni (MRS Kawasaki) led the way in Superstock 1000 with a time of 1 minute 59.968 seconds as the Frenchman became the only rider to dip under the two-minute mark in first qualifying, only just heading off the early best of Eddi La Marra (Barni Racing Team Italia Ducati). The battle for third fastest time was also a close fight, with two of this year's race winners Sylvain Barrier (BMW Motorrad Italia GoldBet) and Bryan Staring (Pedercini Kawasaki) third and fourth.
Times: 1. Guarnoni (Kawasaki) 1'59.968 average 154.151 kph; 2. La Marra (Ducati) 2'00.017; 3. Barrier (BMW) 2'00.403; 4. Staring (Kawasaki) 2'00.431; 5. Bergman (Kawasaki) 2'00.942; 6. Massei (Honda) 2'00.967; 7. Jezek (Ducati) 2'01.160; 8. Bussolotti (Ducati) 2'01.241; etc.
Superstock 600
Michael van der Mark (EAB Ten Kate Junior Team Honda) got his weekend off to a good start by taking the fastest lap of the first qualifying session, with his time of 2 minutes 02.989 seconds also a new track best. The Dutchman is still recovering from a broken collarbone he picked up in Supersport practice two weeks ago at Moscow Raceway. Only 0.007 seconds behind is Belgian rider Gauthier Duwelz (MTM Yamaha) in second place, with Duwelz's Aussie team-mate Adrian Nestorovic third and Franco Morbidelli (Bike Service RT Yamaha) fourth. Championship high-flier Riccardo Russo (Team Italia FMI Yamaha) was fifth fastest as he and van der Mark set out on another weekend of close competition for the championship title itself.
Times: 1. Vd Mark (Honda) 2'02.989 average 150.365 kph; 2. Duwelz (Yamaha) 2'02.996; 3. Nestorovic (Yamaha) 2'03.545; 4. Morbidelli (Yamaha) 2'03.642; 5. Russo (Yamaha) 2'03.714; 6. Chesaux (Honda) 2'03.982; 7. Cecchini (Honda) 2'04.235; 8.Gamarino (Kawasaki) 2'04.465; etc.
KTM European Junior Cup
Lukas Wimmer (MSC Schalchen) took the early advantage in the one-make KTM series in Germany, setting the fastest time of the first free session. Adrian Pesek and Artur Wielebski (Bogdanka Junior Team Poland) second and third respectively. KTM EspanaF1A rider Gaston Garcia was fourth for Spain.
Times: 1. Wimmer (AUT) 2'13.036; 2. Pasek (POL) 2'14.250; 3. Wielebski (POL) 2'14.310; 4. Garcia (ESP) 2'15.179; 5. De Lange (RSA) 2'15.227; 6. Demoulin J. (FRA) 2'15.700; 7. Vidal (ESP) 2'16.148; 8. Orellana (ESP) 2'16.941; etc.
https://motorbugs.com/wp-content/uploads/Motor-Bugs-Logo-Transparent-height156px.png
0
0
The Motor Bug
https://motorbugs.com/wp-content/uploads/Motor-Bugs-Logo-Transparent-height156px.png
The Motor Bug
2012-09-08 00:05:06
2016-01-07 04:11:12
Althea riders Checa and Giugliano ahead on day one