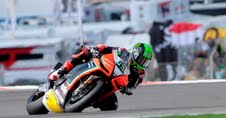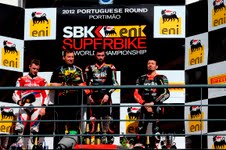 Portimao (Portugal), Sunday 23 September 2012 – Max Biaggi (Aprilia Racing Team) scored a single podium for third place in race two at the eni FIM Superbike World Championship round in Portugal today, but two strong points scores saw him extend his overall lead as his other championship rivals found trouble. Eugene Laverty (Aprilia Racing Team) won his first race of the 2012 season in the second outing today, which went to all 22-laps duration.
Tom Sykes (Kawasaki Racing Team) started well, as he won the first race in front of 51,000 weekend spectators, but he had to retire with an engine failure in the second race. With Marco Melandri (BMW Motorrad Motorsport) injured in the aborted first race, the Italian scored no points today.
The final result from Portugal, with one round and two individual races to go in France in two weeks' time, is that Biaggi has a total of 347 points, 30.5 more than Sykes, while Melandri is 38.5 points adrift of Biaggi.
Race 1
Full wet conditions arrived on Sunday morning and they were to play a part in the race being halted because of an oil spill after a crash. A restarted race, over only 16 laps, was won by Sykes who scored his third win of the season and drew himself – temporarily – closer to championship leader Biaggi as a result. Max was fourth in the opening race after several incidents and changing fortunes as the race unfolded. Carlos Checa (Althea Racing Ducati) looked like he could pass Sykes at the end but was unable to in the final two laps, and he settled for second place. PATA Racing Ducati privateer rider Sylvain Guintoli scored himself another podium finish, in third place. A collision on lap one of the first start saw Marco Melandri (BMW Motorrad Motorsport) crash after an attempted pass on Biaggi and he was taken to hospital for scans on a bruised kidney, missing out on any further Portimao action.
Tom Sykes: "I've got to start by thanking the team and Kawasaki, the boys made a big change in between the two parts and it was a different bike in the second rerun. I was so comfortable and much happier and was able to predict what the bike was doing. We got to the front and managed the tyres very well, racing with these guys was fantastic. It's good for the championship but we'll take it race by race."
Results: 1. Sykes (Kawasaki) 16 Laps/73.472 km in 31'42.011 average 139.063 kph; 2. Checa (Ducati) 0.300; 3. Guintoli (Ducati) 2.732; 4. Biaggi (Aprilia) 11.564; 5. McCormick (Ducati) 11.771; 6. Rea (Honda) 11.792; 7. Baz (Kawasaki) 28.693; 8. Aoyama (Honda) 29.581; 9. Badovini (BMW) 31.507; 10. Fabrizio (BMW) 31.587; etc.
Race 2
After a tense battle Laverty took his first victory of the season, and his first on an Aprilia machine, as he held off the impressive late charge of Jonathan Rea (Honda World Superbike Team) by only 0.162 seconds. Eugene became the ninth rider in 2012 to win a race. Laverty had been a clear leader but in the final laps Rea put in a real charge at the undulating Portuguese circuit. Over three seconds behind the race winner, Biaggi was third and now carries a more than useful lead into the final round in France. His new main championship rival Sykes no scored.
Eugene Laverty: "I rode hard at the beginning to get a gap but Jonathan pushed me hard towards the end. The grip wasn't there, which was evident in the lap time, but I just kept going towards the end. I managed to hang on. The win has been so long coming, the last time was Monza and of course this is the first for Aprilia, I'm ecstatic about it!"
Results: 1. Laverty (Aprilia) 22 Laps/101.024 km in 38'35.105 average 157.093 kph; 2. Rea (Honda) 0.162; 3. Biaggi (Aprilia) 3.766; 4. Guintoli (Ducati) 10.440; 5. Checa (Ducati) 20.153; 6. Badovini (BMW) 23.152; 7. Baz (Kawasaki) 27.314; 8. Fabrizio (BMW) 35.682; 9. McCormick (Ducati) 35.766; 10. Lanzi (Ducati) 38.311; etc.
Points (after 13 of 14 rounds): 1. Biaggi 347; 2. Sykes 316,5; 3. Melandri 308.5; 4. Checa 278.5; 5. Rea 255.5; 6. Laverty 241.5; 7. Haslam 189; 8. Guintoli 172.5; 9. Davies 156.5; 10. Fabrizio 133.5; etc. Manufacturers: 1. Aprilia 422.5; 2. BMW 394; 3. Ducati 375; 4. Kawasaki 356.5; 5. Honda 270.5; 6. Suzuki 130.5.
World Supersport
Kenan Sofuoglu (Kawasaki Lorenzini) won his third world championship by finishing behind the only man who could have caught him before the Portimao round, Jules Cluzel (PTR Honda). Cluzel gave his all to keep the title alive for another weekend but with so many changes of lead and position inside the top four riders today, nothing was certain until the very last corner when he had stretched out a winning lead. Fabien Foret (Kawasaki Intermoto Step) was third in the race, just less than a second from Cluzel. Broc Parkes (Ten Kate Racing Products Honda) was fourth and Sam Lowes (Bogdanka PTR Honda) fifth. In the rankings, with one round to go, Sofuoglu has a peerless 218 points, Cluzel 185 and Foret 160.
Results: 1. Cluzel (Honda) 20 Laps/91.840 km in 36'05.886 average 152.651 kph; 2. Sofuoglu (Kawasaki) 0.645; 3. Foret (Kawasaki) 0.969; 4. Parkes (Honda) 1.035; 5. Lowes (Honda) 3.905; 6. Morais (Kawasaki) 5.936; 7. Linfoot (Kawasaki) 22.555; 8. Baldolini (Triumph) 22.595; 9. Quarmby (Honda) 23.121; 10. Scholtz (Honda) 23.740; etc.
Points (after 12 of 13 rounds): 1. Sofuoglu 218 (champion); 2. Cluzel 185; 3. Foret 160; 4. Lowes 152; 5. Parkes 135; 6. Morais 94; 7. Baldolini 86; 8. Quarmby 84; 9. Iannuzzo 60; 10. Leonov 52; etc. Manufacturers: 1. Honda 262; 2. Kawasaki 257; 3. Triumph 115; 4. Yamaha 102; 5. Suzuki 6.
Superstock 1000
Bryan Staring (Team Pedercini Kawasaki) pushed himself ahead of long-time race leader Sylvain Barrier (BMW Motorrad Italia GoldBet) to score the win in Portugal, his third victory of the season, with Jeremy Guarnoni (MRS Kawasaki) pushing on to record third spot. In the championship Eddi La Marra (Barni Racing Team Italia Ducati) is now second by three points behind Barrier, after he finished fifth at Portimao. Lorenzo Savadori (Barni Racing Team Italia Ducati) was fourth today. Three riders can now win the title, Barrier, La Marra and Staring, although the Aussie rider is 22 points behind the lead.
Results: 1. Staring (Kawasaki) 12 Laps/55.104 km in 21'34.528 average 153.241 kph; 2. Barrier (BMW) 1.722; 3. Guarnoni (Kawasaki) 3.839; 4. Savadori (Ducati) 6.249; 5. La Marra (Ducati) 6.444; 6. Bergman (Kawasaki) 12.990; 7. Massei (Honda) 16.963; 8. Mercado (Kawasaki) 19.648; 9. Reiterberger (BMW) 19.708; 10. Jezek (Ducati) 20.487; etc.
Points (after 9 of 10 rounds): 1. Barrier 133; 2. La Marra 130; 3. Staring 111; 4. Guarnoni 98; 5. Savadori 91; 6. Reiterberger 85; 7. Bergman 78; 8. Massei 71; 9. Coghlan 68; 10. Baroni 56; etc. Manufacturers: 1. Kawasaki 168; 2. Ducati 165; 3. BMW 161; 4. Honda 71; 5. Aprilia 17.
Superstock 600
An early fight between UEM European Superstock 600 Championship rivals Michael van der Mark (EAB Junior Team Honda) and Riccardo Russo (Team Italia FMI Yamaha) was effectively over when Russo ran wide at mid race distance. Van der Mark now has a seven-point championship lead, with one round remaining in France. He has scored five race wins so far while Russo has scored four. Adrian Nestorovic (MTM Racing Yamaha) was a strong third in front of his team-mate Gauthier Duwelz at Portimao. In the championship, van der Mark has 194 points, Russo 187, Duwelz 91 and Nestorovic 74.
Results: 1. Vd Mark (Honda) 10 Laps/45.920 km in 18'19.861 average 150.303 kph; 2. Russo (Yamaha) 5.992; 3. Nestorovic (Yamaha) 6.055; 4. Duwelz (Yamaha) 7.133; 5. Morbidelli (Yamaha) 7.401; 6. Schacht (Honda) 10.991; 7. Gamarino (Kawasaki) 10.998; 8. Cecchini (Honda) 11.478; 9. Vitali (Yamaha) 11.779; 10. Mulhauser (Yamaha) 11.790; etc.
Points (after 9 of 10 rounds): 1. Vd Mark 194; 2. Russo 187; 3. Duwelz 91; 4. Nestorovic 74; 5. Vitali 66; 6. Schacht 65; 7. Morbidelli 63; 8. Calero Perez 59; 9. Gamarino 58; 10. Chesaux 50;
https://motorbugs.com/wp-content/uploads/Motor-Bugs-Logo-Transparent-height156px.png
0
0
The Motor Bug
https://motorbugs.com/wp-content/uploads/Motor-Bugs-Logo-Transparent-height156px.png
The Motor Bug
2012-09-24 01:37:00
2016-01-07 04:11:22
Biaggi asserts his authority at penultimate round