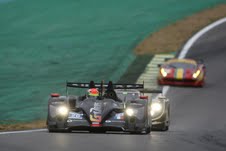 6 HOURS OF BAHRAIN (28 & 29 September 2012)
NELSON PANCIATICI WANTS A VICTORY
It is on the Bahrain International Circuit, in Sakhir, south of the capital Manama, that Nelson Panciatici takes part in the next challenge of the World Endurance Championship (WEC). Not making the podium, or possibly even winning in Sao Paulo, Nelson wants a victory to confirm the performance he produced in that race.
Silverstone ended with a superb podium and the G-DRIVE RACING BY SIGNATECH NISSAN team dominated free practice in Sao Paulo before Nelson Panciatici set the third best times in the qualifiers with his ORECA 03 NISSAN equipped with hard DUNLOP tyres. Their performance places them at the same level as the best teams in the highly competitive LMP2 class where Nelson Panciatici and his co-drivers, Pierre Ragues and Roman Rusinov, are among the favourites!
The ORECA 03 NISSAN #26 has all the focus of the team managed by Philippe Sinault, and Nelson Panciatici is ready to face the competition on the Bahraini circuit:
Nelson: "The level of performance we achieved in Sao Paulo has certainly given us more confidence for Bahrain and we really want to prove it with a victory! The whole team deserves it considering the amount of work that has been put in since the start of the season and I will do my utmost to make it happen. I don't know the Bahrain circuit but I have watched a lot of videos. It looks technical but the practice plan we have should allow us to make our mark. I trust Damien, my engineer, to find the right technical solution that will give us a little bit of an edge. As usual, competition will be tough and we have to take each race as it comes because that's the best way to get a good result!"
The whole G-DRIVE RACING BY SIGNATECH NISSAN team is in the same frame of mind and their boss, Philippe SINAULT, has his eye on victory before the end of the season:
"We were among the fastest on the track in Sao Paulo. The car had great performance, without the incident in the warm-up  we would definitely have had a podium if not better. We even set the fastest time in the race one hour before the end. Our objective now, and in view of the performance since Silverstone, is to get on the podium again and even get a victory before the end of the season."
The battle for victory in the LMP2 class will be tightly fought out and the drivers of the G-DRIVE RACING BY SIGNATECH NISSAN team will most certainly be key players!
https://motorbugs.com/wp-content/uploads/Motor-Bugs-Logo-Transparent-height156px.png
0
0
The Motor Bug
https://motorbugs.com/wp-content/uploads/Motor-Bugs-Logo-Transparent-height156px.png
The Motor Bug
2012-09-25 05:19:23
2016-01-07 04:11:19
FIA WORLD ENDURANCE CHAMPIONSHIP – ROUND 6 : 6 HOURS OF BAHRAIN