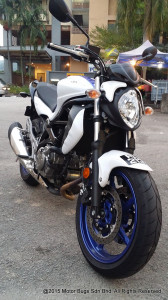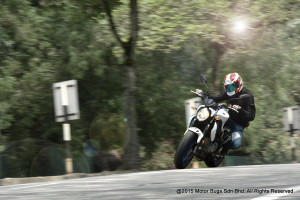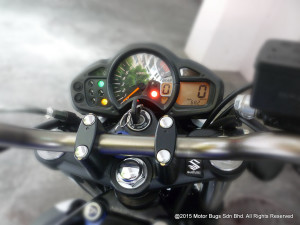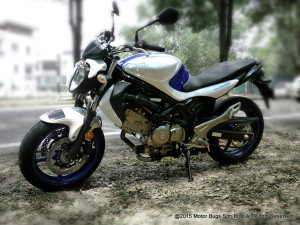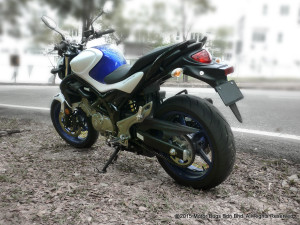 I've always being a big fan of Suzuki and always dream of owning a Suzuki RGV250 in my younger days. In the 80s Suzuki was a big name in the 500cc Grand Prix World Championship with riders like Barry Sheene, Kevin Schwantz and Randy Mamola. Suzuki withdrew its factory team from MotoGP at the end of 2011, but immediately began work on developing the new bike for an eventual return in 2015.
The Suzuki Gladius 650 was introduced in 2009 and featured a little mean machine powered by a 645cc, 90-degree V-twin engine. It was named for a sword said to have been used by the gladiators of ancient Rome, which was shorter and lighter than the one used by soldiers in battle. And in motorcycle terms, I found the Gladius to be a simpler, lighter, mid-sized Suzuki packed with fun.
The Gladiator experience
The 2015 Suzuki Gladius 650 ABS is a mid-size motorcycle that looks perfect for commuting. Suzuki's middle-displacement Gladius 650 ABS allows height-deprived riders to plant their feet without tearing their hamstrings. Apart from commuting through the city traffic, I took this little wonder up the hills and it simply excites me. The Gladius feels more at home on a tighter section of canyon road and entertains by way of its impressively versatile engine, which builds power seamlessly through the entire rev range and has enough pep up top to accelerate past cars without the hesitation you'd expect from a lightweight bike. Steering is easy and quick, yet stable. With the rider sitting relatively upright, there's plenty of leverage from that wide handlebar to get the Gladius carving quickly and precisely.
The Gladiator power
The top-end performance doesn't come at the expense of low-end propulsion, and there's more than enough torque down low to push you off corners or get you away from a stoplight with relative ease. There is no sign of vibrations at either end of the rev range, and I couldn't find any faults when shifting through the six-speed transmission. Suzuki's 650 V-twin has always been a peach of a motor, with a combination of strong torque, an unexpected desire to rev and a gutsy sound track. For the Gladius it was honed further, with a silky smoothness to the delivery that detracted nothing from its character. It might not be a top choice for a track day, but in everyday riding there's no lack of performance. There's no struggle to gain speed at higher revs or in higher gears, and the V-twin thrum is intact. Power is more than adequate, with a steady pull from 3,500 rpm to redline. The Gladius's DOHC 90-degree V-twin engine, with dual spark plugs and four valves per cylinder, delivers excellent power for just 645cc, via its 3.19-inch bore and 2.46-inch stroke configuration, offering up a good mix of high-revving excitement, midrange pull and low-to-mid torque to keep things interesting at all times. Throttle response is also excellent. The Gladius's 39mm Suzuki Dual Throttle Valve fuel-injection system with 10-hole injectors deliver a smooth and steady stream of fuel to both cylinders at all throttle openings and rpm's. Simply no glitches, burps or bogs!
The Gladiator encounter
The Gladius comes with a simple yet effective compact instrument pod. The instruments are clear and concise with a large conventional tachometer flanked by a bank of idiot lights on one side and LCD speedo on the other. A gear position indicator is also present but it hasn't got a fuel gauge. Control levers are easy on your hands and fingers. Despite being cable actuated and not hydraulically actuated, clutch pull is rather light, smooth and positive, and gear changes are simple, easily accomplished by nothing more than a slight tap on the lever with your left foot, down or up, through all six gears. Braking power is good at both ends but not spectacular. The feel of our test bike's dual-disc front brake was a little soft, but overall the front and rear brakes are good and plenty sufficient. The ABS however was a little mild but it will definitely help avoid skid conditions.
Suzuki have made a real step forward with this latest engine and the quicker it filters down to the rest of the 650 range the better. It's an undeniably good bike for newer riders, and still has plenty of performance to please the progressing sports bike enthusiast.
Text By: Nicholas Hah.
Photos by: Justin Hong
https://motorbugs.com/wp-content/uploads/Motor-Bugs-Logo-Transparent-height156px.png
0
0
The Motor Bug
https://motorbugs.com/wp-content/uploads/Motor-Bugs-Logo-Transparent-height156px.png
The Motor Bug
2015-05-12 10:13:14
2016-01-07 03:50:47
Suzuki Gladius 650 ABS – The Japanese Gladiator