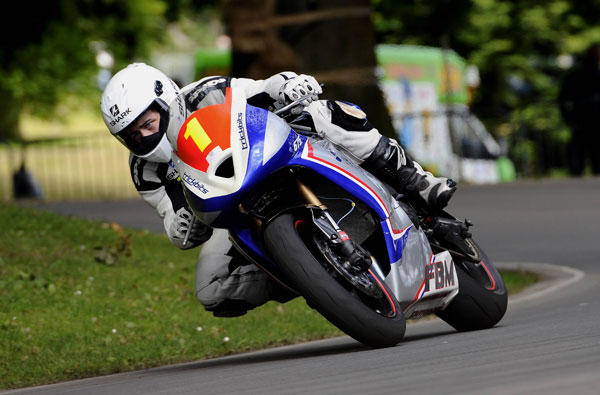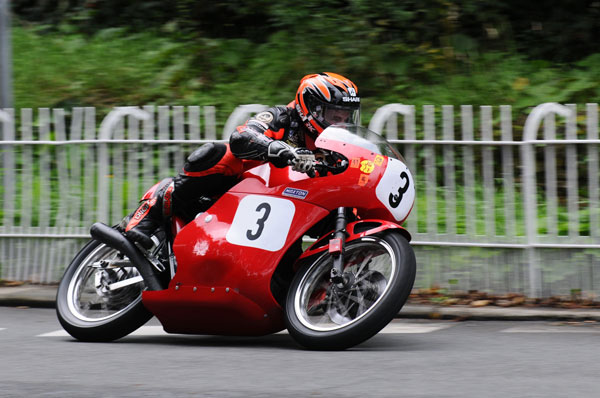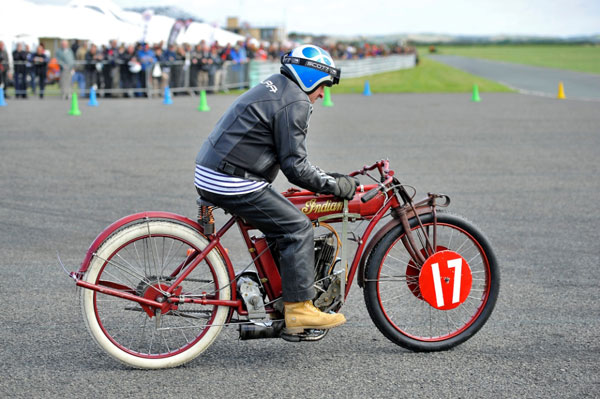 An island-wide schedule of events is set to entertain spectators at the 2012 Manx Grand Prix Festival with famous motorcycling names past and present lining up in a series of races around the Isle of Man.
Practising gets underway this evening (Saturday) with the first, untimed, session on the Mountain Course. The session is scheduled to start at 17.20 with a speed-controlled lap for newcomers, who are followed at 17.45 by the Senior, Junior and SuperTwin competitors with the Classic machines joined by Lightweight and Newcomers at 19.00.
After a week of qualifying, the race schedule kicks off on Saturday 25th August with a newcomers race at 17.30pm with notable competitors including brothers Jamie and Rob Hodson from Wigan, whose father Jim was a regular TT competitor while Splitlath Redmond return to the Island following this year's TT with Co Antrim rider John Simpson.
Highlights of Race Week include the 350cc/250cc Classic on Monday 27th at 10.15 with Roy Richardson, Chris Palmer, Alan Oversby and Ryan Farquhar expected to challenge for the honours while Ewan Hamilton, Peter Wakefield, Barry Davidson, Bud Jackson and Tom Jackson are again expected to be at the front of the concurrent 250 race.
Wednesday (10.15) sees the Senior Classic and Formula Classic Classes take to the Mountain Course with the former expected to be a battle between Oversby on the MV and Farquhar on the Paton although Palmer and Blackpool's Roy Richardson on the G50 Matchless and Aermacchi respectively are also likely to challenge. In the concurrent Formula Race Mark Parrett, rider liaison officer John Barton and Steve Linsdell are the pre-race favourites.
Friday's Classic Superbike race is expected to be a battle between perennial rivals Michael Dunlop and Ryan Farquhar with Palmer and Richardson the leading contenders in the Post Classic.
In the modern classes Yorkshire's Jamie Coward will be looking to continue his stunning form on the Isle of Man. He has already thrilled fans on the Island with his pre-TT Classic win. His challenge in the Junior (Wednesday 29th: 10.15) and Senior (Friday 31st: 13.15) Races will come from a number of Manx Grand Prix stalwarts including Ireland's Michael Sweeney and Wayne Kirwan, Phil McGurk, Kiaran Hankin and local riders Andy Fenton, Paul Smyth and Glyn Jones.
The rest of the Manx Grand Prix Festival will also have some notable names competing with the illustrious Rob McElnea topping the bill. Rob, who has won three TT Races as well as BSB will be competing in the Manx 2 Day trial which takes place around the Island on Saturday 25th and Sunday 26th. Last year's winner Dan Thorpe returns to defend his title while ocal riders Josh Brain and Juan Knight will be chasing hard. Phil Disney and promising newcomer Ricky Wiggins are also expected to challenge for podium places.
The Classic Two Day Trial meeting at the end of the festival (Saturday 1st / Sunday 2nd September) has a number of promising entries with TT riders including Conor Cummins, Steve Plater, Ryan Farquhar all scheduled to race. Former multiple TT winner Mick Grant will also be lining up while fans favourite Guy Martin has also entered.
Conor has also confirmed his participation in the VMCC's Festival of Jurby on Sunday 26th August. The event, which last year attracted a record crowd of over 15,000 takes place at Jurby Airfield in the North of the Island and includes a number of parades and displays including a celebration of Sunbeam Motorcycles Centenary, Sammy Miller's fabulous V8 Moto Guzzi and a genuine factory Moto GP Ducati.
https://motorbugs.com/wp-content/uploads/Motor-Bugs-Logo-Transparent-height156px.png
0
0
The Motor Bug
https://motorbugs.com/wp-content/uploads/Motor-Bugs-Logo-Transparent-height156px.png
The Motor Bug
2012-08-18 06:27:22
2016-01-07 04:12:19
PACKED 2012 MANX GRAND PRIX FESTIVAL SCHEDULE PROMISES GREAT ACTION AS STARS PAST AND PRESENT TURN OUT ON THE ISLE OF MAN