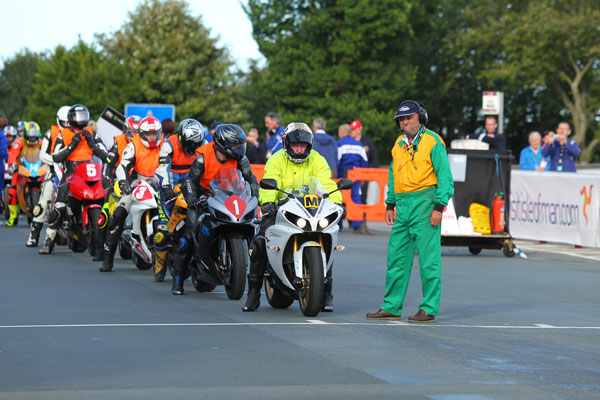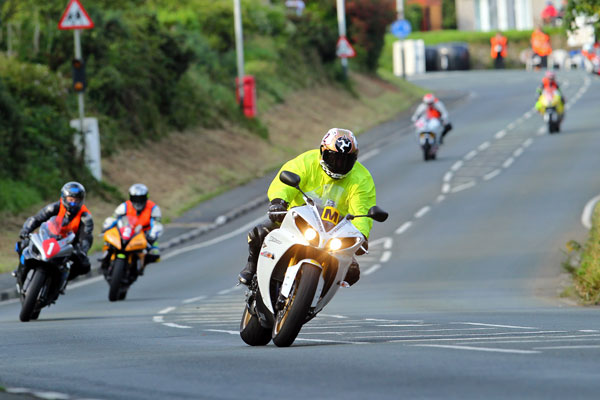 After a short delay, around 50 riders got their first taste of the TT Mountain Course at the 2012 Manx Grand Prix Festival.
The rain of the last few days gave way to bright sunshine at the Grandstand although standing water was reported from Laurel Bank to Glen Helen and further wet patches at Handley's Corner.
The riders were introduced to the course with a speed-controlled lap under the expert guidance of ex and current TT and MGP competitors. Dick Cassidy, in his last year of service after over 30 years as a travelling marshal, was given the honour of leading the riders away while other experienced competitors showing the way included Dave Madsen-Mygdall, Alan Jackson and Johnny Barton.
Loughborough based Andrew Soar and Wigan's Jamie Hodson, son of TT stalwart Jim were the first newcomers away with other notable mountain course novices included Splitlath Redmond's John Simpson and Jamie Hodson's brother Roy who were also involved in the session.
This year's newcomers field has a particularly international feel with riders from Sweden (Bjorn Gunnarsson), Czech Republic (Kamil Holan), Finland (Tapio Mustonen), Netherlands (Michael Hofman and Peter Heijmans), France (Steve Cervellin), Denmark (Thilo Haefele), USA (David Crussell), Germany (Rene Scheuren and Thomas Gottschalk) Austria (Ernest RIede), Faroe Islands (Terje Joensen) and Belgium's Renzo van der Donckt all taking to the mountain course for the first time.
Unfortunately the rest of the session was unable to take place due to insufficient marshals signing on to cover the course so Monday will now be the first chance for the leading competitors to get up to speed. Monday's session is scheduled to get underway at 18.20 with the Senior, Junior and SuperTwin machines first away followed at 19.05 by Classics, Lightweight and the Newcomers first unrestricted laps.
https://motorbugs.com/wp-content/uploads/Motor-Bugs-Logo-Transparent-height156px.png
0
0
The Motor Bug
https://motorbugs.com/wp-content/uploads/Motor-Bugs-Logo-Transparent-height156px.png
The Motor Bug
2012-08-18 06:22:40
2016-01-07 04:12:24
Newcomers get their first taste of the Mountain Course as 2012 Manx Grand Prix Festival gets underway.