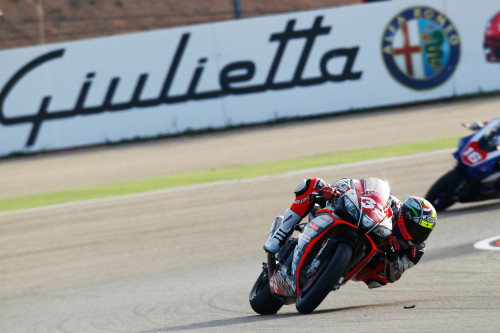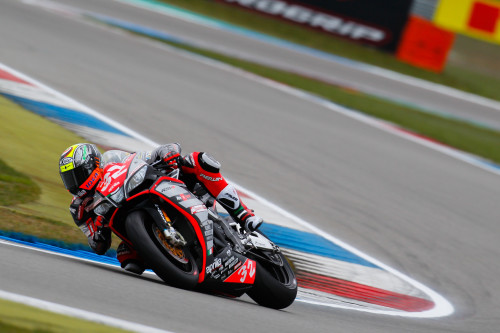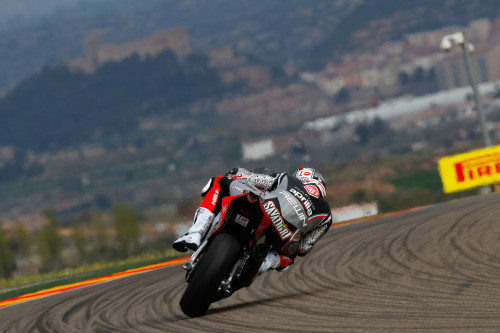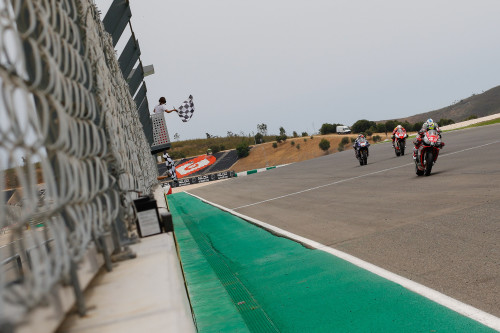 At the age of 22 years and 6 months, Lorenzo Savadori has achieved the goal of winning the FIM Superstock 1000 Cup. He becomes the 15th rider to win the Cup and the eighth from Italy. He is the tenth youngest to claim the crown, just several months younger than Leandro Mercado when the Argentinian won last year.
Savadori had one hand on the title in France last year. He highsided out of contention just half a lap away from the chequered flag, depriving himself of the title as Mercado majestically swept through to take the honours.
A flamboyant character on and off the track, Savadori debuted in Superstock 1000 in 2011, with the Lorenzini by Leoni team. He moved to Barni Ducati in 2012 ahead of two campaigns with a Team Pedercini Kawasaki – including the one in which he so nearly clinched the title. During the off-season ahead of 2015, he made the switch to Team Nuova M2 Racing to attempt an assault on the title aboard the RF RSV4.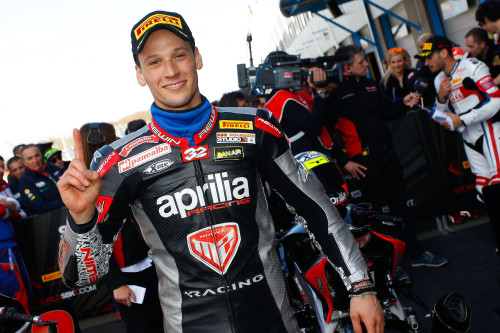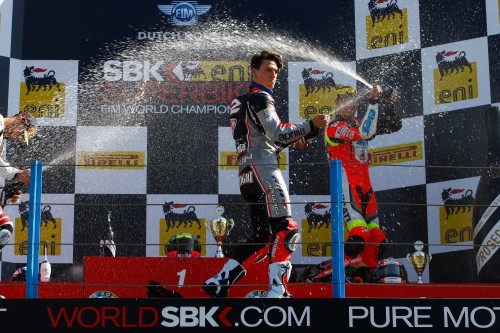 From the season-opener in Aragon last April, the positive feelings between the Italian rider and the Noale-built, four-cylinder motorcycle were clear. He scored pole position and missed out on victory only when he was overhauled by BMW rival Roberto Tamburini at the final corner. However, from Assen onwards Savadori has picked up four race victories from seven and arrived in France this week with a 25-point advantage over his compatriot. The eighth position he achieved on Sunday marked an end to Savadori's path to the title, having failed to win the title two weeks ago in Jerez.
His 8 victories put him third overall for Superstock 1000 race wins, behind only former Champions Ayrton Badovini (11) and Sylvain Barrier (10). Furthermore, he has controlled proceedings in 2015, leading a staggering 71 of the 95 laps across the first seven races which equates to almost 75%. He has finished on the podium in every race this season.
Having defeated the ghosts of 2014, the youth and undeniable talent of Lorenzo Savadori can now look to make a mark on an international career in motorcycle racing, complete with the confident smile that has always been his trademark.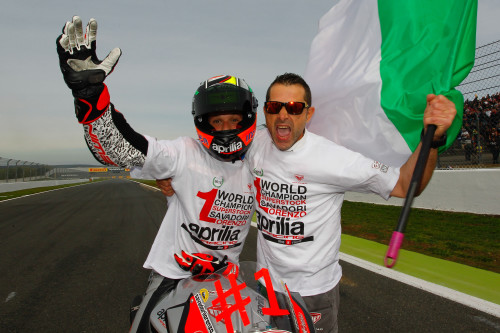 BIOGRAPHY
Date of birth 4 April 1993
Place of birth Cesena, Italy
CAREER
Race starts in STK1000 45
STK1000 pole positions 7
STK1000 wins 8
STK1000 podiums 17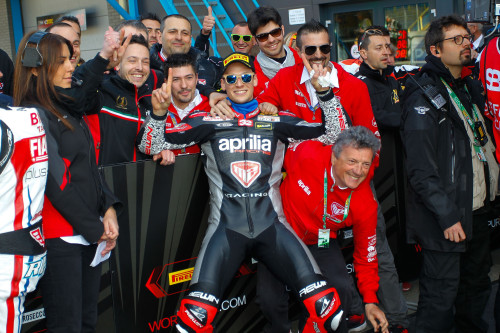 CAREER PATH
2015 Superstock 1000: Nuova M2 Racing, Champion, 164 points (4 wins, 7 podiums, 3 poles, 2 fastest laps)
2014 Superstock 1000: Team Pedercini, 2nd, 109 points (2 wins, 4 podiums, 4 poles, 2 fastest laps)
2013 World Superbike: Team Pedercini, 1 race
Superstock 1000: Team Pedercini, 5th, 98 points (1 win, 3 podiums, 2 fastest laps)
FIM Endurance (Superstock): Team Louit Moto 33, 3 races
2012 Superstock 1000: Barni Racing Team Italia, 5th, 107 points (1 win, 3 podiums)
2011 Superstock 1000: Lorenzini by Leoni, 15th, 31 points
CIV STK: 14th, 28 points
2010 Moto 125: Matteoni Racing, Matteoni CP Racing, 23rd, 5 points
2009 Moto 125: Junior GP Racing Dream, Fontana Racing, 26th, 7 points
2008 Moto 125: I.C. Team, RCGM, 3 races, 29th, 3 points
CIV 125: Champion, 135 points (3 wins, 6 podiums, 5 poles, 4 fastest laps)
CEV 125: RCGM Team, 16th, 24 points
2007 Rookies Cup: 2nd, 102 points (2 wins, 3 podiums, 1 pole, 2 fastest laps)
CIV 125: 10th, 36 points (2 podiums, 1 pole, 1 fastest lap)
CEV 125: RCGM Team, 19th, 11 points
2006 CEV 125: 30th, 1 point
https://motorbugs.com/wp-content/uploads/Motor-Bugs-Logo-Transparent-height156px.png
0
0
The Motor Bug
https://motorbugs.com/wp-content/uploads/Motor-Bugs-Logo-Transparent-height156px.png
The Motor Bug
2015-10-05 04:13:04
2016-01-07 03:45:56
Lorenzo Savadori crowned 2015 FIM Superstock 1000 Cup Winner