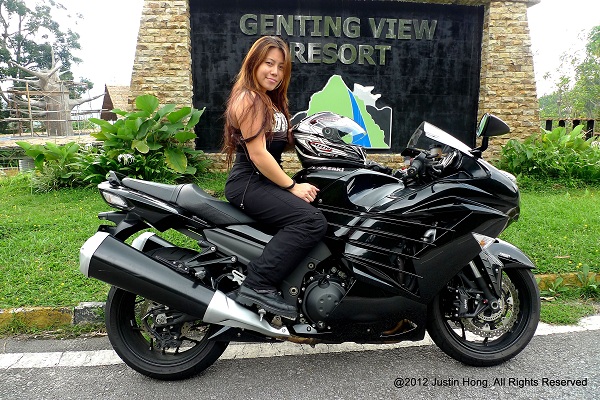 The battle for the coveted title of "World's fastest Supertouring Bike" is literally fast and furious. Suzuki Hayabusa was holding the title for a short period of time before being "smoked" away with the launch of the Kawasaki ZZR-1400 or otherwise also known as the ZX-14 in some parts of the world.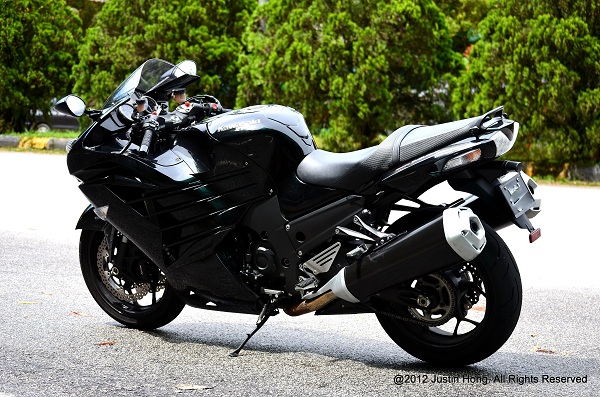 This king of the highways has a new monocoque aluminium frame, 4 mm longer stroke which increases the displacement of the powerful In-Line Four engine to 1,441 cm3. Bore and Stroke are now 84 x 65 mm. Torque is strong enough to pull away from lights in almost any gear: at 2,000 rpm there is 9.5 kgf.m of torque available! And this figure jumps significantly from 3,000 rpm. The milled combustion chambers increase compression ratio to 12.3:1 (previously 12.0:1).Both intake and exhaust ports has revised shapes for increased performance. Additionally, the intake ports are now polished, contributing to smoother intake airflow. Exhaust ports have a greater diameter, facilitating the expulsion of spent fuel-air mixture. ø33.4 mm intake valves feature longer (+0.4 mm) stems. ø28.3 mm exhaust valves are heat treated for high strength and high-rpm reliability. Stronger cam chain matches the increased performance as well as the taller cylinder height. New hydraulic cam chain tensioner features a mechanical ratchet system that ensures pressure on the cam chain is maintained when the engine is cold (and hydraulic pressure is low), reducing mechanical noise. The new pistons are stronger and lighter (by approximately 6 g each), reducing reciprocating weight. Compared to its predecessor, the new engine offers more torque at all rpm, and substantially more power in the mid-high rpm range. Acceleration from 4,000 rpm and up is notably stronger and provides a real adrenalin rush with a tap of the throttle.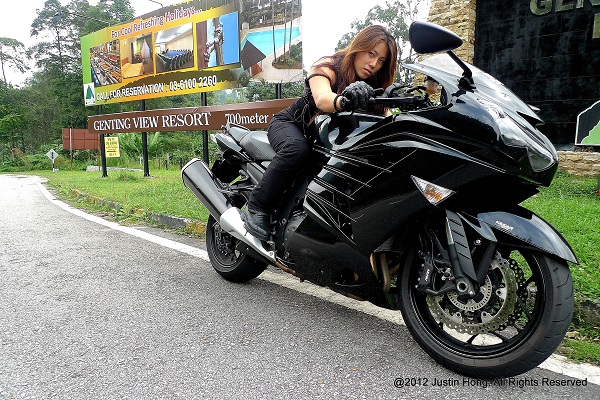 Stopping power is by a front twin semi-floating 310 mm petal discs, ABS, radial-mount calliper and radial-pump brake master cylinder. While the rear has a 250 mm petal disc, twin-piston calliper brakes system. However I personally feel that with such a powerful bike, the brakes can be further improved. It didn't gives me the confidence that a supertourer like this ZZR-14 should.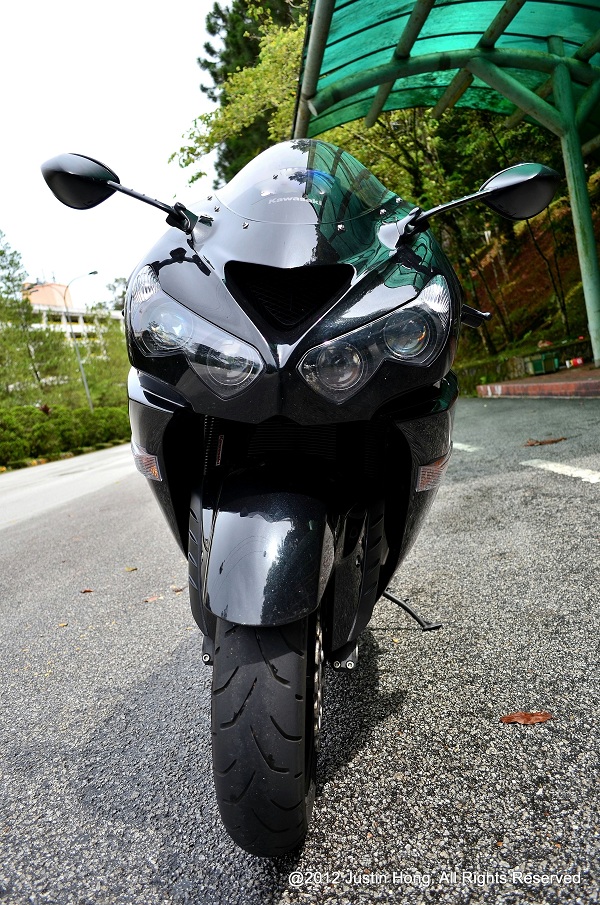 Wind protection is quite disappointing as going anything over 140Km/h, at normal sitting position, wind is hitting hard onto my helmet. The design of the front screen would be better at a higher angle seeing that majority of owners are neither small nor short. The new ZZR-1400 has sporty bodywork and although the cool new fairing is supposed to offer better heat management, and with two radiator fans contributing to increase cooling performance, heat dissipation from the engine is a let-down. Going at constant 70Km/h, I can feel the heat of the engine "burning" through my jeans. It would be great for cold climate countries but definitely not for tropical countries like Malaysia.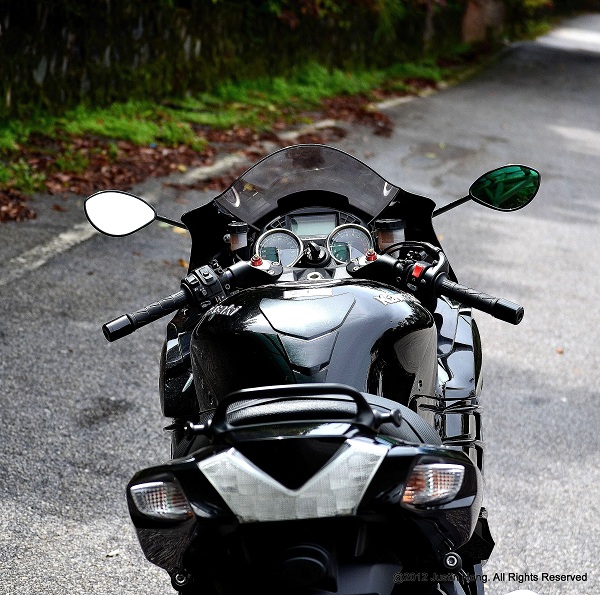 Sitting position is comfortable and the seat is slimmer than its predecessor for easy reach to the ground. Leg rest / pegs position however is not good as I developed hip cramps when riding with a pillion and on a consistent speed of 70 – 100Km/h. I was also having difficulties at times with gear shifting as my boots was getting tangled between the leg peg and the gear shifter especially during high speed turns. Engine vibration is almost nil and gear shifting is very smooth (almost to the standard of Premium Tourer like the Goldwing) thanks to the Back-Torque limiter (a first for this series) which also helps prevents rear wheel hop.
Going in and out of corners at twisties is smooth but don't ride it as if you are on a superbike because the traction controls kicks in early, unless of course you turn the traction control off.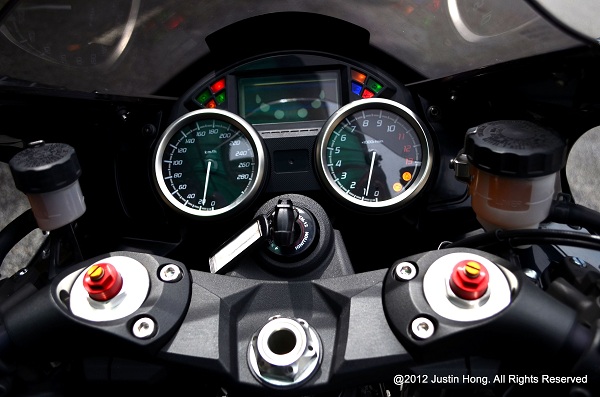 Buttons are easily reachable especially for the 2 power mode (Full and Low) and 3 (1, 2, 3+ Off) traction control mode. The KTRC (Kawasaki Traction Control) 1 & 2 mode offers sports riding performance while mode 3 gives you better control over slippery surfaces. Other features / information that can be retrieved from the multi-function button and displayed in the LCD are remaining range, battery voltage, odometer, gear position, clock, dual trip meters, engine and outside temperature. Kawasaki has maintained the analogue design for both its speedometer and tachometer. With its pressed stainless-steel rings and LED lights, it looks exclusive and cool. The four powerful projector-beams headlights are great at night, giving wide and clear view of any dark roads ahead.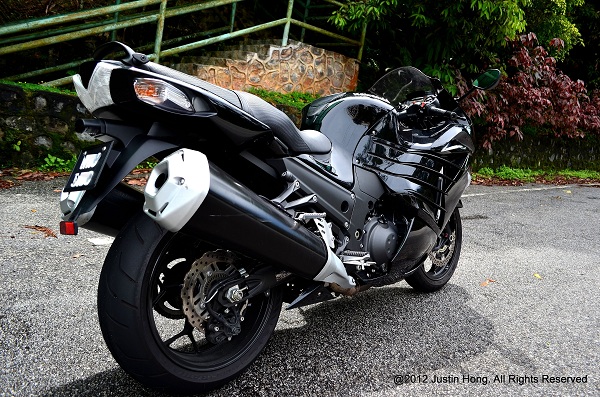 Overall, this bike is great for highway cruising and for those who commutes regularly on the highways but not very suitable for town or narrow twisties road.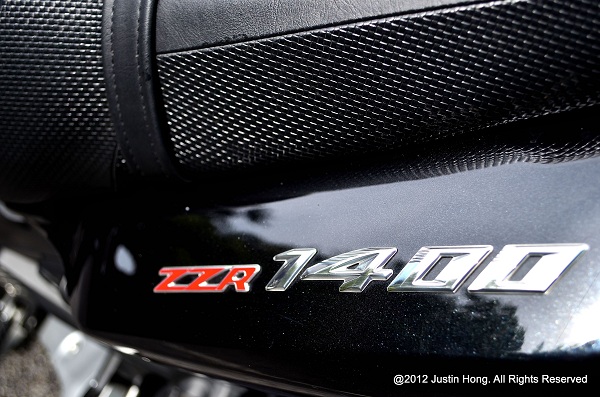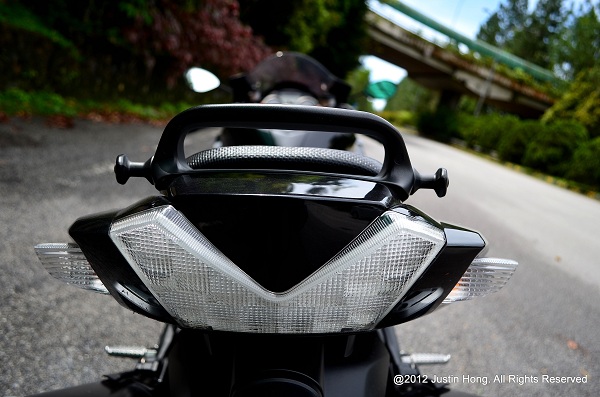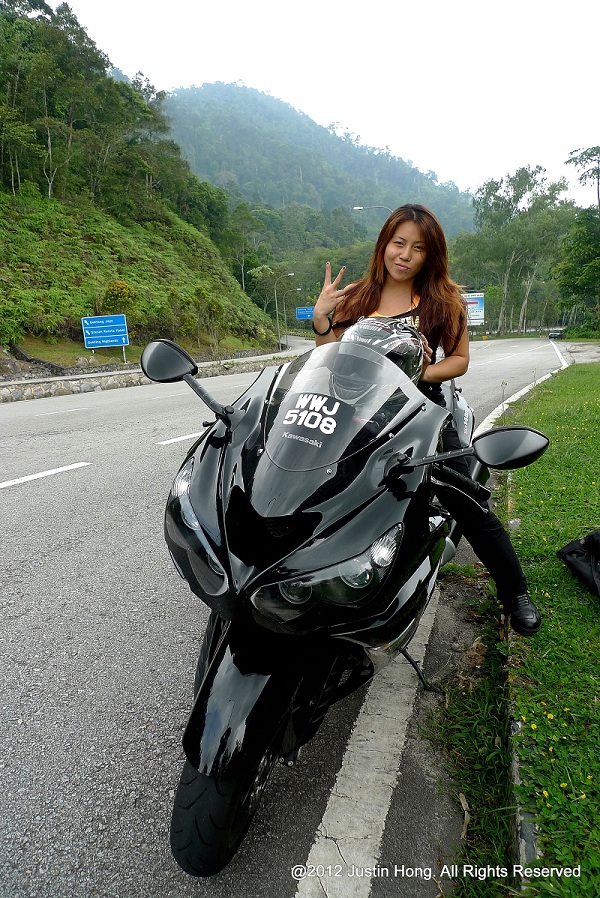 Text & Photos by: Justin Hong
Bike courtesy of Kawasaki Motors (M) Sdn Bhd.
Model: Emily Lola Tan of Viva Vertical.
https://motorbugs.com/wp-content/uploads/Motor-Bugs-Logo-Transparent-height156px.png
0
0
The Motor Bug
https://motorbugs.com/wp-content/uploads/Motor-Bugs-Logo-Transparent-height156px.png
The Motor Bug
2012-08-28 15:34:47
2016-01-07 04:11:49
Kawasaki ZZR-1400 Review