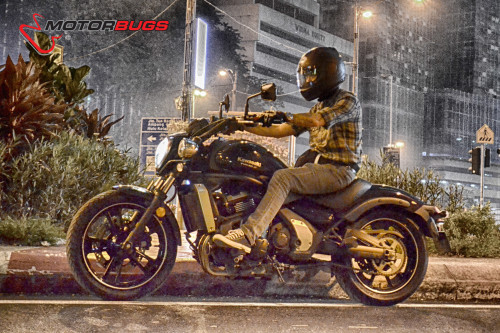 Unlike any other cruiser, the Kawasaki Vulcan S is geared up to fit a wide range of riders. Never taking away from its stylish features, this bike takes comfort, adjustability and confidence-inspiring power to the next level.
Finding a motorcycle that physically fits is primarily the main concern for most motorcycle buyers. Picking a new bike is not unlike trying on a new pair of shoes, and it is here that the all new Kawasaki Vulcan S Ergo-Fit concept provides a fresh approach. It boasts a wide variety of custom ergonomic settings via three-position adjustable footpegs and different Ergo-Fit seat and handlebar options.
The Versatile Vulcan
Kawasaki introduces a modern take on cruiser style and comfort, with a customizable fit and smooth ride that promises to be fun. Being a cruiser-style motorcycle, the seat has a low height and is conveniently tapered at the front for greater comfort. This means most riders will be able to place their feet firmly on the ground, keeping them stable when stopped, and helping to increase confidence in stop-and-go city traffic. What's more, there is significant hip support at the rear of the seat to increase the level of comfort. And there are tailored fit options with different seats and handlebar to ensure a comfortable fit for a range of riders.
The 2015 Vulcan S has a slim chassis thanks to the narrow parallel twin engine, which has it engine cylinders positioned further forward than a conventional V-twin engine. The parallel twin configuration also enabled engineers to route the exhaust under the engine and away from the rider's legs. A further benefit of the slim chassis is an increased lean angle when cornering.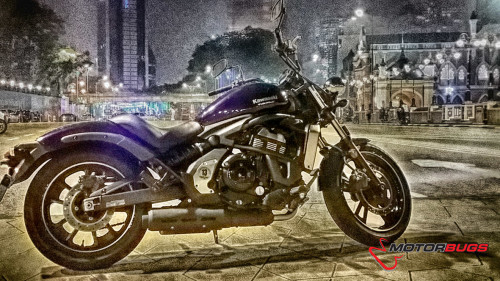 The Vroom Factor
The 2015 Vulcan S engine is derived from Kawasaki's Ninja 650 but with a revised cylinder head, intake funnels and cam shaft profiles, and it's tuned for more low to mid-range torque for its cruiser application. It doesn't have the throb you expect from a V-twin cruiser, nor the engine braking or low-rev pull. Instead, it tingles at high revs, spins more freely and has strong mid-range pull. Under 3500 revs it shudders a little, so you have to keep the engine spinning around 4000rpm for best results. From there it winds out to a soft limiter at 9900rpm which is stratospheric by cruiser standards.
Kawasaki is positioning the Vulcan S as a bike-for-all, highlighting that changes to the engine make for smoother power delivery, which makes it "suitable for novice riders." Its top-end power and nimble handling will also satisfy the demands of more experienced riders. It features a six-speed transmission with Kawasaki's Positive Neutral Finder, "which allows you to simply upshift from first when stopped to select neutral." The parallel twin is married to a six-speed, close-ratio gearbox and chain drive, another characteristic unusual for a cruiser. Thankfully it's a quiet chain.
The Verdict
Riding through town on our way to some scenic coastal back roads, I could sense an impressive fluidity to the machine as I pulled away from stops and clicked up through the light-shifting six-speed gearbox. Power delivery is very linear. The usable range is from 2,000 rpm to the 9,900 rev limit. Even at upper revs, the crankshaft-driven counter-balancer maintains a degree of comfort and smoothness, as evidenced by the clear view in the bar-mount mirrors. Steady cruise at 4500 rpm in top gear registers an indicated 100 kmh, and there's plenty of passing-performance headroom without need for a downshift. It is also ideal when cruising on the city's heavy traffic. The low centre of gravity makes for very stable and controlled slow speed manoeuvres and tight U-turns. The procedure is the same – slightly ride the clutch and add a dab of the back brake. This isn't really where you will enjoy the Vulcan S though, turning in and blasting out of the twisty sections is where you will have the most fun.
With its unique blend of cruiser style and street bike performance, as well as its customizable fit that instills greater confidence in the rider, there is only one thing left to do … Ride!
The 2015 Kawasaki Vulcan S with its affordable purchasing price and low running cost is the perfect motorcycle for any rider to get across the city to chill with friends. And while it has plenty of practical uses, the 2015 Vulcan S is fun, above anything else. It allows you to drop everything at a moment's notice and take-off with a smile. So whether you're a new rider looking to buy a first motorcycle, or an experienced rider looking to rekindle the reason you started riding in the first place, the 2015 Vulcan S is the perfect reason to visit your local Kawasaki dealer.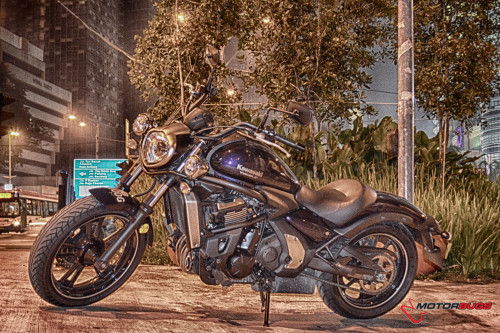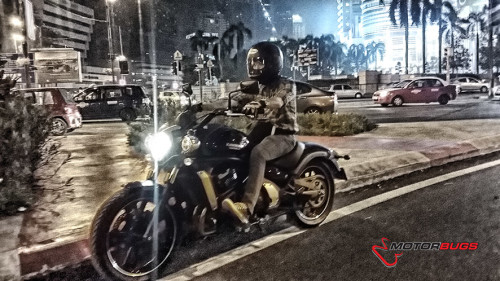 Text by : Nicholas Hah
Kawasaki Vulcan S Courtesy from Kawasaki Motors Malaysia
https://motorbugs.com/wp-content/uploads/Motor-Bugs-Logo-Transparent-height156px.png
0
0
Nicholas Hah
https://motorbugs.com/wp-content/uploads/Motor-Bugs-Logo-Transparent-height156px.png
Nicholas Hah
2015-09-15 05:14:16
2016-01-07 03:46:21
Kawasaki Vulcan S Road Test