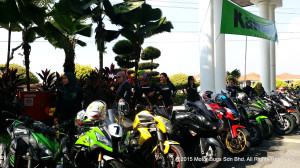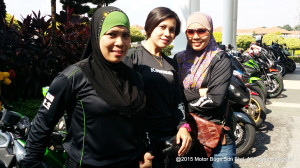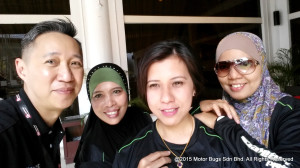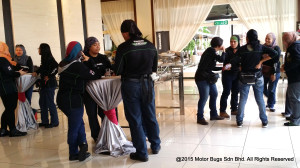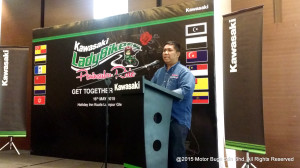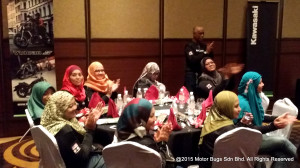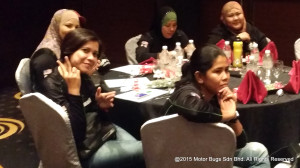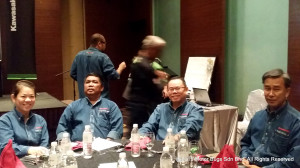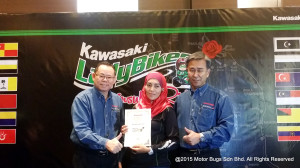 It was an achievement worth celebrating, having covered 2,161km in 5 days filled with adventure, treacherous weather and camaraderie developed along the way. After a 12 day rest, Kawasaki Motors (Malaysia) Sdn Bhd threw in a Get Together Session at Holiday Inn Glenmarie on 16 May 2015 to share their experience and stories with the media over lunch.
The Get Together Session was an event for the ladies to let their hair down. There was even a chance for an up close and personal with some of the lady bikers. They were extremely proud of their rides and were very anxious to share the whole experience with me.
Iza was one of the most enthusiastic lady biker I've met as she was very eager to share her experience with me. Firstly, when I asked her how she feels about safety riding gear and she replied that it was something very important to have and whenever she is on the bike she will make sure that she has her gloves, jacket, helmet and riding boots on. She will feel very insecure if she is not properly geared even though if it is on a hot day. The Peninsular ride was an experience that she will cherish forever. Even though there were some mishaps in the ride she was glad that everyone completed the ride without any major injury.
Eira started to ride as a pillion in 2012 and that triggered her interest in biking. She then took up a 4 weeks intensive riding course with PDRM as she's a policewoman. During the course, she was given a Honda CBR750 to ride and it was certainly a heavy bike but after getting used to the weight, it was actually a good thing for her as she can now ride any other bikes with ease. She is currently riding a Kawasaki Versys 650 and she is full of pride showing me her ride which has some modification done. It is my first time seeing a Versys 650 with a double undertail exhaust muffler. When asked if biking were dangerous for ladies, she replied that it all depends on individual.
Linda got into the world of biking since 2012 with a Kawasaki ER6N and started short rides to Ipoh and Penang. In the beginning the ER6N seemed a little heavy but now she finds it very manageable. For Linda, the peninsular ride was her longest ride ever and she is looking forward for more rides like this. She also mentioned it was a beautiful experience and would like to thank Kawasaki Motors (Malaysia) Sdn Bhd (KMSB) for organising this ride.
After the interview session we adjourned into the ballroom for a welcome speech followed by a video presentation of the Peninsular Ride and certificates' presentation to the participants in the Peninsular Ride. After the Certificates Presentation, representatives from the Kawasaki Lady Bikers Club presented a token of appreciation to KMSB. KMSB is proud to be able to support and fuel the passion of the all ladies club and is glad that there were no major mishaps during the ride. KMSB also assures that there will be more exciting rides in the near future.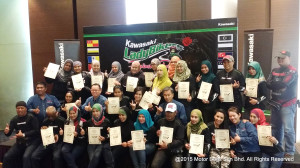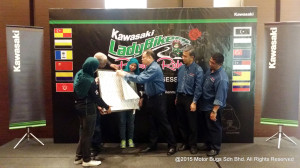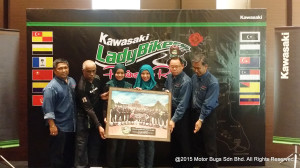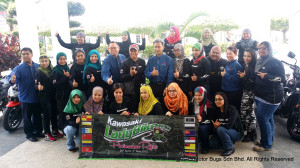 Text and Photos by: Nicholas Hah.
https://motorbugs.com/wp-content/uploads/Motor-Bugs-Logo-Transparent-height156px.png
0
0
The Motor Bug
https://motorbugs.com/wp-content/uploads/Motor-Bugs-Logo-Transparent-height156px.png
The Motor Bug
2015-06-02 08:37:11
2016-01-07 03:50:33
Kawasaki Lady Bikers Peninsular Ride – Get Together Session