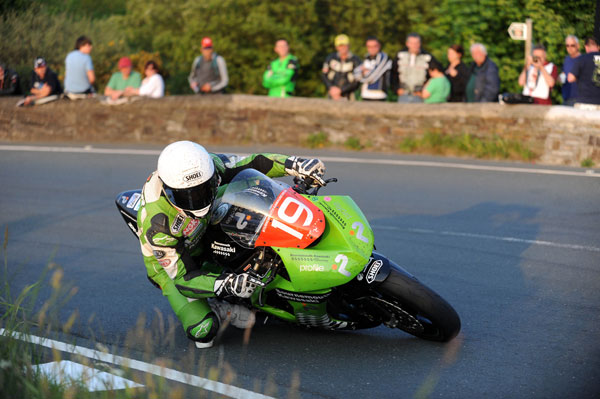 Leading short circuit and road race performer James Hillier has confirmed he will once again contest the 2012 Isle of Man TT races, fuelled by Monster Energy, with the 26-year old leading the attack for the Bournemouth Pr1mo Kawasaki team.
It will be the 5th consecutive year that Hillier has competed on the Mountain Course and the winner of the prestigious Newcomers Trophy in 2008, has now firmly established himself as one of the leading racers at the TT.
One of the new breed of youngsters racing on both the roads and the short circuits, Hillier has a busy schedule at this year's TT Races and will line up in all six solo races in June later this year having also secured a Lightweight TT machine. He was running fifth in the opening stages of the 2011 Dainese Superbike race and is clearly establishing himself as a potential TT winner of the future. He will be hoping to improve upon his best finish of 8th and a fastest lap of 127.661mph, which makes him the seventeenth fastest rider in TT history.
He originally made his name in the Virgin Mobile R6 Cup, and enjoyed success in the British Supersport Championship before moving on, firstly to the Metzeler National Superstock Championship and then in 2011 to the British Superbike Evo Championship where he finished 8th overall and a solid debut year in the Superbike division.
On the roads he made his TT debut in 2008 for the Martin Bullock Racing team when he took 17th and 19th in the two Supersport races, lapping at over 119mph and picking up two silver replicas and the Newcomers Trophy for his efforts. Since then, his road racing credentials have gone from strength to strength and he now has 15 finishes inside the top twenty at the TT with five of those top 10 and has 15 replicas. He finishedeighth place overall in the 2011 TT Championship, a stunning effort given the vastly more experienced riders he was up against.
James hopes to get a run out on his ER6 Kawasaki in February before undertaking a full testing programme in Spain in March as he also contests the premier British Superbike Championship this season. In addition, he also hopes to return to the North West 200, Ulster Grand Prix and Macau in what promises to be a busy season for the Hampshire rider.
Speaking about the season ahead, James said:
"I'm really looking forward to the year ahead and with regards to the TT I simply want to keep on improving and build upon the results I've achieved thus far. No-one's getting slower so it's not getting any easier but I've been steadily getting faster and would like to think I'll be there or thereabouts this year. I'll take it as it comes though as that's the approach that's served me well thus far and although I haven't set myself many targets, I would like to crack the 130mph barrier on the Superbike."
"I'll also be contesting the new Lightweight TT and am really excited about that. Ryan (Farquhar) has done all the chassis work for us with the ER6 Kawasaki and the bike sounds really good so it could be the one that gives me my best result. It should be a bit more of a level playing field and promises to be a really good class."
Peter Extance, Team Owner at Bournemouth Kawasaki Racing commented:
"James Hillier is a real credit and asset to Bournemouth Kawasaki Racing. We have supported him fully for four years and for us he is the reason why we are involved in Racing. James is a local lad and we have seen his potential grow over the years into what we hope will be podiums and wins at the TT. James has been a real team member and not just a Rider turning up and riding the bike. You will still see James putting up the awning and pit garage and taking it all down again at the end. For 2012 we have invested heavily in trying to give James the best machinery possible for the TT and we believe it is the time for James to be pushing on to the top steps and with seven races at this year's event we are really excited that he can fulfill his and our dreams in 2012."
Paul Phillips, TT and Motorsport Manager, Isle of Man Government commented:
"James was one of the potential stars of the future that we highlighted in our 2008 'Young Guns' campaign and he's really starting to fulfil his potential. I have no doubt that he will be a TT star for many years to come and will be challenging for a podium place sooner rather than later."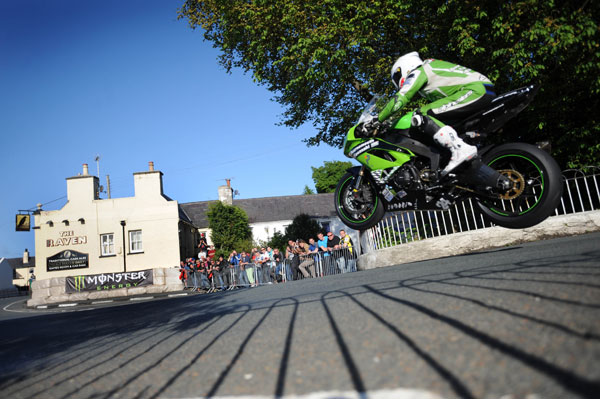 https://motorbugs.com/wp-content/uploads/Motor-Bugs-Logo-Transparent-height156px.png
0
0
The Motor Bug
https://motorbugs.com/wp-content/uploads/Motor-Bugs-Logo-Transparent-height156px.png
The Motor Bug
2012-01-30 04:21:56
2016-01-07 04:25:06
JAMES HILLIER PREPARES FOR BUSY SEASON WITH BOURNEMOUTH PRIMO KAWASAKI