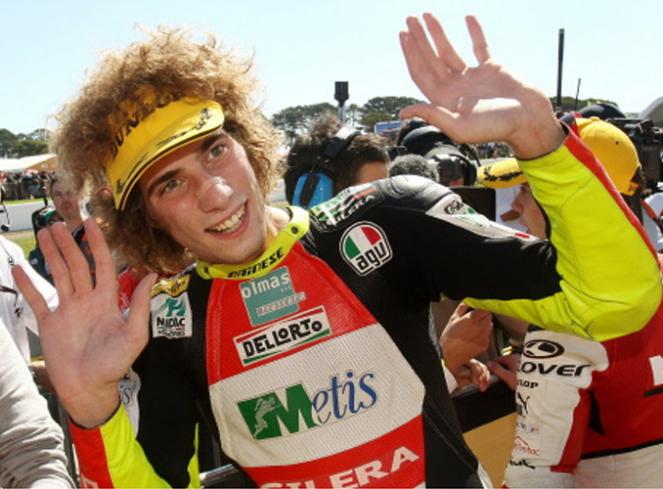 The Motorcycling world, in particularly the family of Motogp suffered a great loss last Sunday when Marco Simoncelli was involved in a horrific crash on the 2nd lap of the Malaysian leg of motogp.
Here is the excerpt from the press conference.
Paul Butler opened the press conference, saying: "The purpose of this press conference is to apprise you of the circumstances that resulted in the tragic death of Marco Simoncelli. You know who we all are, the Race Direction; Claude Danis who is the FIM representative, Javier Alonso the Dorna representative, Franco Uncini the riders' representative, and I'm Paul Butler the IRTA representative and Race Director. Michele Macchiagodena is our Medical Director and he will explain to you the circumstances that resulted in this death."
Michele Macchiagodena said: "I'm very sad to be here to report about the death of Marco Simoncelli, a friend. Because of the crash he had during the race, in which he was hit by other riders, he suffered a very serious trauma to the head, to the neck and the chest. When our medical staff got to him he was unconscious. In the ambulance because there was a cardiac arrest they started CPR (cardiac pulmonary resuscitation). Immediately in the Medical Centre, with the help also of the Doctor of our staff at the Clinica Mobile and local Doctors, he was intubated and it was possible to take off some blood from the thorax. The CPR was continued for 45 minutes because we tried to help him for as long as we thought it was possible. Unfortunately it was not possible to help him and at 16:56 (local time) we had to declare he was dead."
Paul Butler responded to a question about Marco Simoncelli's helmet coming off in the crash by saying: "I think if I may reply, that will be for another occasion. Quite clearly the consequences and circumstances surrounding the accident will be thoroughly investigated."
Answering a question about the condition of Colin Edwards, who was involved in the incident, Michele Macchiagodena said: "He had a dislocation of the shoulder and with anaesthesia the shoulder now is in the correct position. He is fine."
Paul Butler concluded the press conference by adding: "Our sympathies go to his family and we want to show every respect possible to Marco."
Simoncelli or more popularly known as Sic started his motorcycle racing career in the 125cc in 2002. He progressed to the 250cc class in 2006 and won the 250cc crown 2 years later. He was enlisted into the premier class in 2010 and came in 8th position overall. Sic is currently in 6th position.
https://motorbugs.com/wp-content/uploads/Motor-Bugs-Logo-Transparent-height156px.png
0
0
The Motor Bug
https://motorbugs.com/wp-content/uploads/Motor-Bugs-Logo-Transparent-height156px.png
The Motor Bug
2011-10-23 14:05:43
2016-01-07 04:26:20
From The Motor Bugs Media Desk : In Memory Of Marco Simoncelli