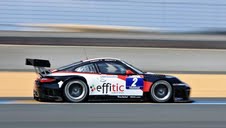 IMOLA (May 18 & 19 2013) – ROUND 2
For his debut in the French GT FFSA Championship on the Bugatti circuit, Enzo Guibbert, the "Volant Euroformula" 2012, was in second place on the podium for Race 2. Enzo wants to substantiate this result in Imola where he will continue to strengthen his skills behind the wheel of his Porsche 997 GT3-R managed by Philippe Almeras' Pro GT team.
To achieve this, Enzo Guibbert and his co-driver Eric Dermont will have to adapt to the specific character of the Imola circuit which they first discovered under pouring rain, preventing good preparation, during their Free Practice. Still, they can count on the experience and the technical skills of the Pro GT team to give them the best possible start in the two races of a weekend in Italy.
The "Volant Euroformula" 2012 nevertheless remains optimistic and looks forward to this meeting with confidence; and he is ready to battle it out with worthy adversaries who will certainly not make his job easy:
Enzo: "We achieved our objectives in the first race with a podium. We now have to confirm that and it won't be easy, especially as we weren't able to train properly in Imola because of the rain. But I like the circuit, there's a lot of rhythm and some interesting technical parts. I've also improved in lots of areas like the pneumatics and traffic management and I was just as comfortable in the rain as I was on dry, so it should go well. If our team is still lacking in experience, which is normal at this stage of the season, our motivation is pushing us to work very hard to continue to learn and improve. Our objective in Imola is to try and take some big points on Saturday and a top 5 on Sunday knowing that our 10 second penalty picked up for the good result we've already had will handicap us on the first day. We are ready to grab any and all opportunities we can, including a step on the podium!"
Laurent Fradon, the director of the Euroformula School, also thinks that Enzo Guibbert can achieve another good result:
"I'll say it again, Enzo Guibbert is one of those drivers with skill and he proved it at the Bugatti. He will have to substantiate that result and it won't be easy, we all know that. I trust he can do it because I saw his evolution in the school during the "Volant Euroformula" final where he knew how to put pressure on the other finalists. Even if he is discovering Imola for the first time, Enzo is able to adapt quickly which will help him rapidly get level with the best of them. We will follow his performance this weekend with interest."
Enzo Guibbert heads out to the Imola circuit in Italy intent on finding a lead position while he continues his apprenticeship in a discipline he discovered just recently!
https://motorbugs.com/wp-content/uploads/Motor-Bugs-Logo-Transparent-height156px.png
0
0
The Motor Bug
https://motorbugs.com/wp-content/uploads/Motor-Bugs-Logo-Transparent-height156px.png
The Motor Bug
2013-05-15 01:50:19
2016-01-07 04:01:02
FRENCH FFSA GT CHAMPIONSHIP 2013