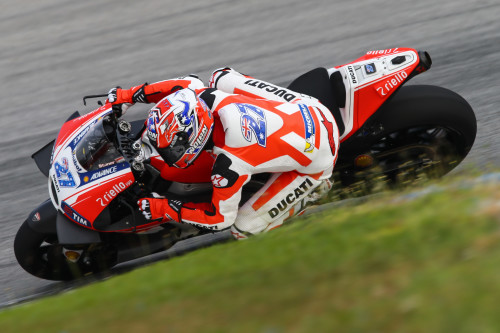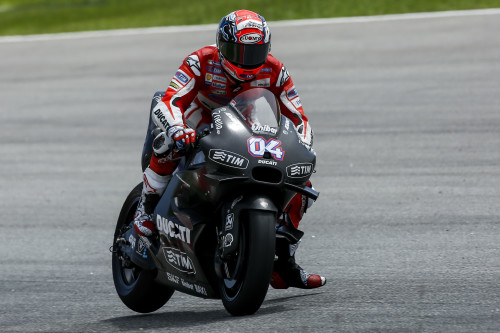 The two Ducati Team riders Andrea Iannone and Andrea Dovizioso, together with test-rider and two-time world champion Casey Stoner, had to wait until late morning to take to the track on the third and final day of IRTA tests at Sepang, because of the damp track conditions following overnight rain. Once the test was underway, the two Andreas continued development work and adapting the Michelin tyres to the new Desmosedici GP, while Stoner carried on with his scheduled test programme on the GP15.
Iannone had a harmless crash in the morning while carrying out a back-to-back test on last year's bike, and then a sudden downpour stopped activity at around 1 pm and the riders had to wait until the track was dry before they could go out again.
The two Ducati Team riders then continued the test concentrating on the 2016 Desmosedici GP bike, but unfortunately late in the afternoon a few technical problems prevented both of them from improving.
The third and final day came to an end with Stoner fifth quickest (2'01.070), Iannone eighth (2'01.233) and Dovizioso thirteenth (2'01.675).
Andrea Iannone (Ducati Team #29) – best combined time of 2'01.052 (8th), 38 laps today
"In the end this test was a bit unusual because instead of concentrating only on the bike, we gave priority to the work with the new tyres that Michelin had brought and I am satisfied with the progress we made in this area. It was however an important test because it helped us to get to know the new bike but also find out a few teething problems that emerged with the Desmosedici GP. Today we had a positive day even though, at the end, I was unable to do a quick lap because I was slowed by minor issues. We'll shortly be in Australia for the next test and I am confident that the data we gathered here will help us to improve the bike even more."
Casey Stoner (Ducati Team #27) – best combined time of 2'01.070 (9th), 30 laps today
"All in all it's been a very good few days for us, and I'm surprised myself that I was able to do three days of testing. Physically I feel great at the moment, but I'm sure I won't tomorrow! It's been a really positive test, not only because we worked well with the bike, but also because I was able to get back up to speed right away. Today wasn't too bad, even though we didn't get to do a lot of laps. Two exits this morning comparing two different geometry settings, but then the rain came so we weren't able to complete the tests. After the rain we finally got a bit of dry track time but struggled a bit with rear grip and spent too much time trying to find a balance again to move on. But as I said I'm really happy with the way things have gone, and working with Gigi (Dall'Igna) and the team has been really fantastic!"
Andrea Dovizioso (Ducati Team #04) – best combined time of 2'01.675 (16th), 34 laps today
"Today was more difficult than yesterday, because we had a few issues that unfortunately we could not resolve here and which slowed us the entire day. In the morning I didn't do many laps because I had to wait for the track conditions to improve, and then it began to rain. In the afternoon we started right away, and soon set a good time. We did some tests with used tyres and the bike improved but we encountered another problem towards the end of the session. We stayed in the box until the final part, but I was unable to make any more improvements when I went out. I didn't put in as many laps as I would have liked, which was important for me to adapt to the new Michelins. It's a pity, but I feel sure that in Australia we will be able to carry out our programme better once we've solved the problems back home."
https://motorbugs.com/wp-content/uploads/Motor-Bugs-Logo-Transparent-height156px.png
0
0
The Motor Bug
https://motorbugs.com/wp-content/uploads/Motor-Bugs-Logo-Transparent-height156px.png
The Motor Bug
2016-02-07 08:57:30
2016-02-07 08:57:30
Ducati Team concludes IRTA tests at Sepang