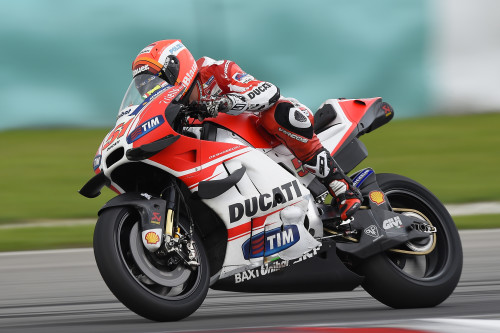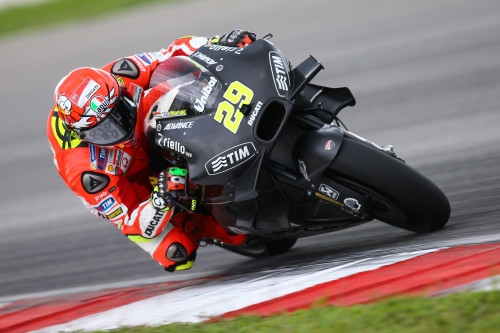 After a winter break of more than two months, the Ducati Team riders took to the track today together with all the other MotoGP World Championship protagonists, for the first pre-season IRTA tests. During this test each rider had available a 2015-spec Desmosedici and the new Desmosedici GP machine that had its shakedown test here
on Wednesday
in the hands of test-rider Michele Pirro.
Iannone and Dovizioso focussed mainly on set-up work for the new electronics in the morning, consistently lapping at a good pace and gathering useful information for the new bike. After the break, the two Andreas stepped onto the Desmosedici GP, still with its black fairings, for the first time at around
4.30 pm
, but after one hour a heavy downpour put an end to the day's proceedings.
Even though they only completed a few laps with the 2016 bike, the impressions of the Ducati Team riders were positive.
Michele Pirro was also out on track today, the Ducati Test Team rider continuing with the planned work schedule for the GP15.
Tomorrow's
second day of the test will see the factory Ducati Team riders joined by the two-time world champion Casey Stoner, who will use the Test Team's 2015 bike, with the aim of giving further feedback and input.
Andrea Iannone (Ducati Team #29) – 2'01.912 (5th), 49 laps
"I have to say that today went quite well, because I got back onto the bike after more than two months, and I was always close to the top guys all day. Today we didn't change anything big or turn the bike upside-down, I just focused more on dialing myself back in and trying to understand how to get the best out of the Michelin tyres. That's the way we have to continue: we've got two more days in which to make progress and understand the new Desmosedici GP in detail. Today we only did a few laps with the new bike, but for the moment we are satisfied."
Andrea Dovizioso (Ducati Team #04) – 2'02.650 (13th), 40 laps
"I am happy with the good feeling I managed to find right away with the new Desmosedici GP. There are some positive aspects which I picked up on immediately: good handling, better precision in both changes of direction and corner turn-in, and other improvements in the bike's overall behaviour. Unfortunately I didn't get a chance to push it to the limit and set better times, due to the amount of things we had to test today and the conditions towards the end of the session as it began to rain and we couldn't use the Michelin performance tyres. The important thing was to establish a good feeling with the new bike, and now we have two more days to work and take the Desmosedici GP to the limit."
Michele Pirro (Ducati Test Team #51) – 2'03.203 (16th), 32 laps
"This morning I carried on with the development of a new component and so I had to do ins and outs from the box a few times. After lunch we verified that some new measuring instruments installed on the bike were working and then towards the end of the day we did a couple of set-up tests. Unfortunately I didn't get a chance to do a quick lap to get closer to the others because in the last few minutes, just while I was putting my helmet on, it started to rain."
https://motorbugs.com/wp-content/uploads/Motor-Bugs-Logo-Transparent-height156px.png
0
0
The Motor Bug
https://motorbugs.com/wp-content/uploads/Motor-Bugs-Logo-Transparent-height156px.png
The Motor Bug
2016-02-02 02:46:17
2016-02-02 02:46:17
Ducati Team at Sepang – First official tests of the new season get underway