WSBK: Tom Sykes wins in Race 1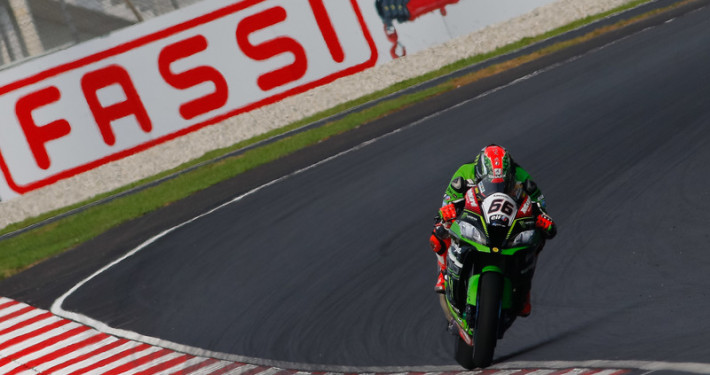 Alex Lowes of Pata Yamaha team had a great start in Race 1. Starting from P2 on the grid, he leads the pack for a couple of laps before losing the position to Tom Sykes. Lowes tried to hang on to 2nd position but Jonathan Rea manages to pass him to take second place. It was not a good day for Lowes as he eventually finished at 5th position, behind Chaz Davies of Aruba.it Ducati and Jordi Torres of Athea BMW racing team.
Tom Sykes took the lead and never look back pulling a lead of over 5 seconds to 2nd place and team mate Jonathan Rea.
Malaysian Round, 13-14-15 May 2016                                                                                              
World Superbike – Results Race 1
Laps 16 = 88,688 Km  –  Time Of Race    33'30.487  –  Avg. 158,806 km/h
Sepang International Circuit 5.543 m 
 

Pos

 

Qualifying

 

Ranking

Race Grid
No. Rider
Nat
Team
Bike
LL
Gap
Fastest Lap
Speed
Time   Speed
R1
R2     Tot
Pos
1
1
66 T.  SYKES
 

GBR

 

Kawasaki Racing Team

 

Kawasaki ZX-10R

16
2'03.637
293,9
2'02.246
296,3
25
179
3
2
3
1 J.   REA
GBR
Kawasaki Racing Team
Kawasaki ZX-10R
16
5.600
2'04.556
297,1
2'03.021
297,1
20
241
1
3
5
7 C.  DAVIES
GBR
Aruba.it Racing – Ducati
Ducati Panigale R
16
8.039
2'04.688
301,2
2'03.485
294,7
16
202
2
4
8
81 J.   TORRES
ESP
Althea BMW Racing Team
BMW S1000 RR
16
17.666
2'05.375
301,2
2'03.855
301,2
13
100
5
5
2
22 A.  LOWES
GBR
Pata Yamaha Official WorldSBK Team
Yamaha YZF R1
16
18.613
2'04.798
294,7
2'03.002
293,9
11
70
8
6
9
34 D.  GIUGLIANO
ITA
Aruba.it Racing – Ducati
Ducati Panigale R
16
19.871
2'05.386
296,3
2'04.052
293,9
10
98
6
7
10
60 M. VAN DER MARK
NED
Honda World Superbike Team
Honda CBR1000RR SP
16
24.120
2'05.244
297,9
2'04.183
295,5
9
115
4
8
4
69 N.  HAYDEN
USA
Honda World Superbike Team
Honda CBR1000RR SP
16
25.461
2'04.729
297,9
2'03.435
297,1
8
90
7
9
11
13 A.  WEST
AUS
Pedercini Racing
Kawasaki ZX-10R
16
32.989
2'05.694
293,9
2'04.440
296,3
7
7
20
10
12
2 L.  CAMIER
GBR
MV Agusta Reparto Corse
MV Agusta 1000 F4
16
35.464
2'06.902
289,2
2'05.399
287,6
6
66
9
11
14
25 J.   BROOKES
AUS
Milwaukee BMW
BMW S1000 RR
16
39.437
2'06.217
302,1
2'06.699
294,7
5
35
15
12
16
17 K.  ABRAHAM
CZE
Milwaukee BMW
BMW S1000 RR
16
39.860
2'06.598
297,9
2'07.192
293,9
4
18
17
13
17
99 L.  SCASSA
ITA
VFT Racing
Ducati Panigale R
16
46.721
2'07.497
287,6
2'07.628
286,9
3
3
21
14
15
12 X.  FORÉS
ESP
Barni Racing Team
Ducati Panigale R
16
52.634
2'05.938
293,9
2'06.787
292,3
2
51
12
15
18
16 J.   HOOK
AUS
Grillini Racing Team
Kawasaki ZX-10R
16
1'10.599
2'08.425
289,9
2'11.197
282,4
1
1
24
16
21
9 D.  SCHMITTER
SUI
Grillini Racing Team
Kawasaki ZX-10R
16
1'19.352
2'08.449
291,5
2'11.881
279,4
1
25
17
19
11 S.  AL SULAITI
QAT
Pedercini Racing
Kawasaki ZX-10R
16
1'21.034
2'08.755
283,8
2'11.320
280,2
18
23
4 G. VIZZIELLO
ITA
Team GoEleven
Kawasaki ZX-10R
16
1'51.315
2'09.809
286,9
2'16.701
280,9
19
20
10 I.   TÓTH
HUN
Team Tóth
Yamaha YZF R1
15
1  Lap
2'10.850
285,3
2'11.720
282,4
————————————————–Not       Classified————————————————–
RET
6
21 M. REITERBERGER
GER
Althea BMW Racing Team
BMW S1000 RR
12
4  Laps
2'05.598
302,1
2'03.549
300,4
47
13
RET
7
32 L.  SAVADORI
ITA
IodaRacing Team
Aprilia RSV4 RF
9
7  Laps
2'05.981
302,9
2'03.612
302,1
64
10
RET
13
15 A.  DE ANGELIS
RSM  IodaRacing Team
Aprilia RSV4 RF
7
9  Laps
2'06.135
297,1
2'06.691
297,9
32    16
RET
22
119 P.  SZKOPEK
POL  Team Tóth
Yamaha YZF R1
6
10  Laps
2'08.452
289,9
2'12.277
286,9
AIR
Humidity:
71%
Temp:
32°C
Fastest Lap
2° Tom Sykes
2'03.637
161,398
Km/h
TRACK
Condition:
Dry
Temp:
46°C
Lap Record:
2015 T.Sykes
2'03.654
161,380
Km/h
Best Lap
2016 T.Sykes
2'02.246
163,230
Km/h
 

 

 

No.  Rider

 

LAP LEADERS

From

 

 

 

To

 

 

 

Laps

 

 

 

Total

 

 

 

No.

 

TOTAL LEADER LAPS

Rider

 

 

 

Laps

66     T.  SYKES
1
16
16
16
7
C. DAVIES
84
66
T.  SYKES
72
1
J.  REA
44
60
M. VAN DER MARK
8
25
J.  BROOKES
5
22
A. LOWES
1
44
L.  MAHIAS
1