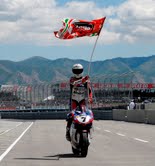 Miller Motorsports Park (USA), Monday 28 May 2012 – On a sunny race day at Miller Motorsports Park the sixth round of the eni FIM Superbike World Championship delivered some great action and two different race winners to the 49,000 strong weekend crowd. In a landmark day for the series, race one saw World Superbike reach its 600th individual race mark.
Carlos Checa (Althea Racing Ducati) and Marco Melandri (BMW Motorrad Motorsport) took one race victory apiece, but the weekend winner was the rider who finished third each time today, Max Biaggi (Aprilia Racing). With his haul of 32 points Biaggi now leads the series by 18, from Melandri and Tom Sykes (Kawasaki Racing Team). Jonathan Rea (Honda World Superbike Team) was the other podium finisher today, second in race two, and after scoring fourth in race one he is fourth overall and only 1.5 points from Melandri and Sykes.
It was a truly up and down day for Checa, as he fell in race two. His fourth no-score of the season, coming along so shortly after his fourth race win, puts him fifth overall.
Race 1
Checa pulled a controlled win out of the bag, eventually heading home Melandri by 2.313 seconds. Third was Biaggi who had to work hard in the final laps to hold off Rea. Eugene Laverty (Aprilia Racing) finished fifth, with pole man Jakub Smrz (Liberty Racing Team Effenbert Ducati) sixth. Slowing front row starter Tom Sykes was finally caught by Chaz Davies (ParkinGO MTC Aprilia) with Davies seventh and Sykes eighth.
Carlos Checa: "I had a great time and I always enjoy coming to America, spending time around here, and I always feel really well at this track. It is a fantastic moment for me to win again, get on the podium, to take a victory, so some great feelings come back. It is a really special day for all the Americans here as it is Memorial Day so I want to dedicate this victory to you."
Marco Melandri: "I was struggling a lot last year so to get such a good race was amazing for me. I tried to make life not easy for Carlos but when I came back in the end, I tried to come back to him a few times but I made a mistake. So, for the last lap I chose not to try too much because it was easy to make another mistake. Second place was good for me after such a tough qualifying."
Max Biaggi: "It is good to be on the podium and I appreciate the third position. I had a long fight with Rea and his Honda and we got good points for the championship. In the end I could not go faster than that. On the first lap with so many riders there was a battle and I am happy now because we had a good race and finally we got some California-style weather."
Results: 1. Checa (Ducati) 21 Laps/103.047 km in 38'21.283 average 161.201 kph; 2. Melandri (BMW) 2.313; 3. Biaggi (Aprilia) 5.338; 4. Rea (Honda) 5.517; 5. Laverty (Aprilia) 12.201; 6. Smrz (Ducati) 13.262; 7. Davies (Aprilia) 19.662; 8. Sykes (Kawasaki) 21.292; 9. Fabrizio (BMW) 21.450; 10. Haslam (BMW) 23.433; 11. Giugliano (Ducati) 23.696; 12. Guintoli (Ducati) 24.752; 13. Camier (Suzuki) 29.400; 14. Badovini (BMW) 31.222; 15. Baz (Kawasaki) 32.966; 16. Berger (Ducati) 35.409; etc.
Race 2
Melandri and Rea went 1-2 in the second race at Miller, which was halted, shortened to 18 laps, and then re-started late after an oil spill following a crash. The wait was worth it for the spectators as the last lap fight was tense and exciting right up until Melandri took his second win of 2012, by only 0.195 seconds. Biaggi was third and Davies fourth, easily the SBK rookie's best result of the year. Fifth was Sykes, sixth came Laverty, with Davide Giugliano (Althea Racing Ducati) seventh. Early leader Carlos Checa was unlucky to fall and no score.
Marco Melandri: "It was such a difficult race for me, I was lucky for sure when Carlos made a mistake. I was struggling a little bit with a full fuel tank but after 50% of the race it was getting better. When Johnny passed me he was much faster than me, and I lost a bit of concentration, so Max passed me and then Chaz Davies did as well. So I tried to stay calm, take my rhythm and try to get a good feeling to catch Johnny. I was very lucky because my engine was so strong so I could pass him on the straight. Otherwise for me it would have been really difficult to pass him. So a podium in race one and a win in race two is really unbelievable."
Jonathan Rea: "Marco made some mistakes in the middle of the race and then I was making some mistakes at the end of the race. He was really strong but I am just so happy to come out of Miller with a fourth and a second. It is so nice to be here on the podium in America. I grew up watching AMA motocross and it was my dream to come to America and race. My team did a fantastic job. We have been lacking a little bit in a straight line but it is unbelievable everywhere else and I could really push to the maximum."
Max Biaggi: "To come all the way to Utah and finish on the podium twice is not so bad, but my dream was to win a race. But there were some other guys who did a better job than me so third position is not so bad. I am not super happy, but not so bad."
Results: 1. Melandri (BMW) 18 Laps/88.326 km in 32'56.257 average 160.897 kph; 2. Rea (Honda) 0.195; 3. Biaggi (Aprilia) 2.137; 4. Davies (Aprilia) 4.245; 5. Sykes (Kawasaki) 9.534; 6. Laverty (Aprilia) 9.798; 7. Giugliano (Ducati) 11.891; 8. Haslam (BMW) 12.715; 9. Smrz (Ducati) 13.017; 10. Guintoli (Ducati) 13.703; 11. Camier (Suzuki) 15.687; 12. Fabrizio (BMW) 21.923; 13. Badovini (BMW) 23.940; 14. Baz (Kawasaki) 24.051; 15. Berger (Ducati) 33.897; 16. Hopkins (Suzuki) 38.692; etc.
Points (after 6 of 14 rounds): 1. Biaggi 160.5; 2. Melandri 142.5; 3. Sykes 142.5; 4. Rea 141; 5. Checa 130.5; 6. Haslam 103; 7. Guintoli 95; 8. Laverty 86; 9. Giugliano 64; 10. Smrz 61.5; etc. Manufacturers: 1. Ducati 195.5; 2. BMW 176; 3. Aprilia 171; 4. Kawasaki 148.5; 5. Honda 145; 6. Suzuki 48.5.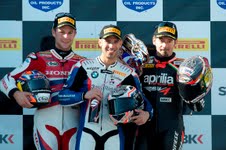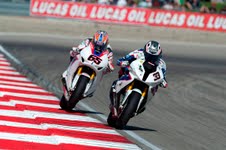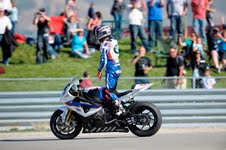 https://motorbugs.com/wp-content/uploads/Motor-Bugs-Logo-Transparent-height156px.png
0
0
The Motor Bug
https://motorbugs.com/wp-content/uploads/Motor-Bugs-Logo-Transparent-height156px.png
The Motor Bug
2012-05-29 10:18:09
2016-01-07 04:24:27
Checa up and down as Melandri wins another