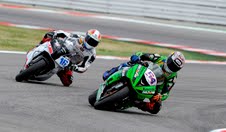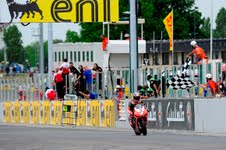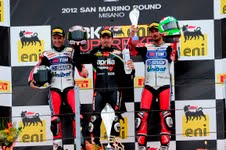 Misano Adriatico (Italy), June 10, 2012 – Max Biaggi (Aprilia Racing) left Misano with the sound of his fan club members' voices ringing in his ears after he completed a home double that will long be remembered by all 67,000 weekend spectators. He pushed his career win total to 19 today. These were Biaggi's second and third wins of the year, but the first since the opening race in Australia, way back in February.
Having started off the third row in each race Biaggi made up places quickly and held off the close pressure from Carlos Checa (Althea Racing Ducati) in race one, then he had a clear win from Jonathan Rea (Honda World Superbike Team) and Leon Haslam (BMW Motorrad Motorsport) in race two. Biaggi has been the most consistent of the top riders in 2012 so far, but today he proved that when his bike is right he can also compete for race wins again.
Another rider from Rome, Davide Giugliano (Althea Racing Ducati) had a podium day, third in race one, his second top three finish as a rookie in SBK racing. Off the podium positions at Misano, Chaz Davies (ParkinGO MTC Aprilia) was an excellent sixth, after starting 21st on the grid, while Kawasaki Racing Team rider Loris Baz rode with panache and pushed to score eighth in race two, just behind his team-mate Tom Sykes. Wild-card man Matteo Baiocco (Barni Racing Team Ducati) was 15th in race one but a much-improved tenth in race two.
In the championship fight, Biaggi is on 210.5 points, Rea is second on 172 and Tom Sykes (Kawasaki Racing Team) has 164.5, after finishing fourth and seventh today.
Race 1
Biaggi rode from the third row to the win, after a superb performance in front of his home crowd. With many passes and changes throughout the race he had to ride hard at the end to defend from another lowly starter, Checa, who finished second, having started 16th. Giugliano secured a combative third place, with Sykes fourth after riding up front at the start, then dropping to seventh for a time. He overhauled long time race leader Jonathan Rea.
Max Biaggi: "This weekend didn't start in the best way for us, that kind of Superpole out of the top 4 made it so difficult to come back. There are not many places to overtake here at Misano but in the end I found a way, someone made some mistakes, and little by little we tried to climb the mountain to get to the top."
Carlos Checa: "It was an amazing result considering the position we started in. Today we fixed yesterday's mistake, finally fighting for the win which was unthinkable because of the difficulties in this track to overtake. Second and third is great for the team, it was tough and in the end Max was stronger."
Davide Giugliano: "This is a track I like a lot and where the Ducati has always gone well but now we have to confirm our good form. The race was splendid, I demanded a lot from the bike and the tyres for half the race, then after the mid-point I began to suffer. I knew that Carlos and Max were arriving, then when I saw the black 'shadow' of Biaggi let's say it wasn't much fun because I used to watch him all the time on TV when I was a kid!"
Results: 1. Biaggi (Aprilia) 24 Laps/101.424 km in 38'58.471 average 156.139 kph; 2. Checa (Ducati) 0.305; 3. Giugliano (Ducati) 4.503; 4. Sykes (Kawasaki) 8.858; 5. Rea (Honda) 11.627; 6. Davies (Aprilia) 12.258; 7. Laverty (Aprilia) 12.551; 8. Guintoli (Ducati) 13.561; 9. Smrz (Ducati) 17.014; 10. Camier (Suzuki) 18.361; 11. Badovini (BMW) 20.029; 12. Haslam (BMW) 22.082; 13. Berger (Ducati) 22.966; 14. Fabrizio (BMW) 27.014; 15. Baiocco (Ducati) 31.133; 16. Aoyama (Honda) 31.719; etc.
Race 2
Biaggi secured a second brilliant victory, pulling clear after some early action with other riders and winning by a margin of 5.355 seconds, easing down in the final lap. Rea and  Haslam had a long fight for second with Rea securing it. Marco Melandri (BMW Motorrad Motorsport) and Ayrton Badovini (BMW Motorrad Italia Gold Bet) had another personal duel that went the way of Melandri. The top five riders were covered by only seven seconds at the flag. Race one co-stars Checa and Giugliano each crashed out of race two.
Max Biaggi: "It was an unbelievable weekend, it was such a long time since my first win in Australia in February. Now we are back in first position and it's great. This race was amazingly difficult, much sliding of the tyres, chattering and it's a difficult place to race at the top level. I won these races that make me happy, one in the last two laps and the other when you take the lead and go. I can't ask for more, thanks to all the boys who always try to help me win."
Jonathan Rea: "Really happy, my bike worked pretty good. I felt like I was riding well and enjoying myself as well. I had stronger pace than Sykes at the beginning and once I got past I could maintain the pace to Max who was on race management. Now we go on to Aragon where I haven't ridden yet so I'm quite motivated for that. Thanks to all the Italian fans who were cheering me on today!"
Leon Haslam: "After race 1 when we had tyre issues from half distance on the boys worked really hard to change the set-up. We made a different tyre choice and the rear was much better. I struggled with the front and that made it difficult to get past Johnny, but it was another good battle and fair play to those guys"
Results: 1. Biaggi (Aprilia) 24 Laps/101.424 km in 39'01.869 average 155.912 kph; 2. Rea (Honda) 5.355; 3. Haslam (BMW) 5.731; 4. Melandri (BMW) 7.004; 5. Badovini (BMW) 7.921; 6. Fabrizio (BMW) 17.291; 7. Sykes (Kawasaki) 17.351; 8. Baz (Kawasaki) 17.630; 9. Smrz (Ducati) 18.211; 10. Baiocco (Ducati) 28.131; 11. Berger (Ducati) 28.407; 12. Aoyama (Honda) 38.060; 13. Canepa (Ducati) 49.003; 14. Hopkins (Suzuki) 51.881; 15. Camier (Suzuki) 55.502; 16. Mercado (Kawasaki) 1'06.361; etc
Points (after 7 of 14 rounds): 1. Biaggi 210.5; 2. Rea 172; 3. Sykes 164.5; 4. Melandri 155.5; 5. Checa 150.5; 6. Haslam 123; 7. Guintoli 103; 8. Laverty 95; 9. Giugliano 80; 10. Smrz 75.5; etc. Manufacturers: 1. Ducati 222.5; 2. Aprilia 221; 3. BMW 197; 4. Honda 176; 5. Kawasaki 170.5; 6. Suzuki 56.5.
World Supersport
Kenan Sofuoglu (Kawasaki DeltaFin Lorenzini) and Jules Cluzel (PTR Honda) contested the win in the 22-lap Supersport World Championship race at Misano but the Turkish rider had the upper hand and Cluzel had to settle for second, 1.228 seconds behind. Sofuoglu's win makes him the only rider in this class to have won more than a single race in 2012. Alex Baldolini (Power Team by Suriano Triumph) was an impressive third, with Roberto Tamburini (Team Lorini Honda) for close company. Pole man Sam Lowes (Bogdanka PTR Honda) struggled for early pace and crashed, then restarted to finish 18th, with no points. In the championship fight, Sofuoglu now leads Cluzel, 106 points to 84, with Lowes on 76.
Results: 1. Sofuoglu (Kawasaki) 22 Laps/92.972 km in 36'44.023 average 151.858 kph; 2. Cluzel (Honda) 1.228; 3. Baldolini (Triumph) 20.597; 4. Tamburini (Honda) 21.800; 5. Parkes (Honda) 26.357; 6. Morais (Kawasaki) 26.935; 7. Metcher (Yamaha) 33.183; 8. Foret (Kawasaki) 34.587; etc.
Points (after 6 of 13 rounds): 1. Sofuoglu 106; 2. Cluzel 84; 3. Lowes 76; 4. Foret 63; 5. Baldolini 54; 6. Parkes 53; 7. Tamburini 38; 8. Morais 37; etc. Manufacturers: 1. Kawasaki 131; 2. Honda 131; 3. Triumph 67; 4. Yamaha 52; 5. Suzuki 6.
Superstock 1000
The Superstock 1000 race was eventually run over only six laps after it had started and then been stopped after an oil spill at the third corner. Eddi La Marra took the holeshot on his Barni Racing Team Italia Ducati Panigale, but within half race distance he had been passed by Sylvain Barrier's BMW and then Michele Magnoni's GM Racing BMW. Lorenzo Baroni, Barrier's BMW Motorrad Italia Gold Bet team-mate, was an eventual second after catching the leading pack on the final lap then passing two riders with ease. Magnoni was third. The top four were covered by 0.571 seconds. In the championship Barrier leads with 75 points, Lorenzo Savadori is second with 64.
Results: 1. Barrier (BMW) 6 Laps/25.356 km in 10'06.206 average 150.579 kph; 2. Baroni (BMW) 0.137; 3. Magnoni (BMW) 0.528; 4. La Marra (Ducati) 0.571; 5. Savadori (Ducati) 2.269; 6. Guarnoni (Kawasaki) 2.572; 7. Staring (Kawasaki) 2.655; 8. Coghlan (Ducati) 5.718; etc.
Points (after 4 of 10 rounds): 1. Barrier 75; 2. Savadori 64; 3. La Marra 61; 4. Reiterberger 41; 5. Baroni 40; 6. Bergman 33; 7. Baz 30; 8. Massei 30; etc. Manufacturers: 1. BMW 84; 2. Ducati 74; 3. Kawasaki 60; 4. Honda 30; 5. Aprilia 15.
KTM European Junior Cup
Austrian rider Lukas Wimmer scored a victory in the single make European Cup Series, taking his KTM single to the win by seven seconds. Christian Vidal was second, winning a fight with Giuseppe Scarcella for the next podium place. In the championship, due to the absence of round 1 winner Adrian Pasek with injury, Vidal now has 26 points, Wimmer 25.
Results: 1. Wimmer (KTM) 9 Laps/38.034 km in 17'02.314 average 133.934 kph; 2. Vidal (KTM) 7.799; 3. Scarcella (KTM) 7.868; 4. Orellana (KTM) 13.121; 5. Demoulin (KTM) 13.184; 6. Fazzina (KTM) 13.703; 7. Lewis (KTM) 15.624; 8. Odegard (KTM) 16.162; etc.
Points (after 3 of 8 rounds): 1. Vidal 26; 2. Wimmer 25; 3. Pasek 25; 4. Demoulin 24; 5. Orellana 21; 6. Hartog 20; 7. Wielebski 20; 8. Lewis 19; etc.
Coppa dei Due Paesi (Two Nations Cup)
Leonardo Leuthe Biliotti (Team Trasimeno Yamaha) won the Coppa dei Due Paesi race today, with Denis Sacchetti (SD Rider Team Kawasaki) only 0.730 seconds behind. Alessia Polita (Team Trasimeno) was third after holding off the push of Patrik Vostarek (Motorpower Honda) across the line. Dakota Mamola (Yakhnich Motorsport Yamaha) was fifth. This was the first of three rounds of the championship, which will continue at Brno and culminate in Russia, at Moscow Raceway.
https://motorbugs.com/wp-content/uploads/Motor-Bugs-Logo-Transparent-height156px.png
0
0
The Motor Bug
https://motorbugs.com/wp-content/uploads/Motor-Bugs-Logo-Transparent-height156px.png
The Motor Bug
2012-06-11 04:31:39
2016-01-07 04:24:18
Biaggi has a wonder day as he extends his lead