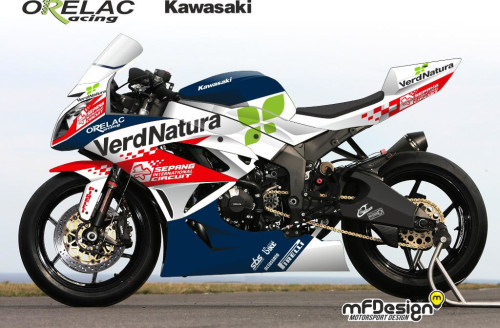 After six years, 103 races, 268 world championship points and two glorious podium wins in the third tier of the MotoGP World Championship, Malaysia's most celebrated international rider, Muhammad Zulfahmi Khairuddin pens another first in the country's motorsports history book as he ventures full-time into the World Superbike Championship (WSBK) arena.
In 2016, Zulfahmi, or Fahmi amongst friends and colleagues, will be the first Malaysian to ride a full season in the prestigious series, competing under the banner of Orelac Racing in the 600cc Supersport category. He will be riding a Kawasaki ZX 6R machine for the first time on the world stage.
Always humble in his views, Zulfahmi said he is ready for the new challenge, but will not make any early predictions as yet until he tests the bike later this month and evaluates the competition in the line-up.
"It's difficult to say anything at this stage as I have yet to get on the bike, test it fully and look at the competition. In any case, I am really looking forward to this challenge and I aim to do my best to make my family, friends and country proud," said the former SIC Racing Team rider.
After three seasons in the MotoGP's 125cc category and four seasons in Moto3, the Banting-born rider said he had a frank discussion with mentor Dato' Razlan Razali – SIC's Chief Executive Officer, on his future and both agreed that he would need new challenges in his racing career.
At 24, Fahmi believes that there are still plenty of competitive years for him to continue racing at the highest level, and returning to the MotoGP in the second tier Moto2 class will continue to be a career target.
"Everything will be new for me. But I am happy to take up new challenges. I would like to thank SIC for giving me an opportunity to continue with my career. The WSBK is a world class championship with world class riders and I am looking forward to the competition. As always, I will give my best to produce the best results possible," Fahmi shared.
Commenting on the switch, Dato' Razlan said he has high hopes of seeing Fahmi doing well in the World Supersport Championship despite riding a new class of bike for the first time in his career.
He said Fahmi will be driven by the new challenge especially the prospect of competing in the Moto2 World Championship if he does well in the WSBK.
"We are excited about this new collaboration with Team Orelac Racing. Emulating the success of MotoGP, we hope this formula of placing a Malaysian boy in the WSBK's Supersport category for a full season will excite Malaysian fans. This marks another historical milestone with a local boy participating in the WSBK for the first time ever. We are pleased to have the services of Fahmi with his wealth of experience to do the country proud. We hope it will rejuvenate his racing career to do well in this new category and become a potential stepping stone to the Moto2 World Championship in the near future," said Dato' Razlan.
Fahmi, who previously played a key role in elevating the popularity of the Malaysian Motorcycle Grand Prix in Sepang, culminating in a sell-out event in 2015, is projected to help boost ticket sales for the WSBK in Sepang with his participation.
Entering its third edition this year, the Motul FIM Superbike World Championship Malaysia Round will be held from 13 to 15 May 2016 as Round 6 of a 14-leg championship. The series will open in Phillip Island, Australia, happening from 26 to 28 February.
Signing on a Malaysian rider for the first time, Orelac Racing is excited to have Fahmi as their new rider.
"This is very good for Orelac Racing. I'm very happy with Fahmi joining our team. He's a young talented rider, and we are confident that he will make his presence known in the World Supersport field," said team owner Jose Calero.
"The partnership with Sepang International Circuit is very important for us and I'm honoured that Dato' Razlan Razali chose us for Malaysia and SIC's entry into the highly competitive World Supersport class. We are 100% committed in providing the best possible support for Fahmi," Calero added.
Echoing his employer's views, team manager Giulio Bardi is equally delighted to have Fahmi coming on board, saying that the Malaysian's experience in Moto3 will definitely have a positive impact on his participation in the World Supersport Championship.
"I'm very happy to have Fahmi in the team. He has talent and high level experience, coming from Moto3. He will fit right in at the highly competitive World Supersport class where passing, drafting and elbow-to-elbow competition is constantly happening," Bardi said.
"I feel we now have a very good team with our two young riders Nacho (Calero) and Fahmi, boosted by highly skilled and experienced technical staff under the direction of a proven chief technician like Toni Alfonsea. We all know how big the variables are in racing, but one thing I can promise is that this is going to be an exciting season in World Supersport," he added.
https://motorbugs.com/wp-content/uploads/Motor-Bugs-Logo-Transparent-height156px.png
0
0
The Motor Bug
https://motorbugs.com/wp-content/uploads/Motor-Bugs-Logo-Transparent-height156px.png
The Motor Bug
2016-01-18 01:11:57
2016-01-18 01:11:57
Zulfahmi Khairuddin Charts New Adventure in WSBK