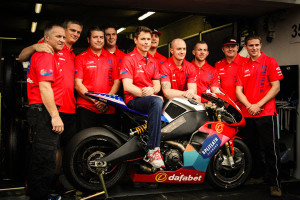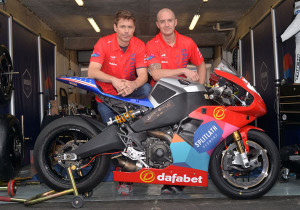 British road racing team, Splitlath Motorsports, has confirmed that it will be contesting the 2014 Isle of Man TT Races, fuelled by Monster Energy, with a unique all American line-up. They will compete aboard the all new, American made, EBR1190RS from iconic manufacturer Erik Buell Racing.
This will be the first time that the EBR's have raced on the TT Mountain Course. Splitlath will field Americans Mark Miller and Brandon Cretu, both experienced TT riders. The decision to run the EBR 1190RS comes after a successful outing with both Miller and Cretu at the 2013 Macau Grand Prix where they finished 11th and 20th respectively. This represented a significant improvement for both riders in finishing positions and lap times compared to recent years, which proved the bikes pedigree to Splitlath Motorsports team owner, John Dimbylow.
Both Splitlath riders will race the Rotax-powered, V-twin, EBR1190RS in the Dainese Superbike, RL 360 Superstock, and PokerStars Senior TT races. The confidence inspiring chassis and high corner speed of the EBR's has the team aiming for good results and the riders shooting for personal bests. The team is also doubly excited to be promoting a brand new bike to the fans at the TT races.
2014 will be Mark Millers's fourth consecutive year riding for the Splitlath outfit on the island. Miller has become a formidable competitor since his debut in 2006 and also has the distinction of being the fastest American in the history of the event with a lap of 125.507mph. He also won the 2010 TT Zero Race for clean emissions motorcycles.
Brandon Cretu will be Miller's teammate. He is looking to continue the success that the pair enjoyed at Macau. Cretu's has recorded a fastest lap of 117.8mph around the TT course, which he achieved last year and is looking to significantly improve on that time in 2014.
Mark Miller, Team Rider, commented:
"At the Macau Motorcycle Grand Prix last November the EBR Superbike had extremely high entrance and corner speeds due to its single front brake rotor scheme and an unusually low center of gravity from the mass of the petrol actually being wrapped around the engine inside a hollow frame. The EBR steers on a dime, it's really unique and fun to ride fast, and historically it's superior handling that wins motorcycle races. I think the 1190RS will work very well around the fast flowing TT circuit. I'm super excited to get another rare opportunity alongside my Splitlath family to ride Erik Buell's little brainchild, this time at the Isle of Man TT races."
John Dimbylow, Team Owner, Splitlath Motorsport commented:
"We are all tremendously excited and proud to be running Erik's bikes at the TT this year. This will be the first time a US manufacturer has competed here adding to our successful debut at the Macau GP in 2013. Running any motorbike at the TT is hard, it shows up all sorts of things on the bikes that you just don't expect as no other race poses similar challenges, so running a completely new bike when no one else has is incredibly difficult, but people love Erik's bikes, his engineering brilliance, and his ability to "dare to be different". We are looking forward to solid performances from our US Riders and a foundation with which to build upon in subsequent campaigns."
https://motorbugs.com/wp-content/uploads/Motor-Bugs-Logo-Transparent-height156px.png
0
0
The Motor Bug
https://motorbugs.com/wp-content/uploads/Motor-Bugs-Logo-Transparent-height156px.png
The Motor Bug
2014-05-19 05:39:27
2016-01-07 03:56:39
SPLITLATH MOTORSPORTS CONFIRMS THEY WILL RUN EBR1190RS AT 2014 ISLE OF MAN TT RACES