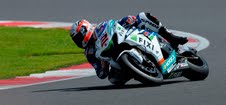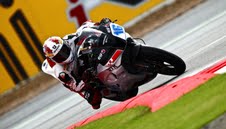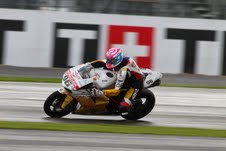 Silverstone (UK), 4 August 2012 – Jakub Smrz (Liberty Racing Team Effenbert Ducati) secured his second Tissot-Superpole of the season today at Silverstone, to add to the pre-race success he enjoyed at Miller Motorsports Park in May.
The Czech rider made the best of the often treacherous track and weather conditions at Silverstone, in what was a two-part wet Superpole, to lead FIXI Crescent Suzuki rider Leon Camier off the line on Sunday's two eni FIM Superbike World Championship races. Sylvain Guintoli (PATA Racing Team Ducati) was third in his first appearance for the Italian squad and local hero Leon Haslam (BMW Motorrad Motorsport) was fourth, despite being fastest with only one lap left from his main rivals.
Jakub Smrz: "It was a great performance in the wet. As Leon said the conditions were really difficult, the rain was changing at every moment on every part of the track, but I was trying to improve lap by lap and then on the last lap I tried my best and it was enough for first place. We are used to these conditions this year, so we must be ready for everything tomorrow."
Leon Camier: "It was definitely better than where I normally qualify, so that's good! Massive thanks to the boys, it's been a hard year for us but finally everything is paying off and this weekend we've been strong. There were some tricky conditions for qualifying but I managed to get a good rhythm and keep improving. I thought I had pole and I did until Kuba came past on the last lap!"
Sylvain Guintoli: "I'm really happy because it's not easy when you're put in a new situation like this one. From the start of the weekend me and the team have got on really well, we've been tweaking stuff like in winter testing! I'm having fun with Pata and I've found a good home with which to finish the season. Obviously this is the first step, but there's plenty more performance to come."
Davide Giugliano (Althea Racing Ducati) was another rider to lead for a time before crashing on the wet surface and finishing fifth, with championship challenger Marco Melandri (BMW Motorrad Motorsport) sixth, Carlos Checa (Althea Racing Ducati) seventh and Tom Sykes (Kawasaki Racing Team) eighth. Checa and Sykes both fell, spoiling any chance of making faster laps in Superpole 2.
Loris Baz (Kawasaki Racing Team) went ninth after his own crash in the first 20-minute session, while Jonathan Rea (Honda World Superbike Team) could only manage tenth and Max Biaggi (Aprilia Racing) eleventh.
Times: 1. Smrz (Ducati) 2'20.810 average 150.893 kph; 2. Camier (Suzuki) 2'20.846; 3. Guintoli (Ducati) 2'21.385; 4. Haslam (BMW) 2'21.613; 5. Giugliano (Ducati) 2'21.951; 6. Melandri (BMW) 2'21.960; 7. Checa (Ducati) 2'23.356; 8. Sykes (Kawasaki) 2'24.025; 9. Baz (Kawasaki) 2'23.777; 10. Rea (Honda) 2'23.889; 11. Biaggi (Aprilia) 2'24.176; 12. Hopkins (Suzuki) 2'24.274; 13. Berger (Ducati) 2'24.294; 14. Laverty (Aprilia) 2'25.260; 15. Fabrizio (BMW) 2'26.137; 16. Davies (Aprilia) 2'26.360; etc.
World Supersport
Jules Cluzel (PTR Honda) secured pole at Silverstone after the second qualifying session, held in tricky wet and drying track conditions. He held off local rider Sam Lowes (Bogdanka PTR Honda) to secure the best starting place for Sunday's race, with replacement rider Alex Lundh (Bogdanka Honda PTR) third, and then a late faller in the second session. The front row places are locked-out by PTR Honda men, with Mathew Scholtz (Bogdanka PTR Honda) fourth. Another Honda rider, Imre Toth (Team Toth) was fifth, with Assen podium man Vladimir Leonov (Yahknich Motorsport Yamaha) sixth. Championship leader Kenan Sofuoglu (Kawasaki Lorenzini) could only manage tenth, with Fabien Foret (Kawasaki Intermoto Step Racing) 17th and Broc Parkes (Ten Kate Racing Products Honda) 18th.
Times: 1. Cluzel (Honda) 2'22.258 average 149.357 kph; 2. Lowes (Honda) 2'23.264; 3. Lundh (Honda) 2'23.522; 4. Scholtz (Honda) 2'23.844; 5. Toth (Honda) 2'23.967; 6. Leonov (Yamaha) 2'24.611; 7. Quarmby (Honda) 2'24.821; 8. Antonelli (Yamaha) 2'24.840; etc.
Superstock 1000
Sylvain Barrier (BMW Motorrad Italia GoldBet) secured pole in the UK on a nearly dry track, with MRS Kawasaki rider Jeremy Guarnoni second and Barni Racing Team Ducati Panigale rider Eddi La Marra third. The top three were separated by relatively large margins as the difficult track conditions played a part once again. French rider Mathieu Lussiana (Team ASPI Kawasaki) was an impressive fourth, with local rider Kevin Coghlan (DMC Racing) fifth.
Times: 1. Barrier (BMW) 2'12.992 average 159.763 kph; 2. Guarnoni (Kawasaki) 2'13.872; 3. La Marra (Ducati) 2'15.327; 4.Lussiana (Kawasaki) 2'15.942; 5. Coghlan (Ducati) 2'16.081; 6. Jezek (Ducati) 2'16.088; 7. Brown (Ducati) 2'18.051; 8. Savadori (Ducati) 2'19.193; etc.
Superstock 600
A highly cosmopolitan Superstock 600 front row for Sunday's race will be headed by fastest qualifier and points leader Michael van der Mark (EAB Ten Kate Junior Honda) who was over a second ahead of Gauthier Duwelz (MTM Yamaha) at Silverstone. The Dutch rider and the Belgian will lead away Australian Adrian Nestorovic (MTM Yamaha) and Danish rider Alex Schacht (Schacht Racing SBK ONE Honda). Another Australian, Matt Davies (Team GOELEVEN Kawasaki) was fifth, with Italian rider Riccardo Russo (Yamaha Team Italia FMI) completing the top six.
Times: 1. Vd Mark (Honda) 2'12.426 average 160.446 kph; 2. Duwelz (Yamaha) 2'13.768; 3. Nestorovic (Yamaha) 2'14.595; 4. Schacht (Honda) 2'14.843; 5. Davies (Kawasaki) 2'14.875; 6. Russo (Yamaha) 2'14.882; 7. Gamarino (Kawasaki) 2'15.074; 8.Chesaux (Honda) 2'15.186; etc.
KTM European Junior Cup
Wildcard British rider Josh Daley (Moto Vudu) put his KTM Duke 690 on top of the field in the qualifying session for the European Junior Cup class, with regular rider and points leader Lukas Wimmer (MSC Schalchen) second and Jamie Patterson (RPM Performance) third. Conner Parkhill (KTM UK) was fourth while Brandon Kyee (Brandon Kyee Racing) went top five. Wimmer's chief rival Javier Orellana qualified twelfth.
Times: 1. Daley (KTM) 2'48.989 average 125.731 kph; 2. Wimmer (KTM) 2'49.323; 3. Patterson (KTM) 2'49.610; 4. Parkhill (KTM) 2'50.760; 5. Kyee (KTM) 2'52.234; 6. Demoulin (KTM) 2'53.620; 7. Mikhalchik (KTM) 2'54.377; 8. Scarcella (KTM) 2'55.441; etc.
https://motorbugs.com/wp-content/uploads/Motor-Bugs-Logo-Transparent-height156px.png
0
0
The Motor Bug
https://motorbugs.com/wp-content/uploads/Motor-Bugs-Logo-Transparent-height156px.png
The Motor Bug
2012-08-05 02:53:41
2016-01-07 04:11:29
Smrz takes second Tissot-Superpole of 2012 season