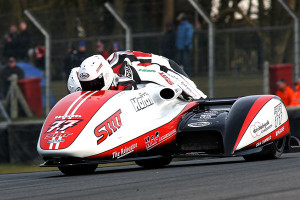 The 2013 Isle of Man TT Races, fuelled by Monster Energy, will celebrate the 90th anniversary of sidecar racing at the world famous event with a parade lap featuring some of the sport's greatest exponents and machines.
The parade lap will take place on Senior Race day, Friday June 7th, and leading the outfits off at number 1 will be the Scots pairing of Stuart Muldoon and Chris Gusman on board the late Jock Taylor's 1982 race winning machine. Taylor and Benga Johansson took the 700cc Windle Yamaha around at a sensational 108.29mph on their way to winning the second race that year whilst the pair were also World Champions in 1980 with a 500cc OW31 engine slotted into the chassis. Muldoon and Gusman only had one outing at the TT in 1996 but were one of the fastest ever newcomers in the history of the event with a 104mph lap.
Local hero and TT legend Dave Molyneux sets off behind them at number two and, reunited with his race winning passenger of 1993, Karl Ellison, will be taking an ex-Steve Webster 500cc Windle Yamaha around for a lap, the same outfit that was used in the European Championship in the 1980s.
Two of the most successful TT drivers ever will be in the parade with ten-time victor Rob Fisher out on a 600cc Baker Yamaha and nine-time winner Mick Boddice on a 600cc Honda. Rick Long, who was alongside him for six of those ten victories, will join Fisher whilst Boddice will have former TT regular Stuart Castles on passenger duties.
Recent winner Klaus Klaffenbock will leave the line at number five on the same outfit that took him to his three TT wins in 2010 and 2011 whilst, for the first time in many a year, a long wheel base outfit will be seen on the course and with an F1 1000cc engine, the LCR Suzuki belonging to that of four-times World Champion and three-time British Champion Tim Reeves. With Dan Sayle in the chair, this is the same outfit that the Kent driver is currently campaigning in the British Championship.
His current F2 outfit will also be seen with father Brian, himself a leading British Championship competitor during the 1970s and 80s, at the controls. His other son and Tim's short circuit passenger Tristan joins him for the lap with Ben and Tom Birchall also out on their 600cc LCR Honda.
Drivers and outfits from previous eras will also take part in the parade including 1986 race winner Nigel Rollason, the second person to win races around the Mountain Course on two and three wheels. Driving the outfit that he became synonymous with, the famous blue and white 750cc Barton Phoenix, Rollason will have his passenger from the 1983 and 1984 races, Colin Bairnson, in the chair.
Local pairing Eric Bregazzi and Jimmy Creer will be on board the 1989 race winning outfit of Dave Molyneux, a TZ750 Yamaha, the duo having enjoyed a successful TT career themselves, with eighth in 1982 and 10th in 1984 being the highlights.
Regular TT competitors Wally Saunders and Eddy Kiff will out on one of only two Trevor Ireson monocoque construction Grand Prix F1 outfits, owned by Ireson himself, with former passenger Alan Blackhurst taking over the controls of Saunders' 1970 750cc BMW where he'll be joined by Alison de Angelis.
Brian Alflatt and Heath Lane will also be BMW-mounted whilst current TT stars Conrad Harrison and Gary Bryan will participate on their usual Shelbourne Honda and Baker Yamaha outfits although on this occasion their passengers will be their respective wives, Samantha and Pam!
Other highlights of the parade will be Sidney Ormond and Alan Blacklock on the 1958 Berkeley 1293cc Mini which they have won six British Historic Racing Sidecar Championships on, Stuart Applegate/Greg Mahon on a 1971 BMW 1000, John Davies/Ian Gemmell on a 500cc Seeley and Graham Alcock/Broderick Wilson driving a replica of the 1969 649cc Triumph Kneeler that Alcock drove in the 1969 TT.
https://motorbugs.com/wp-content/uploads/Motor-Bugs-Logo-Transparent-height156px.png
0
0
The Motor Bug
https://motorbugs.com/wp-content/uploads/Motor-Bugs-Logo-Transparent-height156px.png
The Motor Bug
2013-05-15 01:37:33
2016-01-07 04:01:11
SIDECARS LEADING CREWS TAKE TO THE TT MOUNTAIN COURSE TO CELEBRATE NINETY YEARS OF RACING ON THE ISLE OF MAN