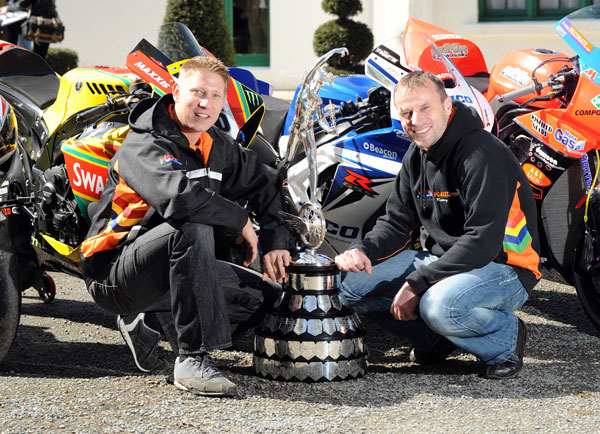 This year's Monster Energy Isle of Man TT Supersport races are again set to be two of the most thrilling of the 2012 meeting, with seven former race winners confirmed for this year's event. John McGuinness, Michael Dunlop, Ian Hutchinson, Ian Lougher, Ryan Farquhar, Gary Johnson and Bruce Anstey will all be looking to add to their victories, with a host of competitive riders looking to win their maiden TT's in a race that has been decided by the smallest margins in recent years.
Entries were again up on 2011 with 86 riders being accepted and the fastest seventy in qualifying will be on the grid for the races.. The middleweight division sees a similar start numbers to the Superbike and Superstock classes, although there is some shuffling of the order with the likes of Dan Kneen and Ben Wylie deservedly starting higher up after putting in star turns twelve months ago.
The top five start in the same order as the Superbike class with John McGuinness starting at number 1. The Padgetts Honda rider last won a Supersport race in 2006 but he put in his best ever 600cc lap time in 2011 so cannot be ruled out of the equation. The same applies to Ryan Farquhar, who again takes the number 2 plate.
Guy Martin took podiums in both of the 2011 Supersport races so is sure to be in the mix at number 3 whilst starting ten seconds further back will again be Cameron Donald. The Australian rider re-found his 600cc form in 2011 and was denied a win on the Wilson Craig Honda in the first Supersport race when it was red-flagged.
Bruce Anstey will be the second Padgetts Honda to leave the line at his familiar number 5 and having won the opening Supersport race in 2011, the former class lap record holder has a great chance of adding to his haul of TT wins. Likewise the returning Ian Hutchinson who will have number 6 on the Swan Yamaha. The Bingley Bullet, of course, won both races in 2010 and remains one of only two riders to have broken the 127mph barrier in the class.
He'll be very wary of the threat behind him though with last year's second race winner Gary Johnson going off at no7, the Brigg rider having dominated the 4-lap race to claim his first TT win. Riding with Padgetts in the 1000cc classes, his own 600cc Honda will be in the livery of CallMac Scaffolding/Lincs Lifting for the two races
The first change compared to the 1000cc order comes at number eight with local ace Dan Kneen who, despite competing on a 2008 Yamaha, was running in the top four of both of the aborted 600cc races. He may feel that his best chances during race week lie with the Marks Bloom 600cc Suzuki.
He'll be followed at number 9 by one of the pre-race favourites Michael Dunlop, the class lap record holder. Dunlop's first TT win came in the second Supersport Race in 2009 and he"ll be looking for victory in the Supersport classes to boost his bid for the overall championship.
Manxman Conor Cummins will round off the top ten. And although his best chances will probably come in the 1000cc races, he performed credibly in the 2011 Supersport race taking a sixth place in his comeback from his 2010 accident.. Barrow rider Dan Stewart starts ten seconds behind him at no11 and Shropshire's Ben Wylie moves up the order to number 12 after two superb performances in 2011 saw him claim 7th and 8th place finishes.
James Hillier adds to the Kawasaki challenge at number 13 just ahead of 2005 Supersport race winner Ian Lougher whilst William Dunlop will present a major challenge from fifteenth and the riders at the front of the field will be relying on their boards to keep them informed of his progress.
Adrian Archibald drops down the order to number 16 for these races with Mark Parrett moving up to number 17 and Roy Richardson slotting in at number 18, the Blackpool rider again opting to contest just the two 600cc races during race week. Ian Pattinson and Olie Linsdell are also higher up compared to their Superbike start numbers, rounding off the top 20.
As with the other classes, the remaining starting positions will be determined by qualifying week lap speeds but all riders will retain their numbers so we'll see James McBride with no21, Davy Morgan at no22 and Ian Mackman at no 23. Mark Buckley will have no24 on the Energy Armor Kawasaki, ahead of Jules Croft with Rob Barber, Simon Fulton, John Burrows and Russ Mountford completing the top thirty.
Dean Harrison takes number 31 and there's a returnee at 33 with former World Supersport podium finisher Alessio Corradi back on the TT entry list, just ahead of fellow European rider Luis Carreira. Meanwhile, Robert Wilson (41) and Daniel Hegarty (43), like Harrison, are both back at the TT after fine debut performances in 2011.
As well as Italy's Corradi, there's plenty more International interest with fellow countryman Stefano Bonetti, Spain's Antonio Maeso, American Thomas Montano, Australian David Johnson, South Africa's Hudson Kennaugh and Brandon Cretu from the States all looking improve their lap times.
A number of riders have opted to move up from the Manx Grand Prix with Ryan McCay, Grant Wagstaff, Daniel Sayle, William Davison, Daniel Frear and Shaun Anderson all having entered as well as ltwo winners Dave Moffitt and Billy Smith from last year's MGP. Newcomers in the race include Jimmy Storrar, Ronan Pentony and Gary Graves.
https://motorbugs.com/wp-content/uploads/Motor-Bugs-Logo-Transparent-height156px.png
0
0
The Motor Bug
https://motorbugs.com/wp-content/uploads/Motor-Bugs-Logo-Transparent-height156px.png
The Motor Bug
2012-04-20 05:07:12
2016-01-07 04:25:09
SEVEN FORMER RACE WINNERS LINE UP FOR COMPETITIVE SUPERSPORT CLASS IN 2012