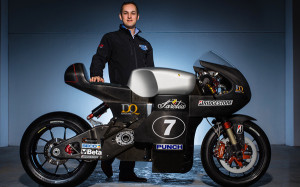 Belgium outfit Sarolea has launched its new 2015 Saroléa Electric Superbike at Autoworld, the vintage car museum in the centre of Brussels.
The new Saroléa is an evolution of the 2014 model and has been modified and enhanced on a number of levels. The Belgian team is now targeting a podium place at this year's SES TT Zero Race on the Isle of Man. The talented Scottish rider Robert Wilson, who flew over for the presentation, will once again ride the Saroléa SP7.
Team Saroléa are using the data obtained during last year's race and testing to optimize and improve its motorcycle. The new design has improved aerodynamics, which will provide higher top speeds. The motorcycle is considerably slimmer which also enhances the position for the rider.
Modifications to shift the centre of gravity will also increase the bikes handling. Saroléa has also managed to reduce the bike's weight. The modifications are mainly related to the use of more Carbon Fibre and more Titanium parts as well as the use of 3D printed parts.
A proprietary Vehicle Control Unit and Battery Management System have been implemented. All communication is now flowing through fibre optics.
The biggest improvement however is the new motor. It has been entirely developed in house and it has a major increase in torque. Early tests by Saroléa are demonstrating a 50% increase.
With the launch of the new SP7, it is clear Saroléa wants to become one of the major brands on the electric motorcycle racing scene. Saroléa is using the extreme racing conditions presented by the TT Mountain Course as a research and development platform for its propriety Saroléa Electric Drivetrain.
Bike specifications
SAROLEA SP7 ELECTRIC SUPERBIKE
Total Weight (kg) – 190
Acceleration 0-100 kph (0-60 mph) – 2.8 sec
Maximum Speed (kph [mph]) – 270 [168]
TYRES:
Front – Bridgestone Racing Battlax V02 120/600R17
Rear – Bridgestone Racing Battlax V02 200/655R17
BRAKES:
Front – Beringer 320mm Aeronal discs with Aerotec Radial Calipers
Rear – Beringer Aerotec 2D1 caliper
Maximum Output (KW [hp]) – 110 [150]
(Isle of Man configuration)
Maximum Torque (Nm) – 900
Battery Output Voltage (V) – 370 or more
PARTNERS
Bridgestone Europe
Beta Tools
DQ Advocates
Punch
Motokouture
Seco Tools
Beringer
Autoworld Brussels
Benton Apps
Atelier Noterman
Stoddart Racing
https://motorbugs.com/wp-content/uploads/Motor-Bugs-Logo-Transparent-height156px.png
0
0
The Motor Bug
https://motorbugs.com/wp-content/uploads/Motor-Bugs-Logo-Transparent-height156px.png
The Motor Bug
2015-04-10 02:27:12
2016-01-07 03:54:34
SAROLEA ANNOUNCES NEW SP7 ELECTRIC SUPERBIKE