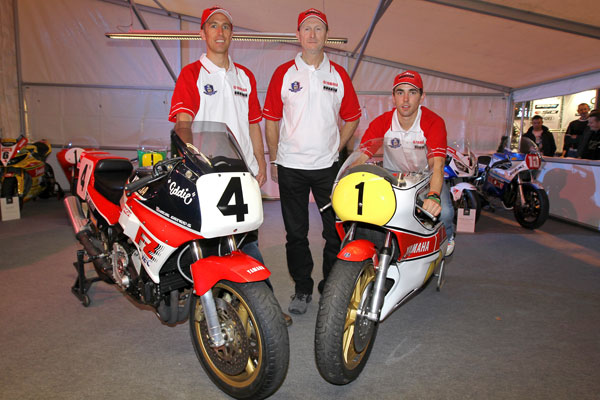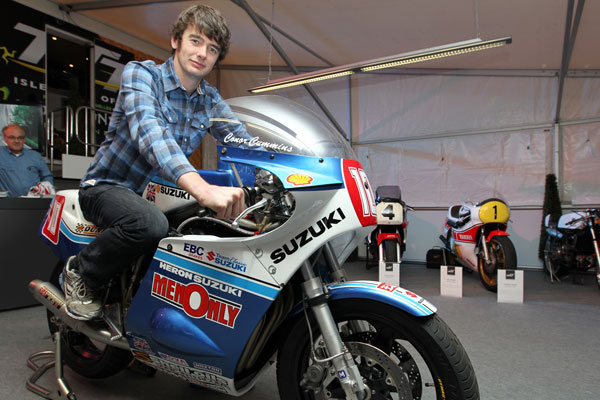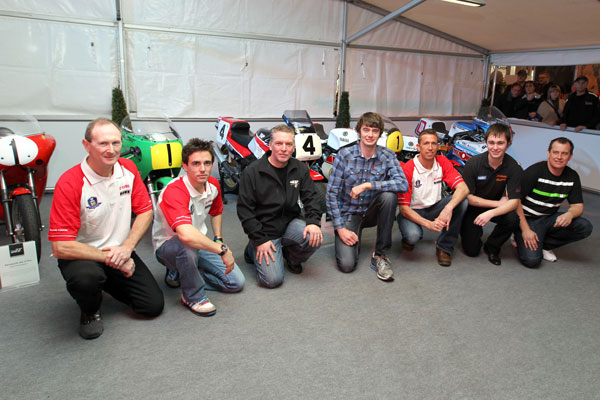 Following the announcement of plans to introduce the Classic TT Races to the Isle of Man motorcycle racing calendar from 2013 onwards, the Isle of Man Government, Department of Economic Development, promoters of this new event, have received huge interest from riders, machine owners and race teams provisionally confirming their intention to participate.
A revised set of regulations has been drawn up focussed on accommodating a wide spectrum of machinery as well as encouraging competitors of differing levels of experience to compete on a level playing field, including the introduction of a rider grading system for 'GP Riders' and 'Privateer Riders'.
Practice and qualifying for the Classic TT Races will take place between the 17th and 23rd of August alongside the Manx Grand Prix Races practice and qualifying. Racing gets underway with the 500cc Classic TT Race on Saturday the 24th of August and continues on Monday 26th of August with the 350cc and 250cc Classic TT Races which will run concurrently. The race programme concludes with the new Formula 1, Formula 2 and Formula Classic TT Races, with all three races running concurrently.
500cc Classic TT Race
The 500cc GP class remains the most revered class in international classic motorcycle racing, and the interest in the inaugural 500cc Classic TT Race reflects this. Heading the list of provisional entries is living legend, 19 times TT winner John McGuinness. The 'Morecambe Missile' will line up on board one of Roger Winfield's Italian Paton machines looking to add to his amazing record of success around the Mountain Circuit.
Classic racing regular Olie Linsdell hopes to join McGuinness representing the Paton brand where he will ride the machine belonging to Milanese entrepreneur Giovanni Cabassi. Another Italian multi cylinder machine is likely to be in the hands of 2011 Supersport TT Race winner Gary Johnson, who will no doubt delight the fans on board John Chapman's exotic three cylinder MV Agusta.
Whilst much has been made of the performance advantages of the multi cylinder machines in this class in recent years, the 2013 500cc Classic TT Races should see a host of top talent on board traditional British built single cylinder machines looking to upset the form guide. Heading that list will be the Team Molnar Manx duo of Guy Martin and Daniel Cooper. Both riders will be equipped with the latest specification Molnar Manx machines and will be hoping to replicate the team's previous Mountain Course exploits which saw Manxman Richard 'Milky' Quayle take victory in the 2002 Classic MGP Race. Other early Norton entries are likely to include MGP regulars Grant Sellars, Brian Cooper, Edward Poole and David Webber along with one of the rising stars of road racing, Jamie Coward.
Two time TT winner Cameron Donald is a regular competitor in classic races in his native Australia and he intends to take part on the Fred Walmsley prepared Ripley Land Matchless whilst one of the current day stars of the classic racing scene, Chris Palmer lines up with Richard Shelton's super quick Matchless. The Matchless marque should be well represented in the 500cc Race with 4 time MGP race winner Ewan Hamilton, 2011 MGP podium finisher Mark Herbertson, local ace Allan Brew, Welshmen Meredyyd and Hefyn Owen, former MGP winner Dave Moffitt and MGP regulars Keith Dixon, Richard Stott, Arthur Jones and Jim Snaith all on the provisional list of riders.
BSA meanwhile should be represented by Chris Swallow who scored a podium double in this year's MGP, TT regular Mark Parrett, newcomer to last year's MGP Alex Sinclair and the returning Roy Phipps.
10 times TT winner Ian Lougher is another looking to score a result on a British single cylinder machine, taking over the controls of the immaculate Steve Linsdell built and owned Royal Enfield.
Roy Richardson is something of a classic racing legend with 8 Classic MGP race victories along with a host of other victories and lap records at venues across the UK. He will line up as one of the pre race favourites on board Dick Linton's Aermacchi supported by Martin Bullock Manxsport. Local man Peter Creer is also Aermacchi mounted for the race.
Honda have the greatest representation in the initial list of provisional entries for the 500cc Race with multiple Irish Road Race Champion and current day TT star William Dunlop heading up the list. The eldest son of TT legend Robert Dunlop, William hopes to campaign the magnificent 4 cylinder Davies Motorsport Honda. Other Honda riders hoping to take part include Mountain Course legend Dave Madsen-Mygdal, 2004 Senior MGP winner Davy Morgan, 4 time MGP race winner Chris McGahan, Classic racing front runner Paul Coward and MGP regulars Geoff Bates, Alec Whitwell, Andy Wilson, Ken Davis, Tom Jackson, Dean Martin, Tony Mason, Chris Petty, Pete Richardson, Pete Weston, Paul Rodgers, Ross Johnson, Barry Davis and Henry Bell.
Some of the more unusual entries come from Tony Ainley with his original 1965 Velocette and Derek Glass on his very rare 350cc Bridgestone machine.
350cc Classic TT Race
Favourite for honours in the 350cc Classic TT Race based on the provisional list of riders has to be MGP lap record holder for the class Roy Richardson on Dick Linton's Aermacchi. He is unlikely to have it all his own way however, with Ripley Land AJS mounted Cameron Donald certain to provide some competition.
Runner up in the corresponding race at this year's MGP, Chris Swallow is also sure to be in contention on his Aermacchi machine.
Honda will be well represented in this class with TT aces William Dunlop (Davies Motorsport), James Hillier (CSC Racing), Olie Linsdell (Team Winfield), Dave Morgan (CSC Racing) and Dave Madsen Mygdal (Team Gimbert Racing) likely to be joined by a host of MGP regulars including Chris Palmer, Paul Coward, Ken Davis, Alex Sinclair, Tony Mason, Jim Snaith, Alec Whitwell, Chris Petty, Dean Lamb, Brian Cooper, Ross Johnson, Paul Rodgers, Barry Davis, Roy Phipps and Dean Martin.
Mark Herbertson will hope to be challenging for a place on the podium on his AJS along with other potential AJS mounted riders including Keith Dixon, David Webber and Meredyyd Owen whilst Derek Glass will make hope to make his second outing of the week on his Bridgestone machine along with Norton mounted Grant Sellars and Edward Poole and Peter Creer on an Aermacchi.
250cc Classic TT Race
The 250cc Classic TT Race will run concurrently with the 350cc Race with the provisional rider list headed by 4 time winner of this race at the MGP Ewan Hamilton from Scotland. Tom Jackson, one of the famous racing family which includes brothers Bob and Bud, is a regular front runner in this class whilst 2012 MGP Race winner Peter Symes joins Hamilton and Jackson leading the provisional list of T20 Suzuki machines. Other Suzuki entries in the list include Billy Cummins, Christopher Clark and Andy Wilson, with modern day TT hero Dan Stewart another possible entry in this class on board a 250cc Suzuki.
Manxman Allan Brew has the honour of representing Ferry Brouwer's Yamaha Classic Racing Team making their first competitive racing appearance, and he will ride a superb 250cc Yamaha for Phil Read's former factory Yamaha mechanic.
Barry Davidson hopes to be taking part on an the Team Gimbert 250cc Honda along with fellow Honda mounted riders Geoff Bates and Henry Bell.
Classic racing stalwart Mike Hose is another rider hoping to take part in this race, on board the unusual Ariel Arrow machine.
Formula 1 Classic TT Race
The regulations for the Formula 1 Classic TT Race have created a mouth watering scenario which pits the 750cc machines of the early 90's against 1300cc machines from the early 80's, representing a period in history when motorcycle technology was evolving at a tremendous rate.
Steve Wheatman's Team Classic Suzuki head the entry for this class with four riders provisionally entered. Double winner of the MGP Classic Superbike Race Michael Dunlop hopes to return to defend his crown in the new look races and he will be joined by fellow TT 130mph club member Conor Cummins on John Simm's prepared XR69 machines. The first lady to stand on the podium in a solo race on the TT Mountain Course, Maria Costello MBE will be out on a Harris framed GSXR 750 machine, whilst 2012 Senior Manx Grand Prix race winner, John Simpson rides one of the teams immaculate RG500 machines.
Ferry Brouwer's Yamaha Classic Racing Team are fielding three riders in the Formula 1 Race with Steve Mercer on board a YEC spec 750cc OW01, Mark Miller representing fellow Californian Eddie Lawson on Ferry's replica of Lawson's 1986 Daytona 200 winning 0U45 machine and Daniel Cooper on the superb 0W45 (TZ500) Yamaha.
There has been much speculation about the possibility of the ground breaking RC30 Honda making an appearance in this race and there are already a number of riders hoping to appear on one in 2013. Steve Caffyn's CSC Racing lead the way with two current day TT stars – James Hillier and Davy Morgan – pencilled in on board the ex-Dave Morris machines.
1993 Formula 1 TT Race winner Nick Jefferies hopes to take part on a replica of his race winning machine prepared by Isle of Man based sponsor Robbie Black and former MGP winner Nigel Beattie whilst Dave Madsen-Mygdal and Nigel Rea could also be RC30 mounted.
Another interesting Honda rider should be Cameron Donald on board a superb Honda RS1000 replica whilst Darren Lark (CB1100R) Billy Cummins (VFR750) and Andy Lovett (VF1000R) add further interest for Honda enthusiasts.
As expected the entry is likely to include a whole host of Kawasaki machines, especially the ZXR750 which was so competitive in the early 90's. Possible Kawasaki entries include TT aces Dan Stewart and Dave Hewson, TT Rider Liaison Officer John Barton, Senior MGP winner Paul Duckett as well as Robert Ruwwolt, Ian Gardner, Oyvind Hereim, Andrew Lind, Albert Trent, Dave Workman and Glen Crutchley. 2011 and 2012 MGP podium finisher Mick Godfrey also hopes to return on the Alf's Motorcycles Z1 machine.
Suzuki should be equally well represented in the class with Russ Mountford who led the MGP Classic Superbike Race this year and winner of the Pre TT Classic Post Classic Race Jamie Coward along with Roger Arnold, Christopher Clark, Laurie Fyffe, Martin Harrison, Mick Neason, Anthony Stock, Peter Creer, Graham English and Alec Whitwell all expected to be Suzuki mounted.
As well as the YCRT entries, MGP regular Ken Davis and TT riders Jules Croft and Adrian Cox are likely to be on the grid representing Yamaha on 750cc OW01 machines, whilst Olie Linsdell will be back out on re built version of the FZ750cc Yamaha which he crashed heavily on, whilst battling for the lead in the 2010 Classic Superbike MGP Race.
The Formula 1 Classic TT Race is likely to feature a host of different and unique machines and this already bears true with interest so far gained from Rob Padget on a Moto Guzzi Le Mans, Chris Pickett on a 888 Ducati, Scott Webster and Marek Wieckowski on Moto Martin's and TT regular Alan Connor on possibly the most interesting machine of all, a 588cc Norton rotary.
Formula 2 Classic TT Race
Yamaha dominate the provisional list of riders for the Formula 2 Classic TT Race with Roy Richardson and Chris Palmer likely to be involved in a battle for victory. They will potentially have to work harder than ever before though with former Mountain Course 250cc lap record holder Ian Lougher hoping to team up with two stroke guru Peter Berwick on board a TZ Yamaha.
Other well known names from the Manx Grand Prix likely to be on board TZ 250cc Yamaha's include TT regular Phil Harvey, Ewan Hamilton, Stuart Garton, Phil McGurk, Brian Mateer, Dean Martin, Neil Chadwick, Adrian Morris, Steve Howard and Chris Barratt.
Allan Brew will line up on another of Ferry Brouwer's machines, this time an excellent example of the 350cc TZ Yamaha, with Jim Snaith also flying the flag for the 350cc TZ's.
Tom Jackson has a 250cc Honda, Jason Lamb a 600cc Yamaha, Alex Simpson a Ducati, Jussi Luoma on a Moto Guzzi whilst Derek Glass, Ian Pert, Shaun Anderson and Derek Wilson all hope to line up on 600cc GPZ Kawasaki's.
Formula Classic TT Race
The schedule for the inaugural Classic TT Races includes a separate class for the Formula Classic machines which is subject to entry numbers. Early interest has been received from Chris McGahan, Barry Davidson, Mike Hose, Mike Dolittle and Gavin Lupton (Triumph Tridents), Mark Parrett (BSA Rocket 3), David Webber (Norton Commando) Geoff Bates and Henry Bell (Honda), Dave Crussell (Kawasaki) and Adam Ward (Rickman Mettise).
Trevor Hussey, Head of Motorsport, Department of Economic Development said:
"We have been working hard for the past three months to talk to as many people as possible, and start to build a picture of what the provisional entry list for the 2013 Classic Races might look like. We were always confident that a significant level of interest existed, however our expectations have been blown apart by the sheer volume of contact and expressions of interest we have had."
"There is much to do to make the vision we have for this event a reality over the coming months and there is still a large list of riders and machine owners we are talking to about becoming involved in 2013 and beyond. We are grateful to everyone who has shown their support to our plans to date and we have been overwhelmed by the assistance we have received from those within the classic racing scene to date".
"We want to start this new page in history for motorcycle sport on the Isle of Man with a bang, and we are confident that we have all the ingredients in place to do just that, with the 2013 Classic TT Races being a must see event and providing a launch pad for long term success."
Pictures please credit Dave Kneen at manxphotosonline.com
https://motorbugs.com/wp-content/uploads/Motor-Bugs-Logo-Transparent-height156px.png
0
0
The Motor Bug
https://motorbugs.com/wp-content/uploads/Motor-Bugs-Logo-Transparent-height156px.png
The Motor Bug
2012-11-25 16:25:17
2016-01-07 04:01:37
QUALITY ENTRY BUILDING AHEAD OF INAUGURAL CLASSIC TT RACES