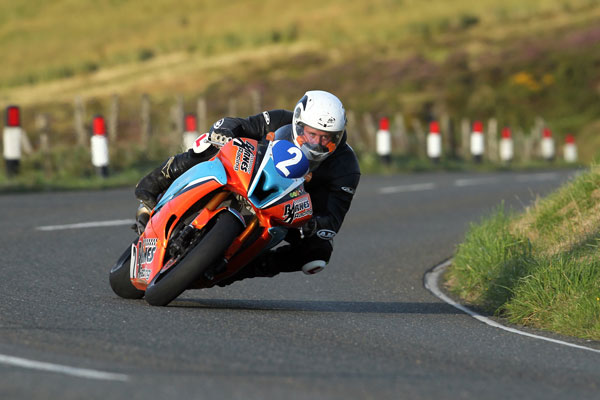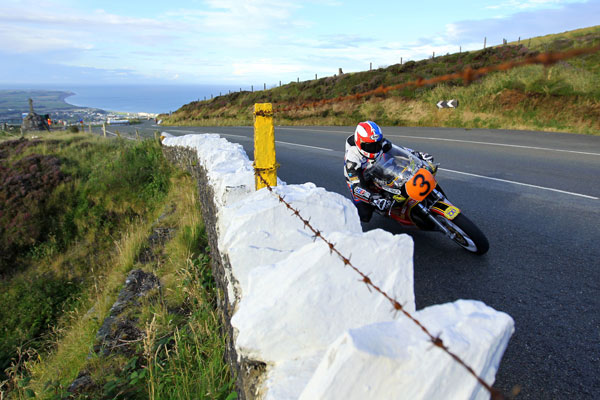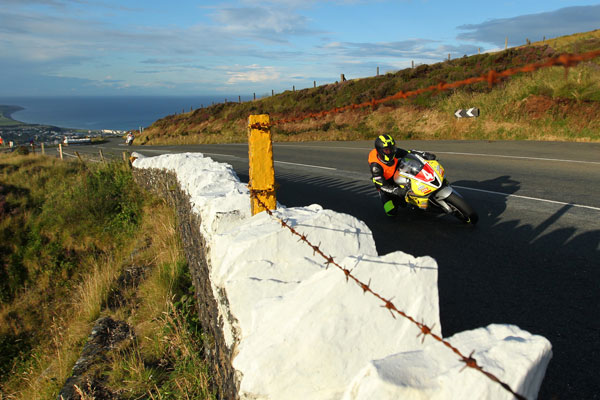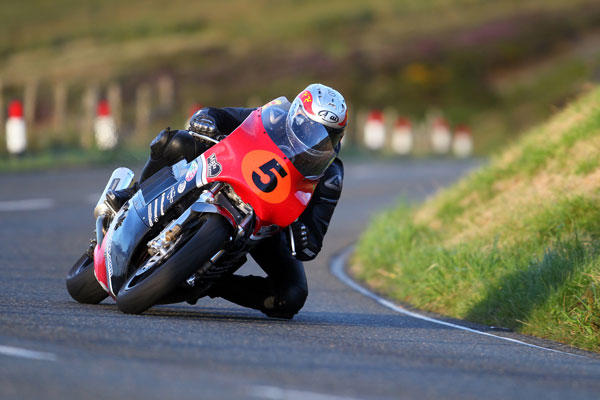 Good conditions all round the course were reported ahead of this evening's fourth qualifying session for the 2012 Manx Grand Prix Races although damp patches were reported at Keppel Gate and wet road at Governors. Riders were also advised of cross winds at Windy Corner.
Andy Lawson on his 600 Kawasaki and Michael Dunlop on his Classic Superbike Suzuki got this evening's session underway with Classic Superbike riders able to opt into the earlier session as the speed differentials between the two classes are minimal.
Another Classic competitor to opt into the earlier session was Ryan Farquhar and he posted the fastest time to Glen Helen at an average speed of 120.449mph. However, shortly after the session started it was red flagged at 18.45, to allow an ambulance to get on the course, following an accident involving Newcomer Adam Nix at Sarah's. Adam was subsequently taken by Airmed to Nobles Hospital but was reported as conscious at the scene and not causing concern.
The session was restarted at 19.05 and Jamie Coward recorded the two fastest times of the week with 119.530 and 116.410 while Wayne Kirwan (115.8), Mike Minns (113.660) and Stephen McKnight (112.570) all posted their fastest times of the week ahead of next Monday's Junior race. Trevor Ferguson topped the SuperTwin session with 106.8mph.
Russ Mountford in the Classic Superbike class also showed his hand with a lap of 112.380 while Dan Kneen on the Marks Bloom Racing Suzuki (110.360) and John Barton (108.830) were also on form ahead of next Friday's race.
The newcomers are also getting up to speed with Swedish Rider Bjorn Gunnarsson posting the fastest time of the week at 107.970 ahead of Dean Roberts (106.940) with Splitlath Redmond rider John Simpson also posting his fastest time of the week at 106.6mph and Kamil Holan from the Czech Republic improving his fastest time of the week to 105.550.
Tomorrow's session stars at 18.20 for Senior, Junior , SuperTwin and Newcomers A with the Classic, Classic Superbike, Junior Post Classic, Lightweight and Newcomers B&C due out at 19.05.
Pictures: Dave Kneen
https://motorbugs.com/wp-content/uploads/Motor-Bugs-Logo-Transparent-height156px.png
0
0
The Motor Bug
https://motorbugs.com/wp-content/uploads/Motor-Bugs-Logo-Transparent-height156px.png
The Motor Bug
2012-08-23 08:19:24
2016-01-07 04:11:48
QUALIFYING CONTINUES AT MANX GRAND PRIX AS JAMIE COWARD AND RUSS MOUNTFORD POST FAST LAPS