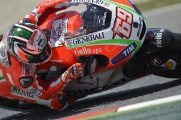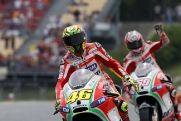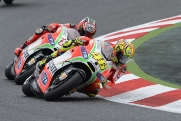 After a warm-up session that was affected by mixed conditions, with just enough rain to render it useless, the Catalan Grand Prix took place in the dry, though with cooler temperatures than had marked the previous two days.
Valentino Rossi finished seventh, still far from the type of results for which both he and the Ducati Team are working so hard, but there were very promising signs in today's lap times and in the gaps to the top positions, as the Italian ran at a competitive pace for much of the 25-lap race.
Hayden, seventh at the finish, was also fast in the early stages, only to be slowed when he lost feeling in his right hand.
The Ducati Team will remain in Barcelona tomorrow for an official one-day test, during which they'll confirm the progress made over the weekend and carry out additional checks with the settings, chassis, and electronics. Another test will be held on Wednesday at the Aragon track.
Valentino Rossi (Ducati Team) 7th
"Today went pretty well, and in some ways, it was the best dry race of the year so far: I finished closer to the group in front of me, and the gap in lap times was about half a second, which is the smallest that we've had so far. Of course we're still only talking about a seventh-place finish, but nonetheless we reached our current potential in the dry. At a certain point in the race, I thought I could catch and pass Bautista, who himself wasn't far from Stoner and the others. Unfortunately, toward the end I lost performance from my rear tyre, which we tend to stress too much since I oversteer with it in the corners when the front needs some help. Now we have two days of important testing, and we'll try the aluminium swingarm again, along with some setup ideas in an effort to gain a bit more front grip, to help the bike to corner better. We hope to take another small step, because the riders who were ahead of me today weren't 'too far' ahead."
Nicky Hayden (Ducati Team) 9th
"It was very difficult for me because I started having a problem with my hand going to sleep. I felt it a little bit in qualifying yesterday, so we did some treatment last night with the team physio, but the problem returned in the race. I've had it happen a couple of other times in my career, and around here, with so much hard braking, I could hardly feel the brake lever or the throttle. On the straightaway, I could move my fingers and get some feeling back, but then it would return. My pace was okay in the beginning, but after that group got away I really just tried to bring the bike home without crashing, since I couldn't feel how hard I was braking. Hopefully it won't come up in the tests, because I think we can make some improvements."
Vittoriano Guareschi (Team Manager)
"I'm satisfied with the work we did this weekend, and with the capability of the team, which let us make some real advances in today's race. Following the Mugello test, we wanted to check some things that we had introduced there. The team was prepared to use the new electronics package, whereas the aluminium swingarm will require more testing. In today's race, Valentino reduced the gap to the front to about a half-second per lap, which is still significant in absolute terms, but in any case it's a step forward considering how big our disadvantage has been in the dry until now. Seventh place isn't a result that either we or he can be satisfied with, but his times and his pace for much of the race were promising. Unfortunately, Nicky's race was affected by a physical problem, but over the course of weekend he also did some good work that helped him to obtain his best qualifying position at this track since he's been with Ducati, and that's another positive sign. We'll try the swingarm again tomorrow, along with some bike settings, continuing in the direction we've taken."
https://motorbugs.com/wp-content/uploads/Motor-Bugs-Logo-Transparent-height156px.png
0
0
The Motor Bug
https://motorbugs.com/wp-content/uploads/Motor-Bugs-Logo-Transparent-height156px.png
The Motor Bug
2012-06-04 09:03:39
2016-01-07 04:25:12
Progress for Rossi in Catalan GP, Hayden affected by problem with hand