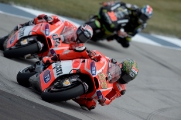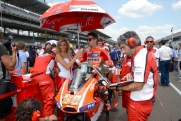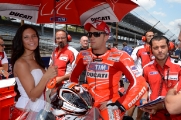 At the last of three MotoGP rounds to be held on American soil this season, Ducati Team riders Nicky Hayden and Andrea Dovizioso finished today's race in ninth and tenth positions, respectively, at Indianapolis Motor Speedway.
As has been the case on many occasions this year, the evenly matched teammates found themselves dicing with one another for the entire race aboard their Desmosedici GP13 machines. Positions were traded on several occasions, and on the final lap, the American tried a last-corner pass on Dovizioso for eighth place. The two made contact and ran off the track, which allowed Bradley Smith to pass them both on the run to the finish line.
Tomorrow, the Ducati Team heads to the Czech Republic, where the second of three races on consecutive weekends will take place at the Brno circuit.
Nicky Hayden – Ducati Team, 9th
"We'd hoped for more. We found a direction in qualifying yesterday, but when the tyre got a few laps on it in the race, we lost rear grip. Early, I was trying to hang with Rossi, but as soon as the tyre went away, I made a little mistake and he was gone. From there, I was just racing with Dovi, and he really pushes and doesn't make many mistakes. We went back and forth a lot, and then in the last corner on the last lap, we had contact, which was my fault. When the door started to close, I was already committed and didn't want him to take out my front wheel. Unfortunately, Smith still beat us to the line. It's a shame, but we still need to improve the bike over race distance. The race went better than last year, and the fans were great to me, but I would've liked to put up a better fight than that."
Andrea Dovizioso – Ducati Team, 10th
"The race went more or less as I expected. The goal was to finish with a 1'40" pace, but unfortunately, the rear tyre started to lose grip on both sides in the last ten laps, so the race became a strategic battle between Nicky and me. I'm fairly pleased with how I managed my race because I was able to pass him back on the final lap, but in the last corner, he wanted to get by me at any cost, using a really aggressive manoeuvre. I didn't expect it because I hadn't left the door open. Nicky came beside me and we touched, and it certainly wasn't a safe move, but we can say it was a racing incident. We were called to Race Direction because of course it's important to talk about these things and immediately clear them up. Honestly, I'm quite annoyed to have lost two positions, and I also wanted to keep Smith behind me. Still, there's no sense in creating controversy in a situation like this, so for me it's over."
Paolo Ciabatti – Ducati MotoGP Project Director
"It was a difficult race for our team. In the early going, Nicky and Andrea stayed in contact with the rest of the group, but in the final ten laps, the drop in performance of the rear tyres slowed our riders' pace, and they found themselves trading positions a couple times and fighting with each other for eighth place. Unfortunately, Nicky tried to pass Dovizioso in the final corner, even though there was limited space. The two riders touched and went over the curb, and Smith was able to pass them both at the finish line. Nicky and Andrea talked afterward to clear things up, and there was no controversy. The fact remains that we can't be satisfied with a result like today's, so we must grit our teeth and try even harder to improve the performance of our bikes."
https://motorbugs.com/wp-content/uploads/Motor-Bugs-Logo-Transparent-height156px.png
0
0
The Motor Bug
https://motorbugs.com/wp-content/uploads/Motor-Bugs-Logo-Transparent-height156px.png
The Motor Bug
2013-08-19 01:51:42
2016-01-07 03:57:27
Ninth place for Hayden, tenth for Dovizioso at Indianapolis GP